Are you fed up with seeing your hideous old and beat up kitchen countertop but don't have enough to spare for a new countertop or even want to bother with the time and effort it takes to replace your current one? It sounds like quite an ordeal if we weren't living in the present times where there are plenty of DIY and affordable countertop covering solutions available online.
This article contains a list of some of the best budget-friendly and DIY-friendly ideas for quick and aesthetically-pleasing countertop covers that you will ever come across.
1.  Granite Sheets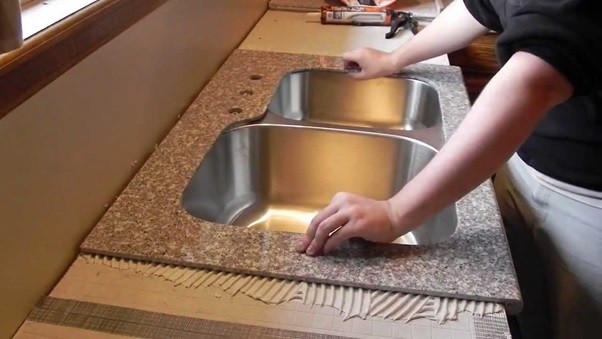 Are you a fan of granite but can't stand the heavy rates attached to it? Well, now you can kill two birds with one stone with an overlay that is a blend of real granite with polymer raisin, resulting in thin sheets. Of course, you'll need professionals to install this product since they will accurately measure your countertop, produce a template effectively cut the granite defect, and then properly install each and every sheet.
Even though this is a more relatively expensive option than those of DIY, granite overlay costs 20 to 30% less than new slab granite and will be installed much more quickly and make less of a mess than expected. The best part about this product is that it's scratch-, state-, and heat-resistant without the need to seal it. It even comes with a 10-year warranty.
2.  Quartz Overlay
If you like the look of natural stone but don't want to deal with its downsides (risk of staining, cost, etc), consider a quartz overlay. Brands like Caesarstone produce overlays that go directly over existing countertop surfaces. This makes it look as though you have a quartz countertop but costs much less.
3.  Tile
Tile is an excellent covering option for a variety of services including showers, floors, and walls among others. And thankfully, there are solutions that help homeowners how to cover tile countertops as well. We recommend going for glazed porcelain and ceramic tiles as they prevent heat and stains and come in varying colors, shapes, and sizes. You can even offer natural stone, but it needs to be sealed from time to time to prevent stains.
You can directly install these tiles over your old countertop, as they are stiff and flat and will not crack during the installation process. If you don't mind adding a bit of extra layer of thickness to it, we first suggest gluing a 1/4-inch cement board to your countertop before laying the tile over it.
Not only is tile highly durable and typically quite easy to clean, but it's grout joints also prevent it from collecting grime and staining. To keep stubborn stains and crud to a minimum, make sure the grout is sealed immediately after the tile has been installed. The manufacturer recommends reapplying the sealer after a couple of years.
4.  Pinch Pennies
We've previously seen how pennies can be used to surface flooring and backsplashes. But now they make for great DIY countertops making your counter look like a million bucks. Domestic Imperfection will show you how it's done. And wouldn't you know it, the cost for this countertop covering solution is in actual pennies. As a matter of fact, other unorthodox kitchen countertop covers can be coasters, license plates, vase gems, and pebbles.
5.  Relaminate
If you love laminate countertops and think yours is too old and bland to look at, then you can install a new laminate right over it. First, you need to sand the old laminate material. Then cut out a new laminate of similar size. Be sure to leave about an inch overhang right in the front and then have it placed over the countertop with dowel rods between the surfaces.
When you've placed the new laminate over the old one, use contact cement to hold both of them together and be sure to press the new laminate down while doing so. If you encounter some air bubbles, flatten them with a rolling pin. Use the edge of a power router to get rid of the overhang. Place precut plastic edge pieces on the side and hold the new laminate in place with clamps until the glue is completely dried up.
6.  Paint
If you have standard laminate kitchen countertop covers, there are several ways that you can give it a new look with paint. for a less expensive approach, you can try Rust-Oleum's countertop paint which is known to be tintable to just about any color.
it's a three-step process that takes a bit of time and maybe a little more expensive — like about $200 per kit — but the results are quite dramatic.
6. Thin Concrete Overlay
Using certain types of products to your advantage, typical kitchen countertops can be transformed into chic and idyllic concrete kitchen counter coverings. This is one of the trendiest options as of late which offers a more modern look for both traditional and contemporary kitchens. This results in countertops that are more resilient and shinier-looking. And if your kitchen countertop is comprised of various materials (like a bit of laminate, some wood, and tile), this method would be ideal for bringing in some cohesion. And, what's more, is that this can all be done at under $100.
7. Chalkboard
Who would have guessed that chalkboards could also be used in kitchens instead of just classrooms? Well thanks to a bit of chalkboard paint, that can easily be arranged. It's one of the simplest kitchen counter coverings as all you need to make this possible is with a roller, a primer, and some chalkboard paint.
First, you'll need to paint the base coat on, leave it to dry for a couple of minutes and then come back with some matte chalkboard paint. And since you'll be using the kitchen for making meals, you'll want to ensure that the paint is both safe for food and is non-toxic – you can also apply some non-toxic coat over the regular paint as well.