Organization tips and tricks are real lifesavers sometimes, aren't they? If you are desperately looking for ways to organize the baby room, then these nursery organization tips are the next ones that you should check out. Whether you already have a baby, or you are about to welcome one, these organizational ideas are going to make this period of your lives less stressful and overwhelming.
Once you put everything in the baby room, you will realize that you are stacked with so many items. There will be plenty of relatives and friends who will bring your gifts, and I'm sure that you are going to make a huge shopping as well. This is why it's of crucial importance that everything is stored in the right way. You need to be extremely organized in order to be able to find everything quickly and easily (with the baby in one hand, obviously)! Take a look at these inspirational ideas, and recreate them in your nursery.
Rolling Cart Nursery Organization
The rolling cart has proven its adaptability in so many different ways. You can use it everywhere in the house, and the nursery room is no exception. It's great because you can move it around easily, so consider turning it into a diapers station with all the necessary items that you are going to need a dozen times a day.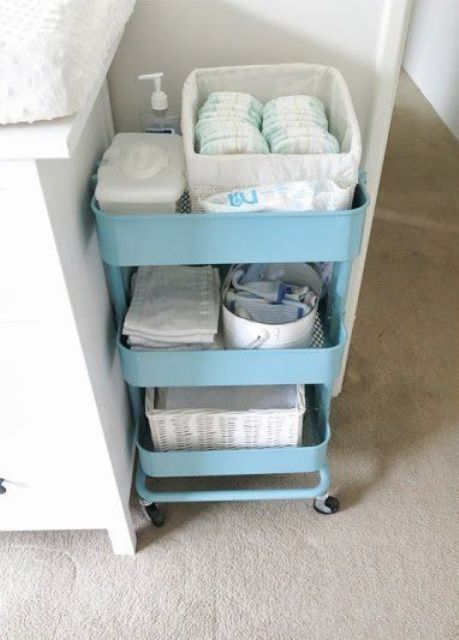 Tiered Stand Storage
The tiered stand is going to be super useful when it comes to the organization in this room. Not only everything is visible and easy to reach but you can group different items together as well on different levels.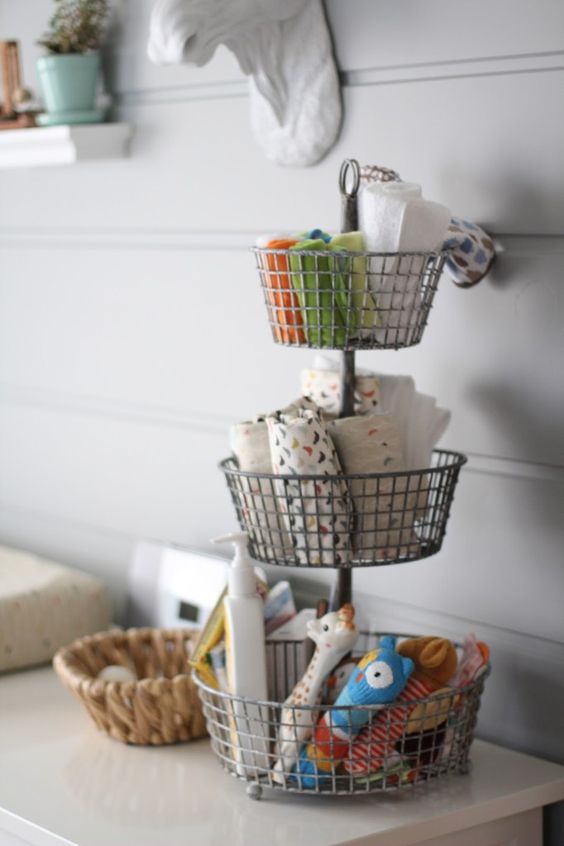 Wall-Mounted Storage Tips
If you want to make the best use of space available in this room, you will have to use the wall in every single way. The wall-mounted storage designs are a must, especially around the changing table. Consider adding plenty of shelves and baskets which will hold the items that you use daily.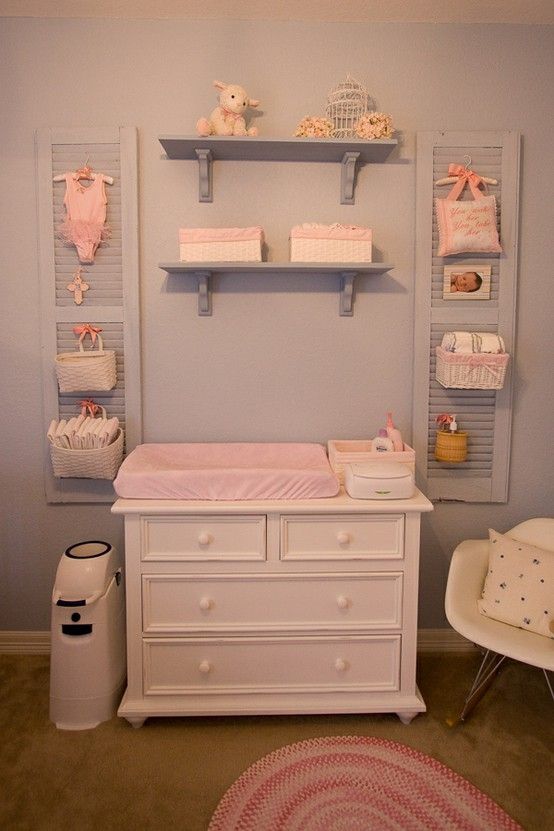 Drawer Organization Hack
Even when you think you have perfectly organized the drawer, it can become a mess in a second when you look for a single item and you can't seem to find it. This is why you need these drawer separation boxes which don't allow different pieces of clothes to mix with one other. If you can't find the right size for your drawer, then you should start thinking about recreating them on your own.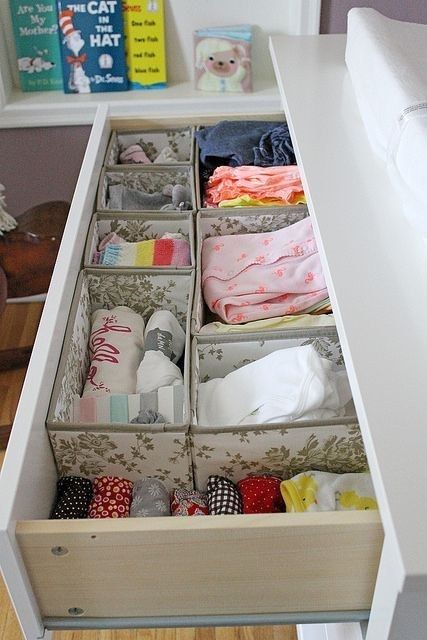 Nursery Organization Idea
Remember, you are going to need a ton of organizational drawers, shelves, bins, baskets, and boxes for this room. So whenever you spot some of these on sale, don't think twice! You can never have too many of them, believe me!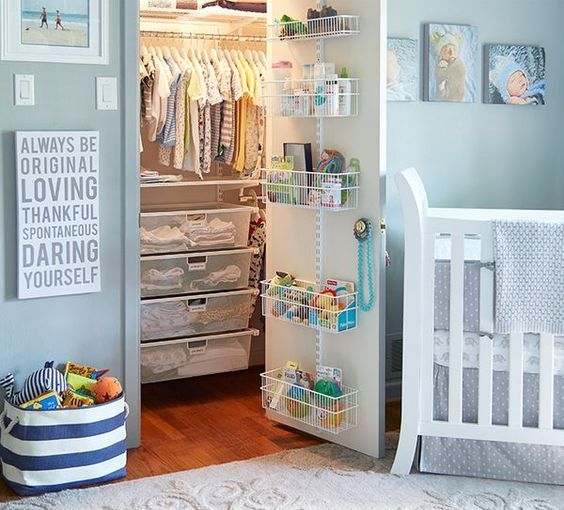 Basket Storage Ideas
When you separate different types of clothing in different baskets, you will be more likely to keep everything in place and locate things more easily. Remember to add labels to the boxes, so you don't mix them up often. In this way everyone who is giving you a hand will be able to get around with ease. Even when your husband is trying to help you with the laundry, he will have the chance to put everything in the right place.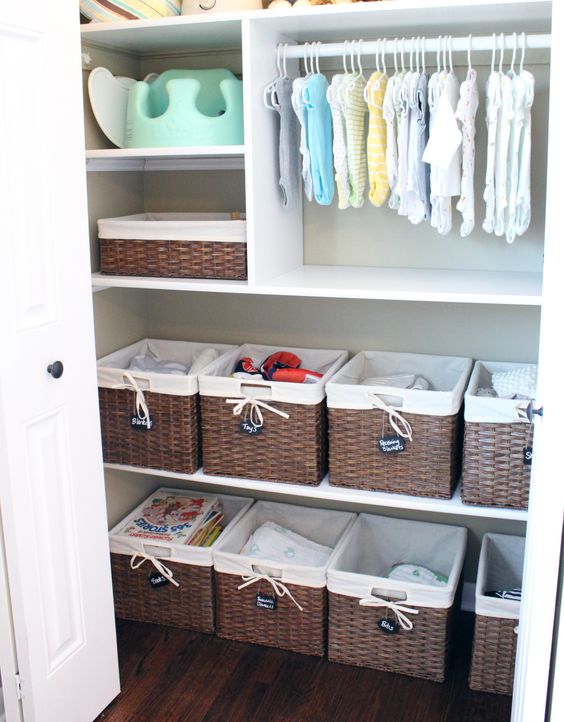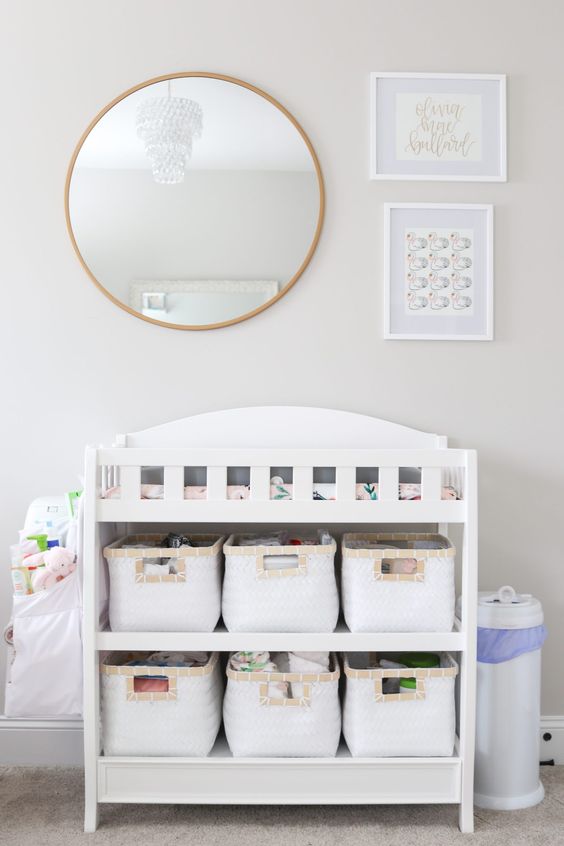 Pegboard Nursery Organization
The pegboard is another smart organizational unit that you could use in the baby room. It's the perfect spot to add other decorative objects as well, so when you take a look at it, it will look beautiful despite all of the things that is holding.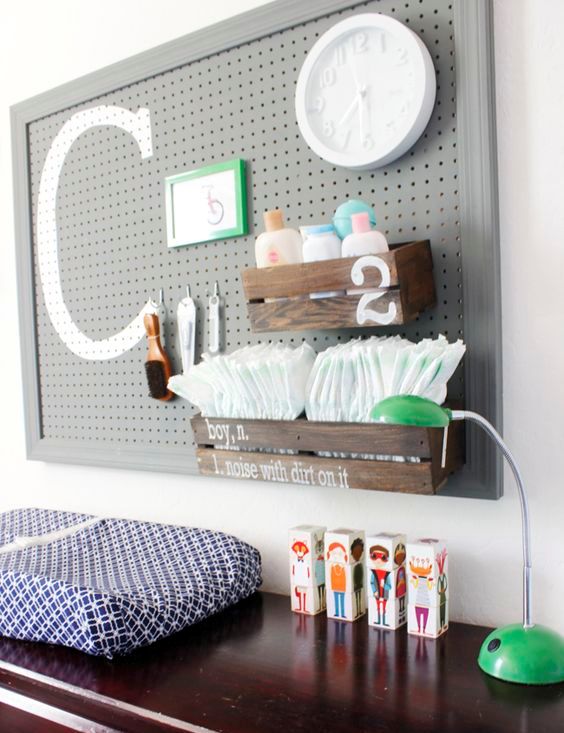 Wardrobe Organization Inspiration
See-through boxes are great for storing clothes that your baby has outgrown, or clothes that are still big. Have you considered getting some?
Another interesting way to label clothes according to size/age is with these printables. I just love how pretty they look!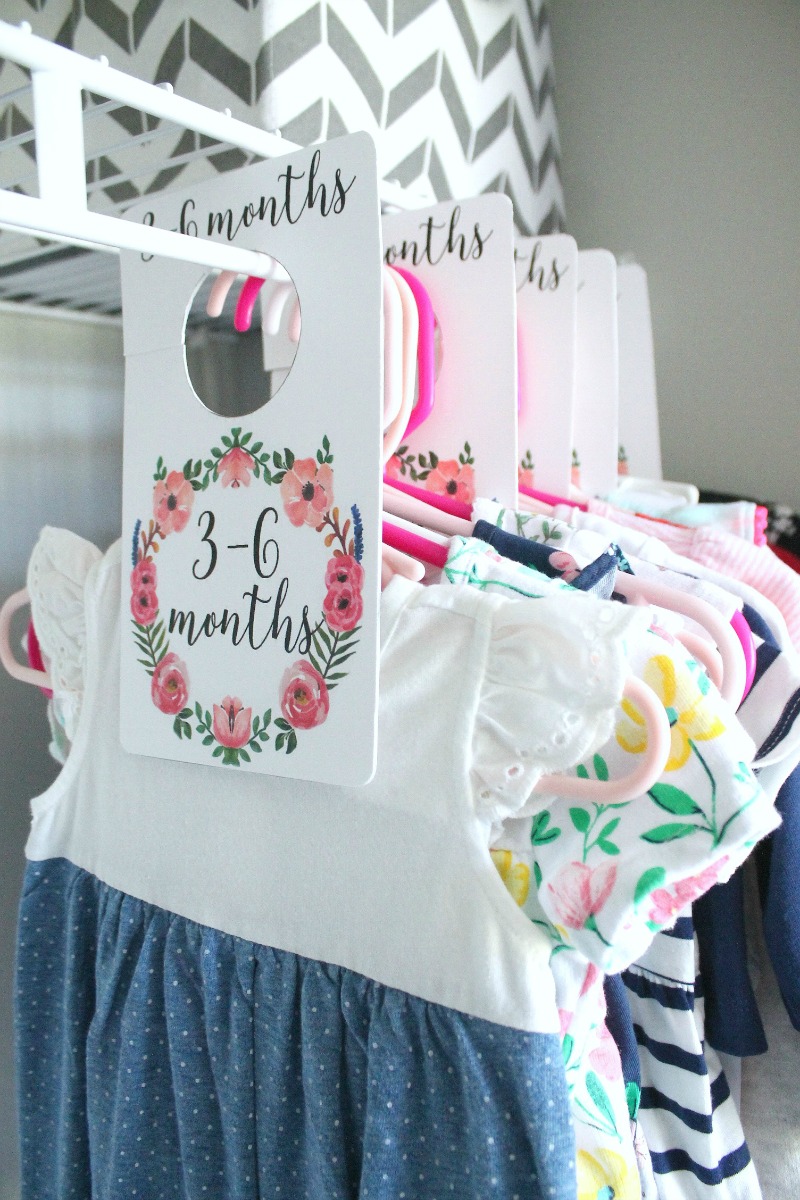 Rod Nursery Organization
Have you thought about adding a rod to the wall? You can either hang clothes or baskets. What will work best for your space? This idea is great and it won't cost you lots of money!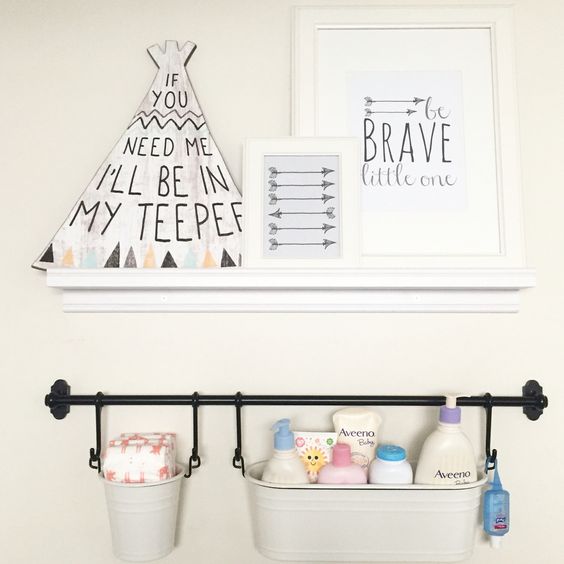 Wire Basket Organizer
I love the wire baskets. They fit in every room in the house and they can hold plenty of different things. Don't hesitate to add them to the baby room too!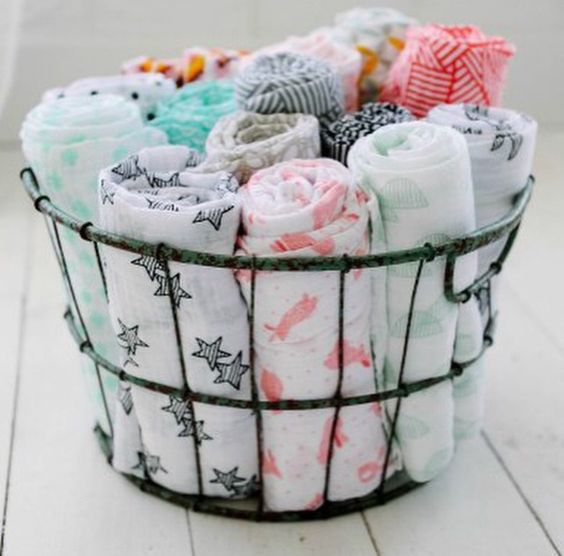 Binky Jar
If your baby loves dummies, it's very probable that you will have them in abundance at every spot of your house. Well, this jar will help you keep track of them and keep them clean at the same time. Just grab any bigger jar, and your dummies organization here is done! As easy and simple as that!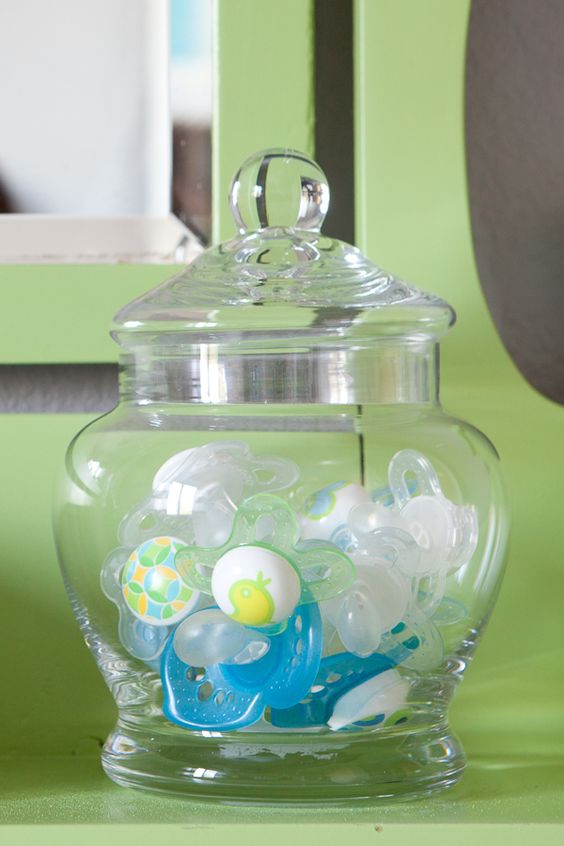 Did you find these nursery organization tips useful? Which one will work the best for your existing space? Feel free to keep me posted in the comments below because I'd love to hear from you!