We take some of our most vibrant, memorable photos when we're traveling. So it's a great pity that most of our travel pictures end up hidden away in digital storage. At best they get scattered across our various social media channels – and let's be honest, how often do we browse our accounts to revive memories of those special trips?
Luckily, there's an alternative to looking at photos on your screen. Printed photos make your cherished memories a part of your day-to-day life. And these days you're not limited to prints on photo paper – you can get your pictures reproduced on a range of wall art products and use your travel photos to decorate your home! Let's explore the options…
Classic Photos: A Traditional Choice with a Modern Twist
For many people the first choice for wall art will always be classic framed photos – an evergreen design solution for any room. Framed photos are ideal for formal portraits and group photos from big occasions – but do they work just as well for original travel shots?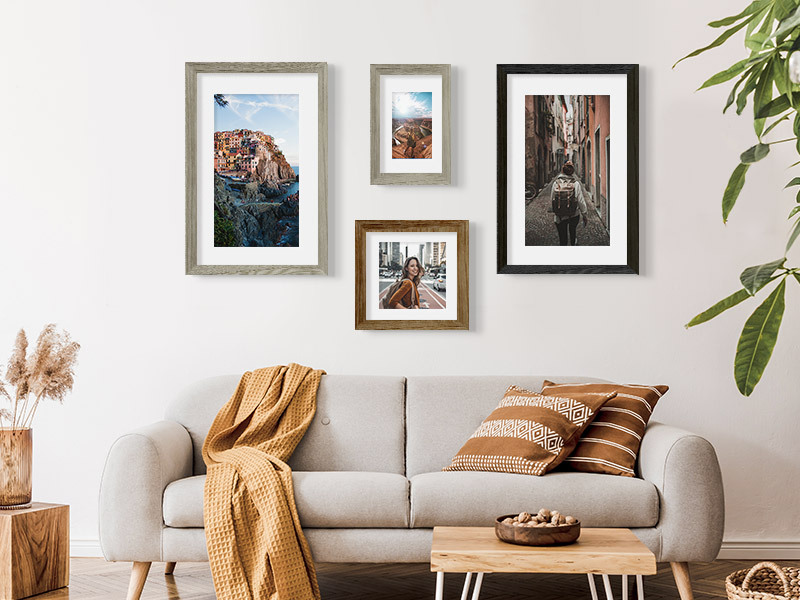 Photo printing experts suggest taking an informal approach here. It's fine to mix a range of photo formats and sizes, with contrasting frame colours and photographic subjects – for example, urban panoramas, expansive landscapes and pictures that show you exploring the great outdoors.
Contemporary Prints: From Canvas to Metal
A framed picture with a pure-white photo mount is a classic example of photo wall art – but this certainly isn't the only way to display your travel photos at home. If you're looking for unconventional wall decor options, try alternative printing mediums: nowadays you can have your photo reproduced on canvas or aluminium, or as acrylic prints.
These prints usually come in stripped-back designs without an outer frame (although decor frames are available for some formats of canvas prints). Some aluminium and acrylic prints come with ingenious hanging systems that remain out of sight once the print is installed, so they seem to "float" against the wall – highly recommended.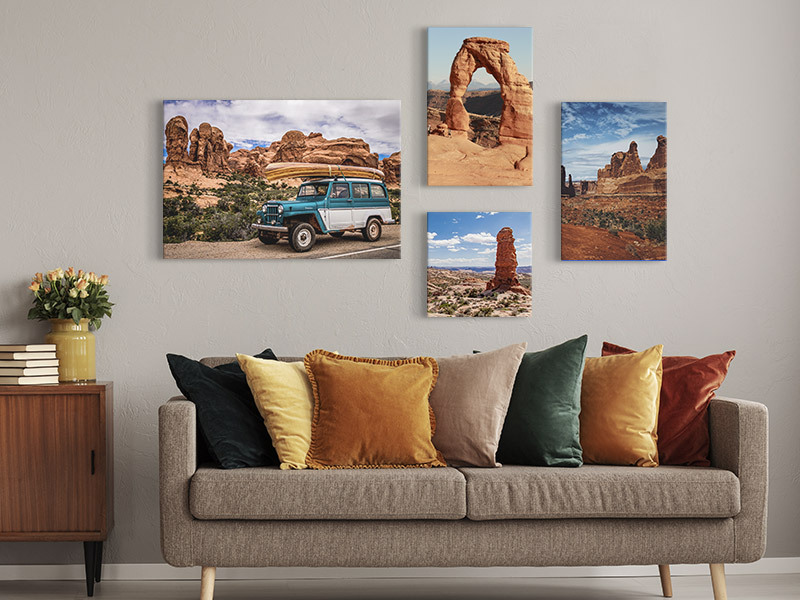 Bear in mind that the different print types suit certain compositions better than others: canvas prints, with their wrapped wooden edges and satin-matte finish, are perfect for gallery walls, whereas glossy metal and acrylic prints can be most effective as stand-alone pieces.
Home Textiles: Perfect for Snug Living Spaces
Nowadays you can get your photos printed on a wide range of mediums, including fabrics like satin, plush and flannel fleece. The most popular photo-printed home textiles are personalised cushions and blankets – perfect for creating a cosy ambience in any informal living space.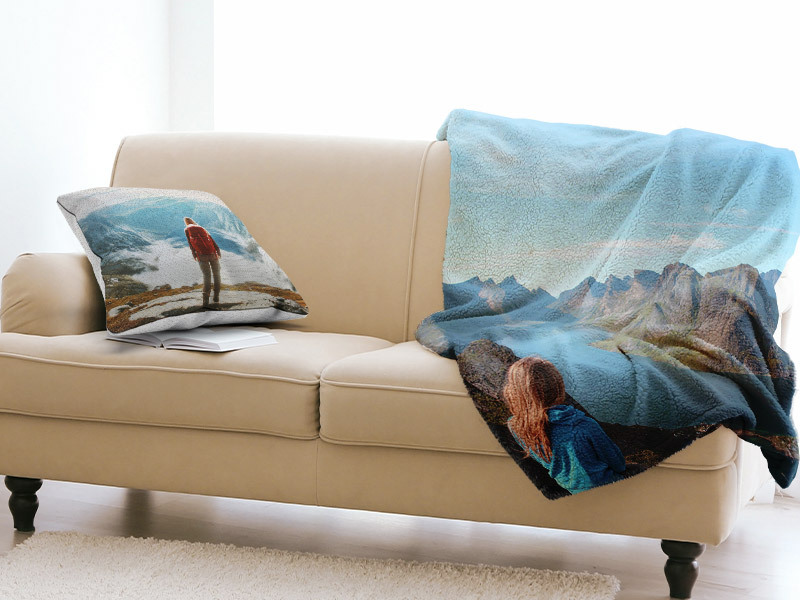 Thanks to recent advances in printing technology, many printed textiles now boast the same crisp resolution and vibrant colours that traditional photo prints can achieve. So there's no need to worry about fading or colour bleeds – with appropriate care, photo cushions and blankets will keep that good-as-new look for years to come.
Home Accessories: Practical & Stylish
If you're looking for a way to make your travel memories part of your everyday life, your first choice has to be the photo mug. Choose an evocative picture that reminds you of the joys of travel, get it printed onto a ceramic, porcelain or enamel mug, and you're guaranteed a daily mood boost.
Choose a photo mug and you can share your travel memories with your loved ones too. There's always room for another mug in any household, so no risk of your present ending up collecting dust in the attic! What's more, photo mugs are wonderfully affordable, so you can order a set for the whole family without breaking the bank.
Photo Blocks: An Original Take on Photo Prints
Another way to display your travel memories is to get them printed on photo blocks – free-standing ornamental prints with your photo displayed behind a thick layer of glass. Photo blocks are ideal for displaying a themed photo collection, such as the best shots from your honeymoon.
Acrylic glass works particularly well for photo blocks, as it's crystal clear and wonderfully durable. Acrylic photo blocks will give your travel photos extra depth and vibrancy, helping you achieve maximum visual impact.
Things to Bear in Mind
Personalised photo prints make for great wall art – especially if you pay attention to a few design guidelines. Here's some things to think about before making your purchase:
Photo Resolution
You don't need a professional camera to take high-quality photos, but you will need a half-decent camera resolution if you're planning to order large-format prints. Note that some online printing services – MyPicture.com.au, for example – have in-built photo measurement systems and will only offer you the print formats that suit the size of your photo. This is very useful because it all but eliminates your chances of getting blurry prints.
Colour Scheme
If your travel photos tend towards vibrant colours and bold compositions, they'll look best when contrasted with a calm, unobtrusive interior design scheme. If your walls are painted in dark colours, try to choose images with a light background. But if your pictures do have a darker palette, choose framed photos with white gallery-style photo mount – the mount will accentuate the prints and stop them blending in with the wall.
Size
Generally, the bigger your wall art display, the better. If you have the space, consider creating a diverse gallery wall – a range of photo prints mixed up with postcards, maps, and other little treasures brought back from your travels. A single panoramic print can also look great if you have a large empty wall to fill.
If you have a smaller room, or more cluttered walls, choosing a few small-format prints can work better. A single small print can look a bit lost on its own, but a composition of 3-4 canvas prints or classic framed photos can be wonderfully impactful!