The famous Czech artist Alphonse Mucha was known for his classic painting style and his innovative advertisement works, featuring pretty women in his art. He is mainly remembered for creating the poster of Sarah Bernhardt. Because of his aesthetic artwork's appeal, his style is associated with Art Nouveau.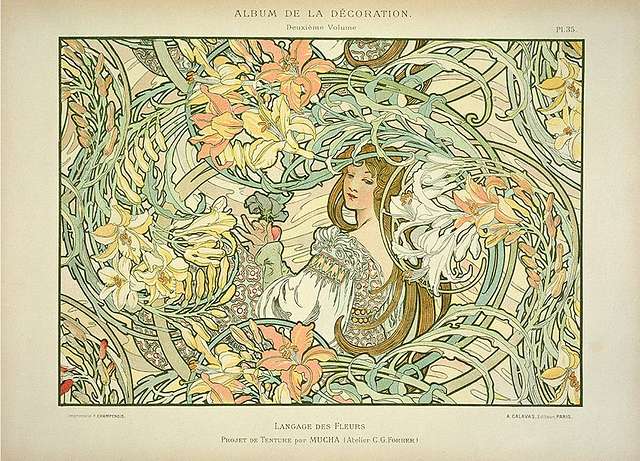 Alphonse Mucha believed that art was a means to communicate spirituality and therefore wanted the freedom to paint as he liked. In fact, much of his artwork used pastel color tones and sketchy lines.
Apart from being famous for his commercial posters, he also worked for theater and was exposed to different media types and a large audience. His art was not only limited to posters; he worked on jewelry and furniture. You can learn all about Alphonse Mucha's sketches through his work on postcards, book designs, and other modes of advertisements.
Geographical Influence
Alphonse Mucha spent most of his time in Paris and Vienna. Spending his time in Paris, Mucha eventually began to work more on nationalistic projects. After Czechoslovakia's independence, he designed the new state's murals, banknotes, and other government documents.
In addition, he created over 20 great paintings that focused on the Slavic people and the history of Czech. He showcases the hardships of the Slavic community through his work. This, along with other famous artworks by Mucha, is shared below:
Sarah Bernhardt
The poster of Sarah Bernhardt was a breakthrough for Mucha's career. Sarah, a famous stage actress, commissioned Mucha to create her poster for her play Gismonda, a Greek melodrama.
Mucha showcased the celebrity in an exquisite gown and an orchid headdress. Alphonse Mucha's drawing was a great success as it created the era of poster art in the streets of Paris. This composition playing around with bolder colors, was groundbreaking for the artist.
Following this, he became the artistic director of Sarah's theater. He was further commissioned to create more of her posters, creating an image of 'The Divine Sarah' in people's eyes.
Zodiac 1896
Following Sarah Bernhardt's poster, Mucha started receiving more work to care for and showcase his skills. One of his famous eye-catching works is the Zodiac which showcases a woman wearing exquisite jewelry and ornaments.
Women were amongst the usual themes that Mucha loved to draw. The Zodiac lithography displays the 12 signs of the Zodiac behind the head of the woman. It is a very colorful artwork with a bold border, plants, and a mixture of lines all over the place.
Slav Epic
The Slav Epic is a series of 20 paintings which was Mucha's masterpiece and among the most amazing Alphonse Mucha's drawings. It was an illustration comprising the happiness and sorrows of the Czech and the community of Slavic.
The first canvas illustrates enslaved people in their homeland. Mucha had traveled to Mount Athos to produce this artwork and was deeply touched by its spiritual presence that he showcases in his work.
He uses the church, the journey from earth to heaven, and other such spiritual symbolism in his artwork. The Apotheosis of the Slavs was the final canvas of the series that showed the victorious Slavs community who were finally able to get their homeland back.
The Tragic Death of Alphonse Mucha
Widely known as the Slav Epic, such nationalistic projects blacklisted Mucha in front of the Nazis. In 1939, German troops entered Czechoslovakia, and Mucha was among the first to be arrested by Gestapo. Although Mucha's work was hidden to protect it from being taken away by Gestapo, the artist fell into the hands of the Nazis.
He was interrogated for almost a month, and the aged artist became weaker as he began to suffer from pneumonia. Finally, he was released after some time. Yet, he soon passed away because of a lung infection. The intriguing question here is what was the need to be interrogated for such a long time!
For an artist to be taken into custody, the major questions that could have been asked would not go beyond the color tones and the anatomy of his work. Or was it the famous atrocities that Mucha was subject to that caused him a tragic end? Instead, he suffered his fate as a Czech at the hands of the Nazis. Yet as per what was said, there is more to it.
Nazi's doubted Mucha's involvement with the Czech Masons, a community working secretly. For this reason, people said he was interrogated for this underground movement. Nazis hated the freemasons, and Hitler attributed Germany's loss in World War I to the Freemasons. Mucha was said to influence this community greatly and was known as its Grand Commander. Yet it remains unclear what was the real reason behind his death.
Gestapo's rigorous interrogation affected the physical and mental health of Mucha. The artist became very weak, primarily because of his pneumonia condition. The artist died in 1939. Regardless of the Nazi ban, there were many mourners at his funeral.
Conclusion
The famous Czech artist, Alphonse Mucha, created illustrations that got much societal appreciation and love. His work was formally known for adopting the Art Nouveau style, but his fame also caused him a great struggle.
It was known about Alphonse Mucha that he loved representing beauty and spirituality in his work. This led him to create a series of paintings, known as the Slav Epic, that showcased the hardships faced by the Czechs and the Slavs. Unfortunately, this nationalistic series and other works were not appreciated by the Nazis, who later entered the state. As a result, Mucha was arrested and interrogated for his work and his connection with the Freemasons. His end is tragic because it remains unclear, and an artist like Mucha did not deserve to be mistreated. Regardless of the truth, he remains one of the most influential illustrators of all time.