It is really brilliant to have unique and unusual home designs and make the most of them wherever you are. World Inside Pictures has an amazing collection of really creative and unusual interior designs that will amaze you. There are really different design shapes and amazing creations that make these homes more stunning and that are worth sharing with you. You can see a pool in the room, a pool on the balcony, brilliant ideas for the backyard, an unusual bedroom with an aquarium, and many many others that you can see and say just wow. Designers can do such wonder both inside and outside your home, so if you are looking for a memorable and one of a kind design of your home, you should definitely hire one! Scroll down through the photos to get the much-needed dose of inspiration!
1. Aquarium Bed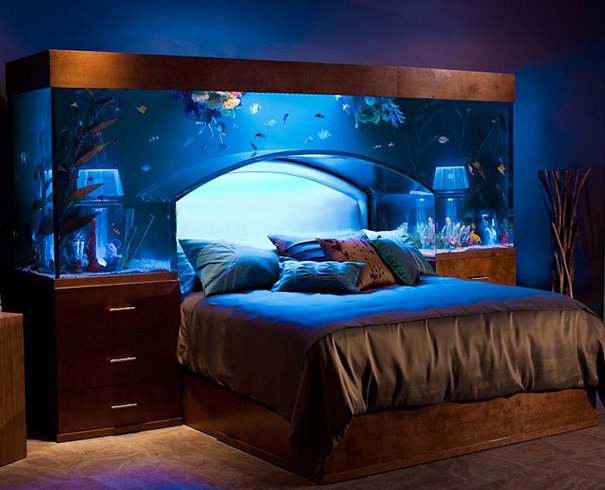 source
2. Indoor-Outdoor Pool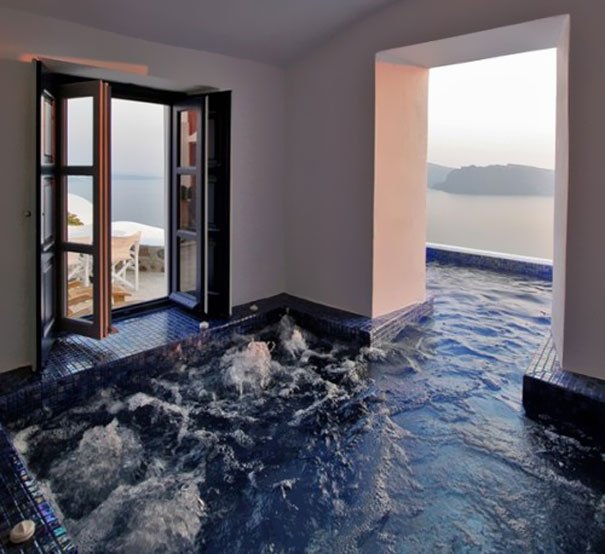 source
3. Swing Set Table
Is there someone who wouldn't like to have this swing set table? Your meals are definitely going to be more relaxed and laid-back when you sit on the swings.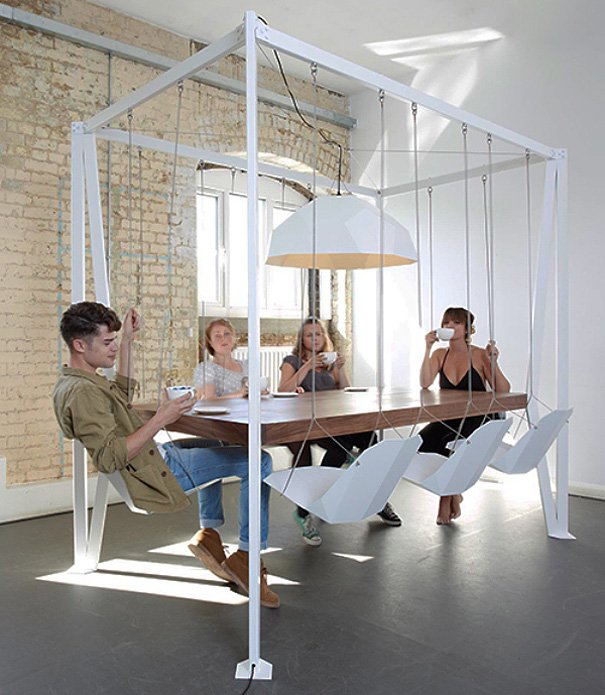 source
4. Beach Sand Under Your Work Desk
If your workdays are stressful and you wish you can be on the beach every day, there's a solution that will make you feel at least a little bit of the beach. Some unusual home designs feature beach sand under the work desks, so you can give it a try and see whether it will make things better for you.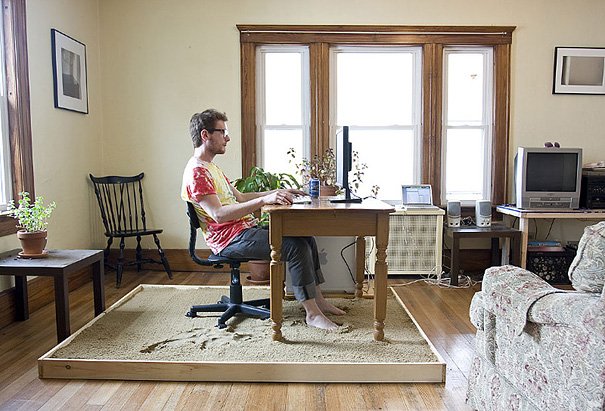 source
5. Spiral Staircase Slide
This is an excellent design for those who prefer to slide down instead of taking the stairs. If you have kids, they will be thrilled to slide more often for sure.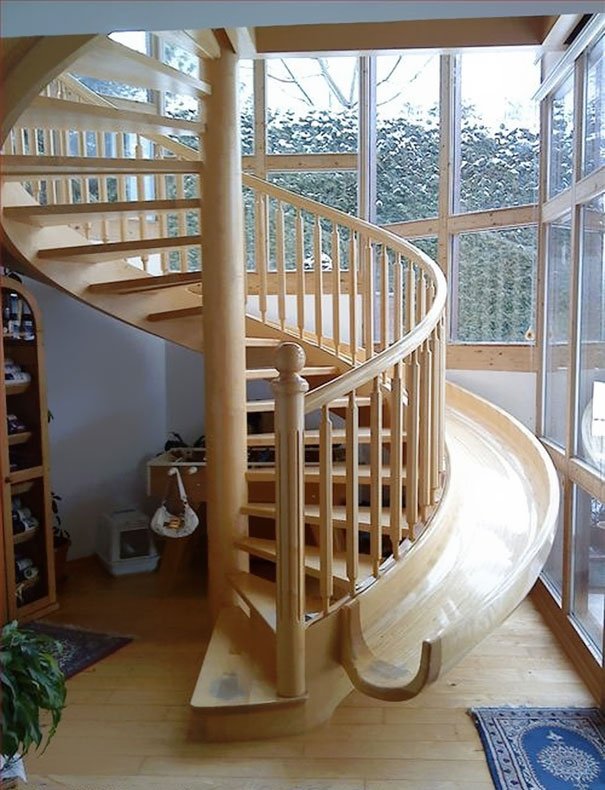 source
6. Cat Transit System
This is one of the most unusual home designs for sure. The cat is probably such a valued member of the family that it got to have its own transit system across the house.
source
7. Glass Floor and an Open Shaft Below Your Bathroom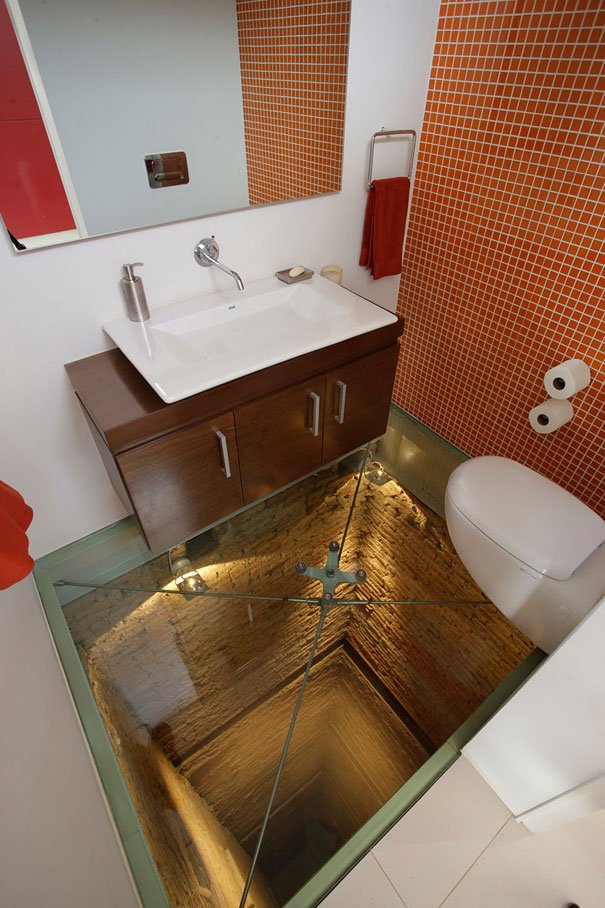 source
8
. Fusion Dining And Pool Table
9. 
Hammock Bed
source
10. Understairs Storage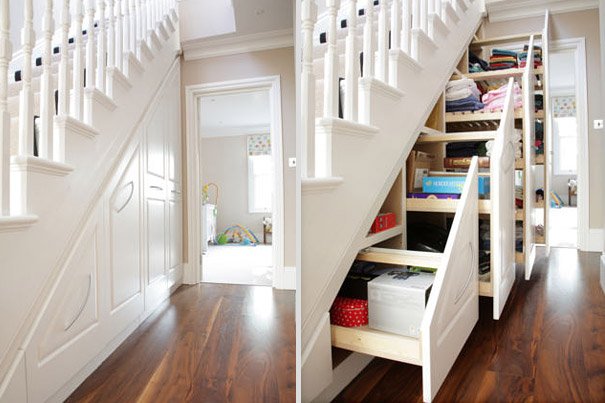 source
11. Backyard Cinema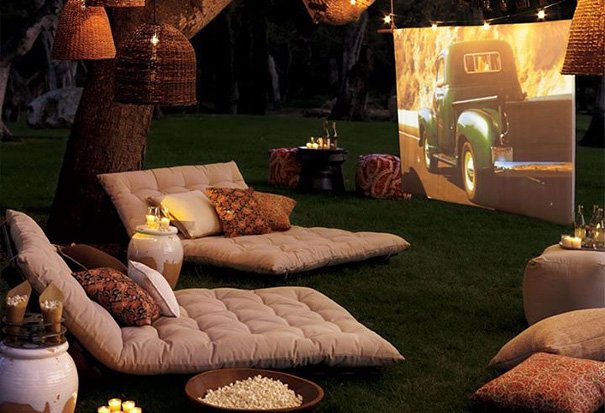 source
12. Ping Pong Door
Well, I have to admit, this is one of the best unusual home designs that I have ever seen. A door that transforms into a ping pong table is the best thing ever! It doesn't take up much space when it's not in use, so this is a great thing for you if you don't have a separate play room.
14. A Wall That Plays Music When It Rains
This house is probably the most popular house in the city. It plays music when it rains. I hope that the neighbors are entertained by this design rather than bothered.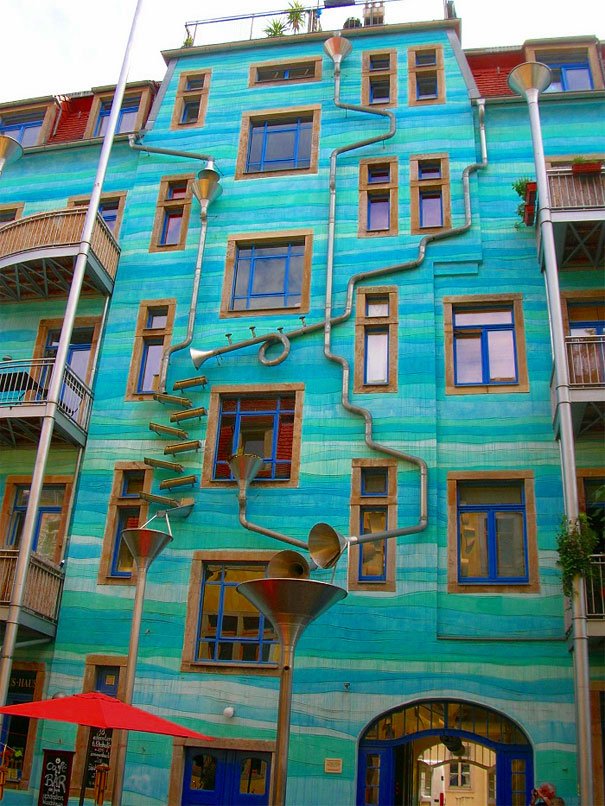 source
14. See-through Bathtub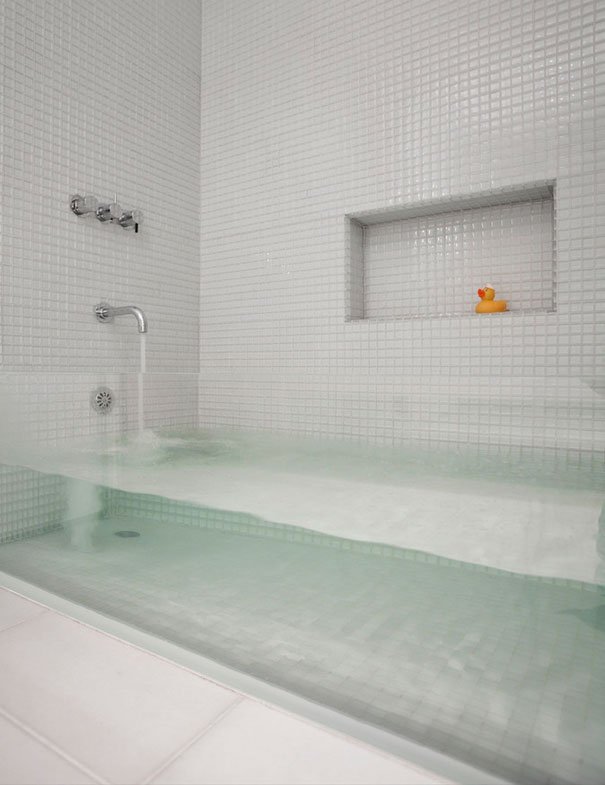 source
15. Vertical Herb Garden in Your Kitchen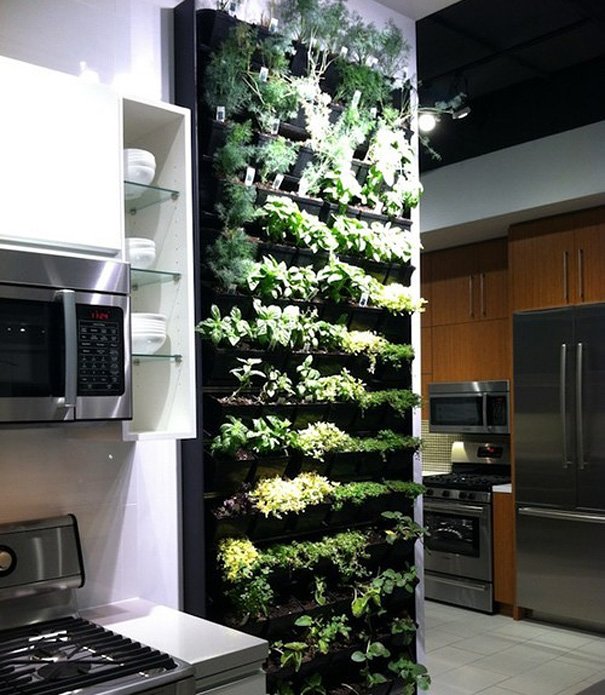 source
16. Bookcase Staircase
Do you have so many books in your home that you can't find the proper place to store them? This unique design will surely inspire you to consider turning the staircase into a fabulous library that everyone's going to admire.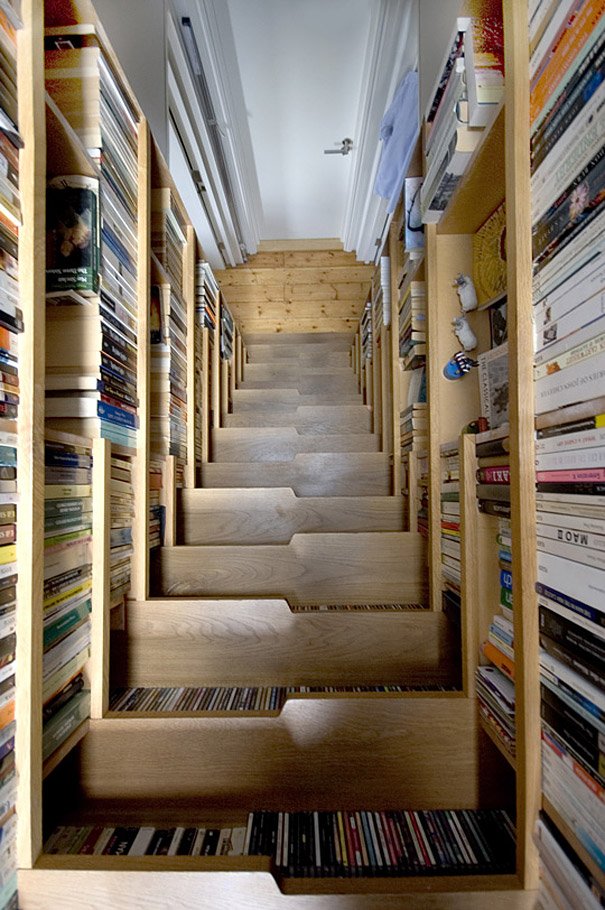 source
17. Back Yard Beach-Themed Fire Pit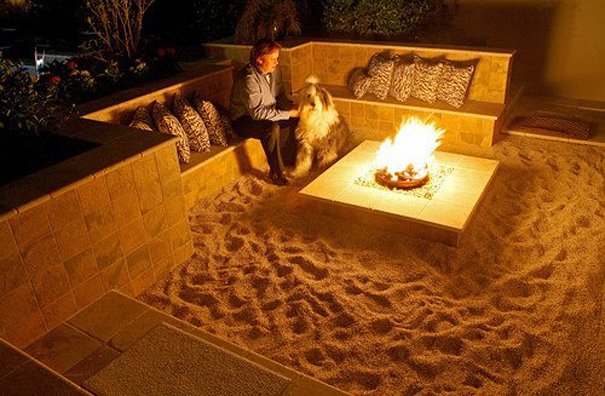 source
18. Backyard Office
Working from home can be such a good thing especially when other members of the family can't bother you. This backyard office is out of the ordinary and truly fantastic since you can still be at home while away from anyone. How do you like it? Honestly, I'd love to have it!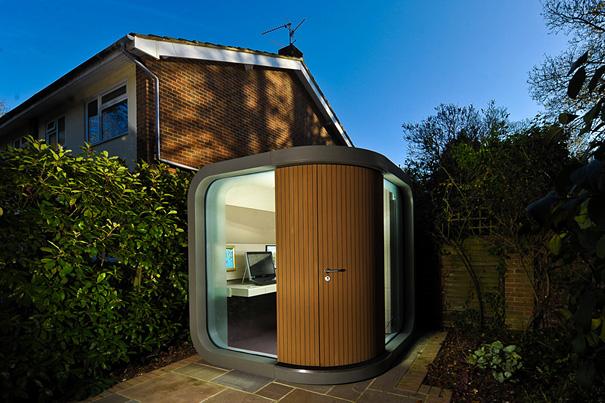 source
19. Indoor Slide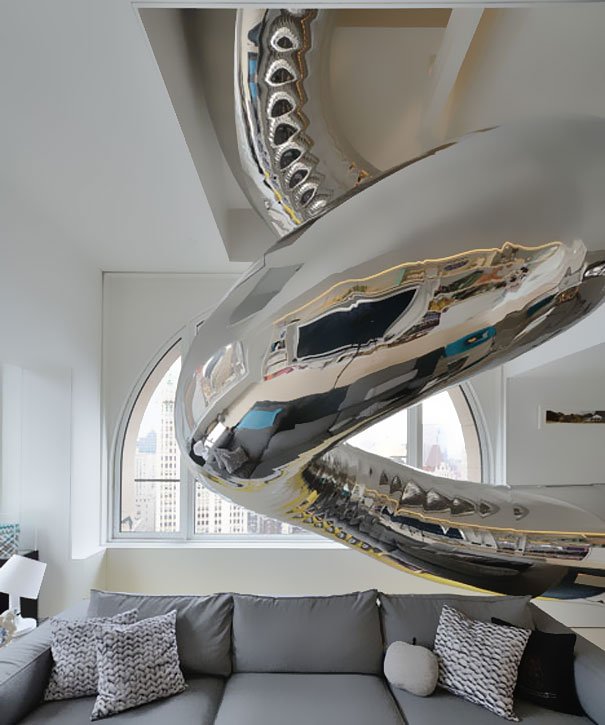 source
20. Table Firepit
Those of you who are having sophisticated and elegant homes would love the idea of having a table firepit in your living rooms. It will definitely add up to the ambiance and make you feel more cozy and comfortable.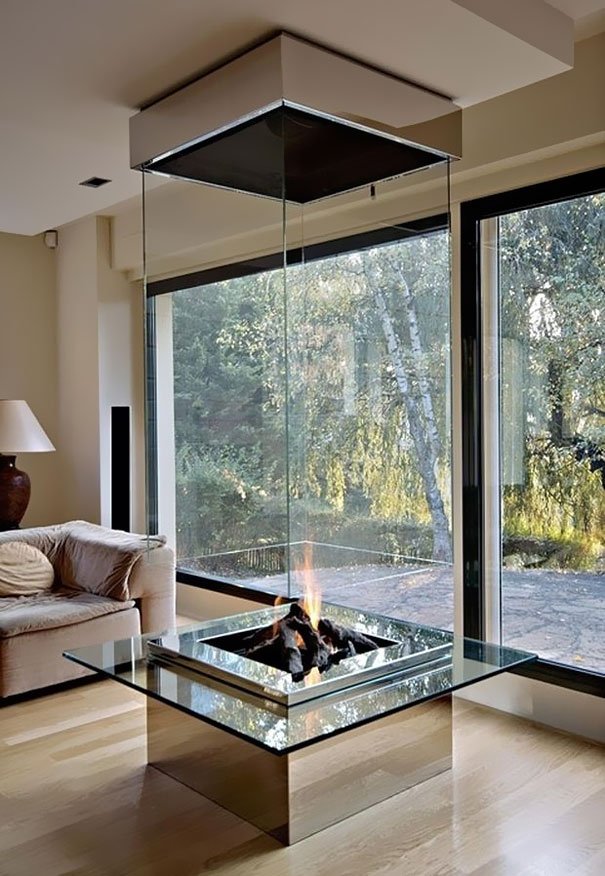 source
21. Balcony Pool
A balcony pool? Now, we are talking about some serious unusual home designs! How many of you would like to have a swimming pool at their balconies like the ones below? Make sure you count me, as well!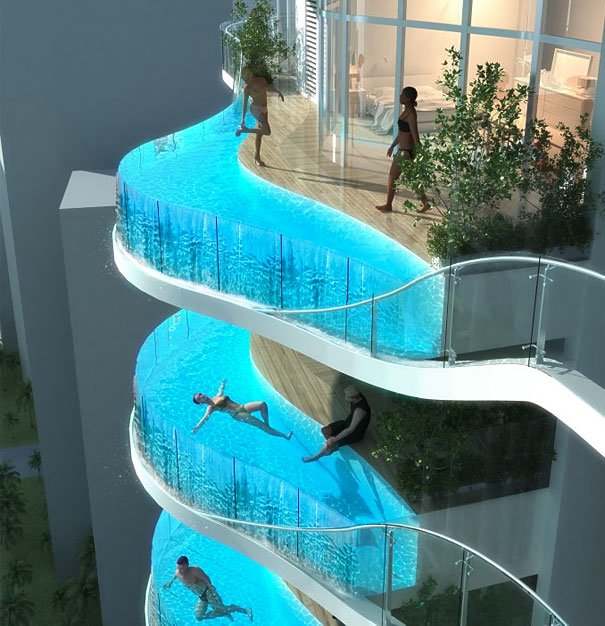 source
22. Skate-park Room
Are you a skate addict and you just can get enough of skating? If you are building your own house soon, save the photo below and let it serve you as an inspiration. I bet that you will be more than glad to have your own skare park incorporated into your home! Your friends will love to come more often and have fun! Moreover, you can make the deal with WowSkates and order the best skating pairs for yourself and your friends.
Closure
These unusual home designs have really managed to leave me speechless. There are several of them that I would like to have in my home. What about you? Have you managed to find the things that you would like to incorporate in your home once you get the chance to renovate or build a new house? I'd love to hear from you, so feel free to keep me posted in the comments below! I hope that you are all going to have a great day!