Garages are indispensable for keeping your car out of the elements, allowing you to perform messy projects without cleaning up after and storing items out of sight and mind.
Now, while the various uses might mean different tools for your garage, there're five essential items that every garage should have.
Equip your garage with these essential items to make it a happier and more productive space.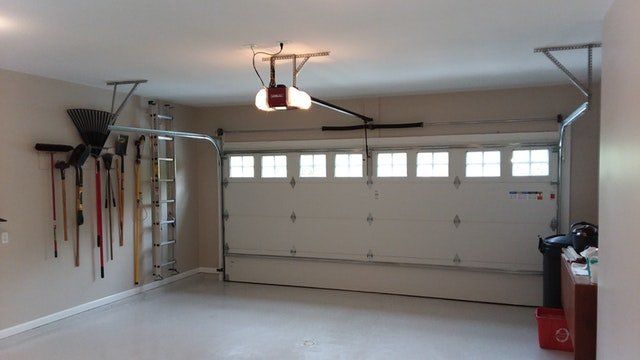 With the various tasks that happen in the garage from the woodworking projects, repotting plants to fixing electronics, a sturdy work table is of the essence.
Also known as a workbench, a work table should be the first equipment to invest since it's central to a majority of your DIY tasks.
A work table doesn't necessarily require a professionally made table. A workbench can be as simple as a plank of wood mounted on a sawhorse, or a tripod structure.
Whatever types of workbench you choose, we recommend that you go with a waist-height option, or rather a position easy for you to stand and operate without needing a stool. Again, ensure it's stable and can effectively support the load you're going to work on.
Both stability and height of a workbench are essential at improving the overall productivity.
The flickering or inadequate lighting in your garage can severely hurt the quality of work. Not to mention, a dimly lit room can result in costly mistakes.
Fortunately, it's not too difficult or even costly to upgrade the lighting in your garage.
Start by making a trip to your local hardware store and start looking for better lighting systems. Sometimes, adding several bulbs in your hardware can do wonders for the lighting system.
Also, you might need a portable work light, because in a garage, like any other workspace, you're prone to drop or lose small hardware, and portable lighting will allow you to scan across the floor quickly.
I know a fan seems like the least of the equipment you would want in your garage, but it's a vital component.
If you've been sweating all though during the sunny afternoons when working in your garage, it's time to get garage fan.
Installing garage fans  helps to improve the air circulation in your garage. This is particularly true if your garage is insulated or it's colored black and faces the direction of the sun.
In particular, the best garage fans help in cutting the sticky and muggy feeling and instead provide a fresh and comfortable working environment.
While the slab cementing on your garage floor will do the task, having an upgraded finish is even better.
A stain-free flooring is more forgiving to dropped objects, not to mention it will keep your garage floor more appealing and easier to wipe the spills.
While a majority of garage owners prefer epoxy, I would recommend modular tiles are the way to go.
Installation of these tiles is easier, and there're numerous color and style options to choose from.
If you've plenty of tools, the more you'll require organization in your garage.
There're various storage options in a garage, and this will ultimately depend on what you plan to store.
Some of the popular storage options you can use for your garage include a roller-cabinet-and-chest combo, advanced too chests, wall-mounted pegboards, or even slats.
Regardless of the storage option, you choose to install, ensure you create a system that ensures that every tool goes back where it belongs once you're done.
Conclusion
There you have them; the five essential things that you should always have in your garage.
Never let your garage look like a junk pit, instead, ensure you have the proper tools that will save time and resources when working on your garage.