Toronto is a big city filled with bright career and life opportunities. The capital city of Ontario is a major Canadian city. It serves as the dynamic metropolis hub of Canada, which is evident by the city's soaring skyscrapers – all of which seem small in the legendary, iconic CN Tower.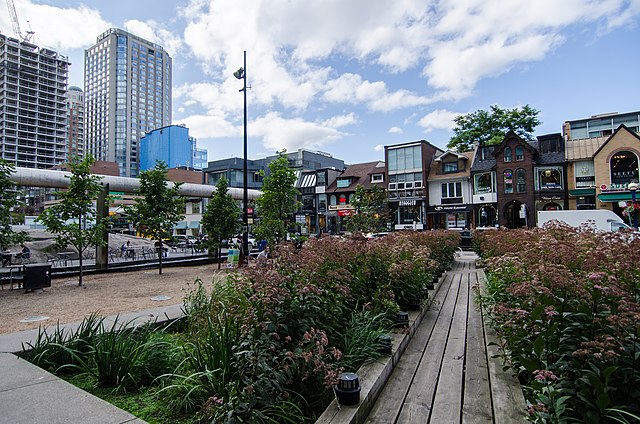 Apart from that, Toronto also has a lot of green places, including the 40-acre High Park, which makes this city eco friendly and a good place to live.
In short, living in Toronto is going to be an adventurous, bright, and vibrant experience for anyone. And if you are confused about the extremely huge number of neighborhoods in the city, we can help you. Every neighborhood in Toronto has its own charm. Depending on your age and lifestyle, you can find peaceful life in one of these neighborhoods and settle for good.
If you are single, then even better, because this article will solely focus on the top 7 neighborhoods in Toronto that can prove to be best for single individuals! And maybe in one of these Toronto homes for sale, you can find your safe haven.
Let's begin.
1.    Queen St. West
Queen St. West is one of the most vibrant and lively neighborhoods of Toronto, especially made for singles to enjoy their lives and achieve great things. Vogue chose this neighborhood as the second coolest in the world.
Life in Queen St. West is full of adventure and enjoyment. There is a string of bars, galleries, diners, boutiques, and retail stores, where people gather and have fun. In fact, a quick walk can make all the amenities available to you.
If you are single, then Queen St. West is definitely the best choice for you.
2.    Little Italy
Another fun-filled neighborhood in Toronto is Little Italy, famous for its Italian-style cozy patio cafes and wonderful restaurants. The whole vibe of this neighborhood is welcoming and charming, which also attracts a lot of outsiders in this neighborhood.
Soccer is big in this area – young soccer fans love gathering and watching games in bars and patios. So, if you are a soccer fan by any chance, then you would easily make a lot of friends in this community.
Little Italy has a lot of renovated homes turned into multi-unit, serving as the perfect residential places for singles and students.
3.    Yonge and Eglinton
A still-developing neighborhood, Yonge and Eglinton is a place for young individuals. A lot of them are already living there and they hate to leave such a good neighborhood. Some families are also living in this neighborhood, and a lot of singles did start their family in the same place, which makes it evident that Yonge and Eglinton is as safe and good for families as it is for singles.
There are a lot of condo projects under construction in Yonge and Eglinton, so maybe you can get lucky and get a condo at a good spot if you start looking now.
4.    Church and Wellesley
Church and Wellesley has proved to be one of the best places for single individuals of this generation. This neighborhood is also known as Village, and it is the LGBTQ Utopia of Toronto.
It wouldn't be wrong to say that the neighborhood is an entertainment hub, let it be cozy bars, shopping centers, restaurants, drag shows, boutique bars, and much more. Considering all that, singles love to live there.
What's more amazing is that this neighborhood has such an inviting vibe, and a lot of condominiums and apartments become available every year at affordable rates.
5.    King St. West
King St. West became one of the best neighborhoods in Toronto after advertising agencies went there and brought new developmental opportunities. After that, this neighborhood was filled with condos and skyscrapers, which became the reason for its popularity.
The entertainment scene is flourishing in King St. West, including high-quality restaurants, cafes, bars and clubs, hotels, and much more. In fact, it is impossible to find a boring spot in King St. West.
This place is best for singles wanting to mingle. If you start looking, you can easily find a condo with the best view of the city at affordable rates.
6.    Liberty Village
If there is a neighborhood that should get a certificate for being the liveliest, it should be Liberty Village. It is bustling each day and every day. For individuals who are working and want to maintain their career while having fun every once in a while, Liberty Village is a very opportunistic neighborhood.
There are tons of restaurants, cafes, and bars where individuals hang out with friends and have business meetings.
Most of the homes in Liberty Village are condos and most of the population is single, mostly those who are working, which makes this place very affordable.
7.    Distillery District
Distillery District, also known as the trendiest neighborhood in Toronto, is mostly known for its annual Christmas market, unique and exclusive eateries, art galleries, stunning architecture, bars and clubs, and basically every sort of fun thing.
The brilliant social scenario aside, Distillery District consists of plenty of condos and complexes at decent prices, many of which are directly related to the ancient history of the place.