Have you ever walked into a restaurant and felt completely off put by how the tables and chairs were arranged? The layout and design of a restaurant's furniture can make or break the overall dining experience. As you get ready to open your new restaurant or give your existing space a makeover, there are some key things you'll want to keep in mind. In this article, we'll cover the 7 most important things to consider when designing your restaurant's furniture layout so you can craft an arrangement that is inviting, functional, and helps your business thrive.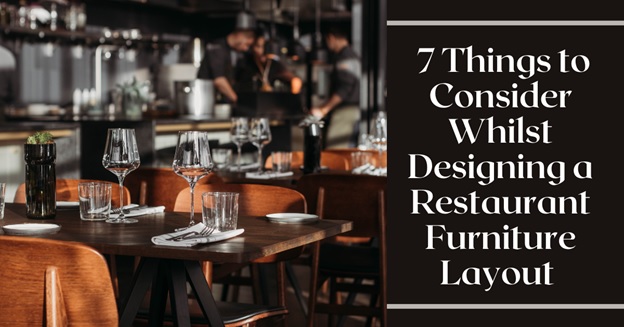 7 Things to Consider Whilst Designing a Restaurant Furniture Layout
1. Optimize Table Placement for Maximum Capacity
To maximize seating capacity, think about table placement and layout.
Group tables together based on size and shape. Round tables work well in clusters, while square and rectangular tables align better in rows. Mixing up shapes and sizes creates visual interest for customers too.
Leave enough space between tables for servers and guests to easily navigate. A good rule of thumb is at least 42 inches between tables for a single server to pass through, and 60 inches for two servers.
Consider a combination of both booth and table seating. A 70/30 split is a popular balance.
Don't forget to account for ADA-compliant access and seating. Provide wheelchair-accessible routes at least 36 inches wide, wheelchair seating spaces, and tables with adequate knee clearance.
Maximize prime real estate like windows, patios, and bar areas. Group seating to take advantage of views and natural light.
2. Leave Plenty of space for Customer and Staff Movement
When designing your restaurant layout, leave plenty of space for customers and staff to move around. Crowding too many tables into a small area will make it difficult for servers to do their jobs and create a cramped experience for diners.Aim for at least 42 to 48 inches between tables so customers and staff can walk through comfortably. Wider aisles, around 60 inches, are even better, especially in high-traffic areas. Don't forget to also leave room for customers to pull out their chairs and for servers to walk around the table. In addition to the main aisles, you'll want separate paths for servers to efficiently access areas like the kitchen, bar, and restrooms. Clearly mark these "employee only" zones so customers don't wander into work areas.A cramped, crowded environment will frustrate your staff and turn off customers.
3. Choose Sturdy, Durable Furniture Materials
Customers will be interacting with these pieces daily, so they need to withstand heavy use and lots of wear and tear.Consider furniture made of:
Stainless steel: Extremely durable and easy to clean. Stainless steel tables, chairs and bar stools are ideal for high-traffic areas.
Solid wood: Hardwoods like oak, maple and teak can last for decades with proper care and maintenance.
Weathered wood: Distressed or reclaimed wood adds rustic charm and hides imperfections well.
Wrought iron: This twisty metal material is nearly indestructible and complements many design styles from modern to traditional.
Polypropylene: This highly durable plastic material is often used to make molded chairs, bar stools and tables.
4. Design the Layout to Match Your Restaurant's Esthetic
Match the Style
Choose the best restaurant sofa manufacturers that match the style and theme of your restaurant furniture design. For a casual bistro, opt for simple yet stylish pieces like rustic wood tables and chairs. For an upscale restaurant, invest in high-quality furniture with an elegant and luxurious feel using materials like leather, marble or velvet.
Allow for Flexibility
Having movable and multi-functional furniture allows you to easily rearrange your layout to accommodate different group sizes or events. Round tables that can be pushed together are ideal for large parties.
Provide Adequate Space
Place tables at least 3 to 5 feet apart for comfortable seating and walking space. Arrange sections, paths and aisles so customers can easily find the bar, restrooms and exits. Also account for space behind tables and chairs so servers can efficiently move around.
5. Allow Flexibility for Future Changes
Leave extra space
Don't cram tables and chairs into every available inch of your dining area. Leave some open space for customers to easily navigate and for staff to work efficiently. Extra space will also allow you to spread out tables in the future or add more seating if needed. Consider an open floor plan with minimal interior walls for the most flexibility.
Choose moveable furniture
Opt for tables, chairs, booths and other pieces that are easily rearrangeable. Round tables, for example, can be pushed together for larger groups or separated for more intimate dining. Lightweight chairs with wheels or casters make rearranging and repositioning a breeze for staff.
Consider multi-purpose spaces
If possible, incorporate areas of your restaurant that can serve different functions. A lounge area near the bar could also be used for private events or overflow seating on busy nights. An outdoor patio might be used seasonally for dining or year-round for drinks and appetizers.
6. Accommodate a Variety of Party Sizes
Leave open space for larger groups, but also have smaller tables available for duos or trios. A good rule of thumb is to have a mix of:
High-top tables: Perfect for a quick bite or drink at the bar. High-top tables are ideal for solo diners, couples or small groups of three.
Standard tables (4 to 6 seats): The most common size, suitable for families, double dates or a group of coworkers grabbing dinner. Leave enough space between tables so guests don't feel crammed in.
Large round tables (8 to 10 seats): Great for bigger groups to share dishes, converse and bond over a meal. Be sure to position these tables in an area with lots of open space since larger parties will need room for bags, coats and people maneuvering in and out of seats.
Banquettes or booths (can seat 4 to 8): Banquettes are cozy spaces perfect for an intimate meal or special occasion. They allow larger groups to dine together while still feeling like they have their own defined area. Leave a few feet of space in front of the banquette for guests to slide in and out.
7. Choose Durable, Easy-to-Clean Furniture Materials
When choosing furniture for your restaurant, durability and easy cleaning should be top priorities. The materials you select will determine how well your furniture can withstand high traffic and frequent use.
Stainless Steel
Stainless steel is a popular choice for restaurants because it's nearly indestructible and water resistant.
High-Density Plastic
High-density plastics, like polyethylene (HDPE), are affordable, low-maintenance options. Plastic furniture is waterproof, stain resistant, and durable
Wood
Hardwoods like oak, maple and teak are attractive and long-lasting, but they require more care and maintenance. Wood furniture needs to be sealed and re-sealed regularly to prevent water damage and stains. Scratches and dents also show more prominently on wood.
Upholstered
Upholstered seating provides more comfort but is difficult to keep clean in a restaurant environment. Stains from spills and splatters are hard to remove from fabric and vinyl. Upholstery also wears out faster with heavy use.With the right materials that balance looks, budget and functionality, your restaurant car furniture can serve guests well for years to come.
Conclusion
So there you have it, 7 key things to keep in mind when designing your restaurant furniture layout. If you get the layout right, you'll have happy customers who stick around, order more food and drink, and ultimately become repeat visitors and loyal regulars. Focus on flow, comfort, and ambiance and you really can't go wrong. Do that, and your restaurant will be set up for success before the first meal is even served. Now get designing – your dining room awaits!