More people are traveling globally and domestically than ever before.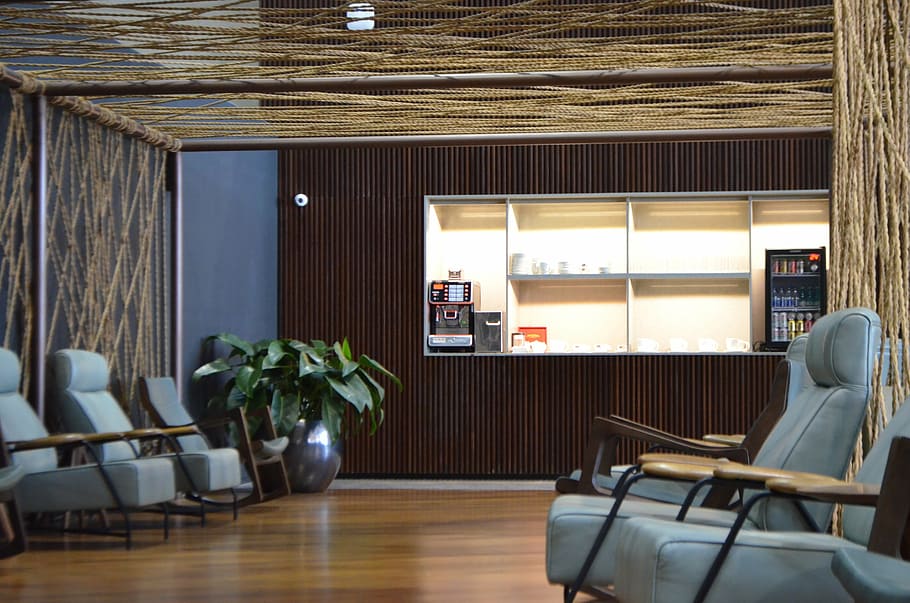 Airport lounges offer amazing perks. Who doesn't want free wifi, complimentary food and drink, spa services, and a comfortable place to relax and recharge before your flight?
Fortunately, the exclusivity of airport lounges has become a thing of the past. Although they used to be the domain of wealthy travelers and businessmen, airport lounges are now opening their doors to everyone. You just need to know how to get in.
Let's take a look at eight ways you can enjoy all the perks of airport lounges, too.
1. Use a Credit Card That Has Airport Lounge Access
One of the most common ways that travelers get access to an airport lounge is through credit cards that unlock airport lounge access.
There are many credit cards in the U.S. that come with access to specific airline lounges. Some credit cards also grant you access through a third-party program like Priority Pass at a reduced fee.
Credit cards offer a lot of perks and extras these days, so it's always a good idea to take a closer look at the benefits your credit card offers – you may even find that you have airplane lounge access that you were completely unaware of.
Just a few credit cards that offer access to airplane lounges include American Express' Platinum Card and Delta Reserve Credit Card, Citi Prestige, Chase Sapphire Reserve, Hilton Surpass, and Citi AAdvantage Executive – but there are many more.
2. Get Priority Pass
Priority Pass is a third-party membership program, and it's the best option if you travel all over the world frequently.
Priority Pass membership gives you access to more than 1,300 airport lounges across the globe. The lounges themselves are a combination of airline, alliance, and airport lounges, and there are different options (or tiers) to choose from.
At the lower tiers are the Select and Standard memberships. The highest tiers are Standard Plus and Prestige. The option you choose will depend on how often you travel and how much you want to spend.
The Select membership is often included as a perk with certain premium credit cards. It usually offers unlimited visits and limited guest access.
A Priority Pass membership also grants you access to the Priority Pass app, which is compatible with both iOS and Android devices. Checking the app before you travel is a convenient way to see which lounges you'll have access to.
3. Get a One-Day Lounge Pass
Consider a one-day pass for lounge access if you don't want to make a long-term payment commitment. Airport lounges that offer one-day passes include Alaska Airlines, American Airlines, and United Airlines, and they range from around $50 to $60.
Usually, you'll have several lounges to choose from, but it depends on which airport you'll be departing from. However, you should research which lounges are available before you embark on your trip to avoid disappointment.
You can purchase a one-day pass online or in person, but be warned that priority is always given to annual and program members. If an airport is particularly crowded when you show up, you may be refused access.
Another thing to note is that a one-day pass doesn't necessarily mean you have 24-hour access, so always check the fine print.
4. Get an Annual Airport Lounge Membership
Purchasing an annual airport lounge membership may be a good option for you if you use the same airline or alliance frequently.
United, Air Canada, Delta, American, Hawaiian, and Alaska have lounge membership programs, and each has at least one lounge in every prominent airport in the North American region.
If you do a lot of international travel, it may be better to opt for a lounge membership with an alliance rather than a specific airline.
Three of the major alliances are Sky Team, Oneworld, and Star Alliance. A membership with one of these large alliances also comes with other perks – like allowing you to collect and combine points.
5. Get to Elite Status
Reaching elite traveler status is not an easy thing to achieve. But if you travel extensively for business or personal reasons and you do it through one airline, this may be a viable option for you.
Oneworld, Star Alliance, and Sky Team will give you access to some or all of their airport lounges if you meet certain criteria. So, if you travel frequently and only fly with one airline, check your membership status to see if you qualify.
6. Purchase Public Airport Lounge Access
Airport lounges used to be much more exclusive and only wealthy travelers and businessmen could access them. Not anymore.
Many airports now contain public lounges that are not affiliated with any alliance or airline, which means getting access to them is now much easier.
In North America, two popular lounges are Airspace and The Club, and they are open to all travelers. In the international market, Plaza Premium is one of the most popular lounge brands.
These lounges have many of the same perks as the more exclusive ones, including free food, entertainment, wifi – everything you need for a stress-free travel experience.
Some charge for access by the day, while others charge per hour.
It's always worth looking up the lounges in airports you're scheduled to visit because these public lounges are arguably just as good as private lounges.
If you don't want a long-term payment commitment to an airline, alliance, or third-party program, public lounges may be the perfect option for you.
7. Travel With Someone Who Has Lounge Access
Most airport lounge memberships will grant lounge access to guests accompanying you at no extra charge. Traveling with someone who has lounge access is a great way to get in.
Some people claim to hang around near airport lounges asking strangers if they can enter on their memberships as a guest, but this rarely works. Traveling with someone who has a lounge membership is the most reliable way to get lounge access without having to pay for it.
8. Active Military Members
Many airport lounges grant access to active military members and their families. Chase Sapphire Reserve and American Express Platinum Card waive annual fees for all military members so that it's easier for them to take advantage of the card's perks.
Active military members get free access to the largest selection of airport lounges in the world with these cards. What's more, it's absolutely free.