Looking to start a beekeeping business in Texas?  Here is everything you need to know before getting started.
Beekeeping is a great business venture to pursue. It's profitable and satisfying. However, the pros of beekeeping do not end there. As many of you may know, bees are crucial to the sustenance of the environment because they are natural pollinators. If the location of your business allows it, you can rent out your bees so that they can help pollinate commercial plants/crops.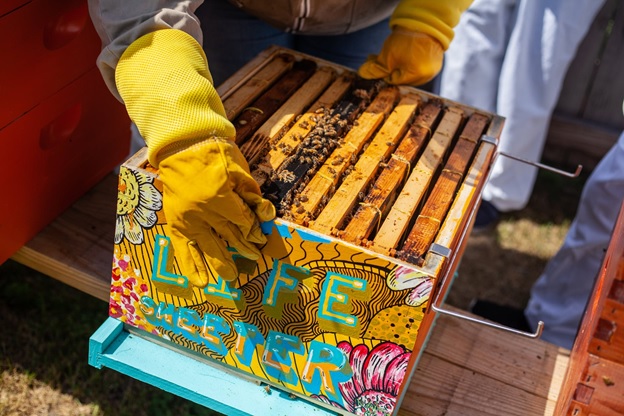 You will also be selling the best alternative to sugar – honey! Not only will you be contributing to reversing the adverse effects of climate change, but you will also be benefiting the health of others.
As with every business venture, you need to know and understand a lot of things before you get started. Luckily for you, the beekeeping business isn't as complicated; read through this article to find out more.
Have a Solid Business Plan
The key to any successful business is to have a business plan that is well solid, clear, and well thought out. How do you plan on getting started? What will you do with the profits? These are the questions you need to think of when making a plan.
First and foremost, think about how much it would take for you to start your beekeeping business. If you live in Texas, then speak to existing beekeepers about their business. You will learn about all the costs involved, the normal rate beekeepers usually charge their customers, and the kind of customers they tend to serve.
Getting the proper equipment is also very important since you will be farming live insects. Check out your local retailers along with any online Texas beekeeping supplies stores to get all your beekeeping equipment and supplies.
When you have your plans and necessary supplies in place, it's time to think of a name for your business. The naming process is only difficult when you actually sit down to decide on a name. Don't overcomplicate things. Choose something simple and easy to remember.
Beekeeping in Texas
Around the year 2017, beekeeping became a popular hobby amongst the people of Texas. in fact, laws have been passed in the state that prevents people from killing bees within a colony without the owner's permission. Although initially, people were housing bees in their backyards, they eventually moved on to commercializing their beekeeping hobby by selling products like honey and beeswax.
Don't worry about your beekeeping business not working out. Texas is a great place to start. Bees aren't regular pets or animals to have; if you know little about caring for them, then the best place to seek help is the local bee club. Every hobby has its community, and luckily, the state of Texas houses a number of bee clubs that you can go to learn all about hive management.
Make Your Brand
Branding is essential when it comes to promoting your business. How you brand your company will make it easier for customers to understand why you are different from other beekeepers. Pay close attention to making your brand stand out from the rest.
Now, making your brand is only half the job. You have to display your brand for customers to see. Some social media promotion, and most importantly, setting up a website for your business, will do the trick.
Shoot a few promotional videos once you've got your location together to attract more people.
All in all, focus on letting people know the mission and vision of your company. This will give the customers a good reason to choose and support your business.
Set up a Business Communication Systems and Accounts
You need to have professional accounts and business phone numbers set up whenever you set up a new business. indeed, some people still like to use their personal emails and phone numbers to contact their customers or suppliers – but remember, doing that will remove the boundary between your personal life and work life.
Keep your business affairs separate. Customers and suppliers should reach you through your business phone system or your business email. It would also be helpful to have a team designated to handle business-related calls and queries and provide customer service. Since you will be the head of the business, it won't always be possible for you to be there on call. To avoid any late responses, setting up a communications team is very important.
Also, don't forget to open up dedicated bank accounts and credits cards for your beekeeping business. Like your phone numbers and emails, you need to ensure that your personal assets and expenses are kept separate from your professional ones. It'll just be a confusing mess if you end up mixing the two.
Make Sure to Tend to all Legal Aspects of The Business
To secure the future of your beekeeping business, there are a number of legal formalities you have to deal with.
Firstly, you must register for all necessary taxes and federal taxes. Assuming that you are planning to establish your business in Texas, you might want to look into the taxes relevant to your state.
Secondly, be sure to have all the required licenses and permits. If you are to become a beekeeper, you are expected to have the relevant permissions and certifications to do so. One of the most important certificates you could get, for example, is the Certificate of Occupancy (CO). To be able to set up your bee farm, you would need to build a honey home. To ensure that your property is following the guidelines set out by your state government, you need this certificate.
Lastly, make a legal business entity. In the event that your business encounters an issue, you won't be held directly accountable when someone decides to sue the business.
Get Business Insurance
Most people forget about insurance when setting up a business. This, in turn, ends up backfiring on them during the course of their work. In order to protect your business in the event you encounter losses, you need good insurance that will help compensate for that. Having insurance shields you from damages caused due to mistakes, accidents, or theft. Incurring losses, making mistakes, unexpected accidents, or thefts are very common events that are bound to occur in the course of a business. Therefore, having proper business insurance protects you against the odds when they arrive.