What is duvet covers made of?
Duvet covers are used as the duvet coverings, they cover the duvets like the pillows covers cover the pillows. Duvets covers can be found in many varieties. Duvet covers can either be padded or unpadded. Padded duvet covers are warm and are used to enhance the thermal insulation of the duvets. Padded duvet covers may be filled with natural or synthetic fillings. These filling materials comprise wool, cotton, polyester, hollow fibers, and microfibers. From which, synthetic fillings are anti-allergenic and provide more warmth.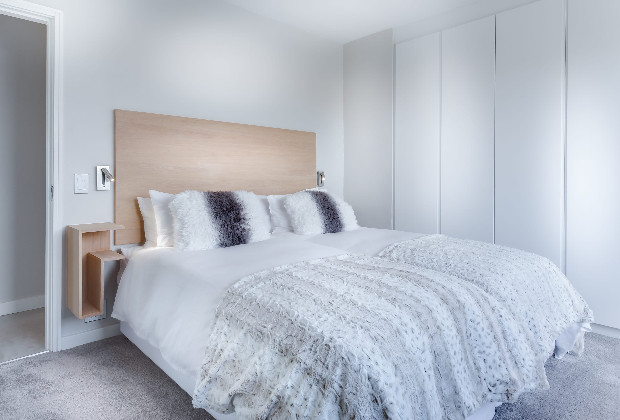 So if you are a hypoallergenic person or are suffering from any respiratory disorder, prefer using them. As they help in breathing and allowing you to enjoy a comfortable sleep. Moreover, synthetic padded duvet covers are less expensive than the natural padded ones.
To upkeep your duvets and enhance their lifetime, you need a duvet cover. Duvet covers protect the duvets against dirt, germs, and stains. They cover the duvets completely and enhance their functionality. Duvet covers provide several benefits (based on the kind of their padding material), a few of them are described below.
Benefits of duvet covers
Easy washing
Duvet covers are easier to wash and maintain when compared with duvets. Duvets are heavy and thick & are difficult to wash at home. Many duvets require to be dry cleaned only as well. This can stress your budget and put you in a difficult situation. On the other hand, duvet covers are easy to wash, replace, and store. You can easily put them in the washing machine at any time for washing.
Duvet protection
Duvets are expensive and need a lot of money to buy. Any liquid spillage, stain, dirt mists, and body moisture can lead to destroying the texture of duvet. Enclosing your duvets inside the duvet covers can protect it from the dirt mists and prevent the germs from getting into your duvet. It will be extremely beneficial in keeping all the contaminants out and prevent body wicking. This way, duvet covers will increase the lifetime of your duvets and reduce the need for replacing them.
Artful look
Changing all the accessories within your bedroom is difficult and budget stressing. Also changing the duvets quite often can lead to tightening your budget as well. Duvet covers can help you save money in the long run that you will likely be spending on buying the new duvets. Duvet covers come in a wide range of colors, designs, and fabric materials. If you love experimenting with different looks and make your bedroom look appealing. Duvet covers are the best choice, they will give your room an aesthetic and artistic feel. They will also help you in creating aesthetic appeal.
Maintenance of the body's temperature
Duvet covers come in various fabric materials, including both the lighter and heavier fabric materials. They add more to the comfort and warmth of the duvets. Heavy fabric materials make the duvets warm and cozy. Whereas, the lightweight fabric materials, help you keep the body dry and cool. Duvet covers also absorb the body moisture and body fluids and prevent the body from wicking.
Add more to the comfort
Duvet covers make your bed soft and comfortable. They give you a cuddly feeling and hug you while you are sleeping. With the right duvet cover, you can keep your body at moderate temperature and sleep tightly. This helps to wake you up fresh and active. Moreover, duvet covers adjust to the body's temperature. While using a heavy and padded duvet cover, you do not need to add a comforter or blanket to warm yourself in the chilly nights. If you want to get high quality duvet covers then buy now from imperial rooms.
Increase breathability
Duvet is often heavy and filled with heavy padded materials which can decrease the breathability of the duvets. Duvet covers promise you optimum breathability and Air passage. They are designed in a way to give a soothing feeling to your body and enhance the functionality of the respiratory system. For more benefits and a budget-friendly duvet cover, synthetic padded duvet covers are preferred. As the synthetic fillings like microfiber and polyester increase the breathability & are available at cheaper rates.