Now is the time of year when mistletoe, evergreen, stockings, and other holiday decorations come out of storage to make the holidays more festive. It's also the time of year to start making a list and checking off family Christmas presents. Why not combine the two by investing in a luxurious and old-fashioned furniture piece for your home? Chesterfield settees and suites will provide not only a comfortable place for your family to relax, but also a handmade centerpiece for holiday celebrations. With a diverse range of styles, a Chesterfield sofa is the perfect Christmas gift for the whole family.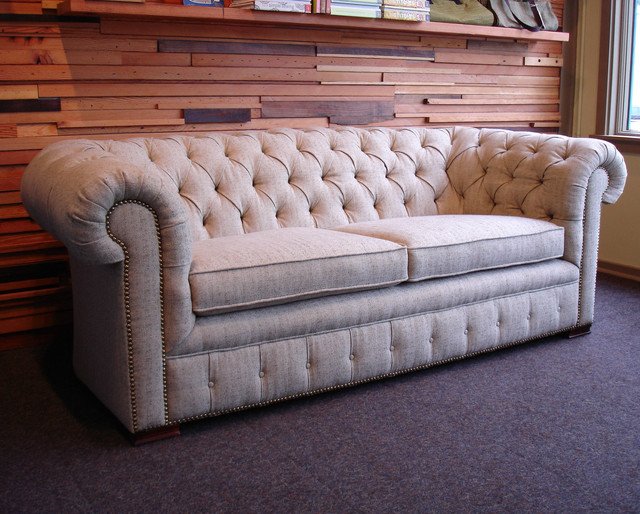 source
A Customise-able Christmas Gift
A class leather Chesterfield sofa is timeless for many reasons – not the least of which is the ability to adapt this traditional British furniture piece to each family's individual needs. These suites and settees are made to order, so your individual sofa will be made just as you order it. There's no storing involved, and you can personalise it in so many ways that no two are likely to look the same. From size to filling style and the colour of woodstain, these central features for your home are fully bespoke, with the potential to design them to specific measurements for your home.
Some of the specific collections include the standard Birch, two-tone finish of the Birch Antique, textured leather of the Lena option, natural appeal of the Selvaggio and Rimini, and the contemporary design of the Artemida collection. You can also choose between a leather or more modern fabric sofa, with colors and fabrics from Sunbury Design and the exclusive Ross line of chenilles, velvets, and flat weaves for a silky soft couch. No matter how you customise your family's Chesterfield, it is sure to encourage grandparents and grand-kids alike to spend time together, whether relaxing by the roaring fire or playing games together for the holidays.
Hand-Made for the Holidays
Chesterfield design never goes out of fashion; in fact, these sofas' traditional British look belies the skill and craftsmanship that goes into their production. An experienced team of time-served craftsmen make each piece by hand using traditional methods and the best leathers, fabrics, and woods available. With over 35 years of experience in building durable and beautiful furniture, they are able to ensure exceptional value and quality with each sofa, suite, or settee. You can even visit their Lancashire workshop to witness these artisans at work!
Once you have a Chesterfield in your home, though, you'll likely find the charm and comfort of your Chesterfield sofa impossible to resist. Soon, the holidays will be passing by as your family savors one another's company beside a log lite fire and large Christmas tree.
Affordable Durability
Some things get better with age, and the finest quality full-hide leather ensures that your family's sofa will bear the test of time. Chesterfield sofas are never made from scraps of leather, as doing so will lead to poor colour, finish, texture, and overall weak leather. Instead, each piece of furniture is made from high-quality full-hide leather and durable, shock-absorbing beech wood, with the frame covered by a decade-long warranty. This ensures that each suite or settee, from the leather to the glue, screws, and dowels that hold it together, can bear the weight of your family and its joy-filled holidays.
Despite their high-quality construction, these sofas won't create financial stress for the Christmas season. Indeed, the Chesterfield price promise means that any competing price will be met, provided it is for equally high-quality furniture. Still, your family's new holiday centerpiece will more than live up to the initial investment as it brings everyone together and ages well over the Christmases still to come.
Buying a Chesterfield is not a decision to be taken lightly, but it can provide a focal point for your family's holiday season, from relaxing by the fireside to enjoying a relaxing afternoon together. Remember that the customization of your sofa extends to delivery as well, with Chesterfield Sofa Company more than happy to deliver to almost any location. However your sofa enters your home, cherish the time spent upon it, whether at the holidays or in the days of the new years to come.