The kitchen is more than just a cooking and eating space. It's where all the action takes place, from entertaining guests, to spending time together as a family on Saturday mornings. It's the true heart of our homes. So, how do you refresh your kitchen décor without breaking the bank? Here are four simple, practical and cost-effective ways to get you started.
Give Your Kitchen Cabinets a Makeover  
There are three ways to give your cabinets a new look on a budget that are really quite effective. Considering one, or all three of the below will certainly give your kitchen a new look, and won't cost as much as a full refurb.
Paint
Applying a fresh coat of paint on your cabinets can take decades off your kitchen with minimal cost. Before painting, be sure to prime them first with a de-glossing primer, to eliminate the need for sanding and help the paint adhere. If you stick with neutral colors, you can add art, curtains or accessories in a striking color as an accent. In addition, neutral colours also appeal to many people, hence it will easier for you to sell your home if you decide to move.
Swap Or Remove Cabinet Doors
After painting the cabinets, consider removing a few cabinet doors, to create the effect of open shelving. Open shelving is a popular kitchen design trend because it makes the kitchen looks more spacious. Alternatively, you can also replace your current cabinet doors with glass paneled-ones to improve their look. Whatever method you choose, just make sure you keep your utensils organised, and display them attractively, to create a focal point for your kitchen.
Get New Hardware
Update your cabinet hardware to add a fresh, new look to your kitchen. Replace your old cabinet knobs, handles and drawer pulls with unique and colorful options. However, you should resist the temptation to buy something too personal. For instance, don't go for a hardware that looks like a mini chicken or spoon. Sure, these options are cute and fun, but they get out of fashion fast. Stick to more traditional designs with a quirky twist that you'll enjoy for longer, to make sure you're happier with your kitchen for longer.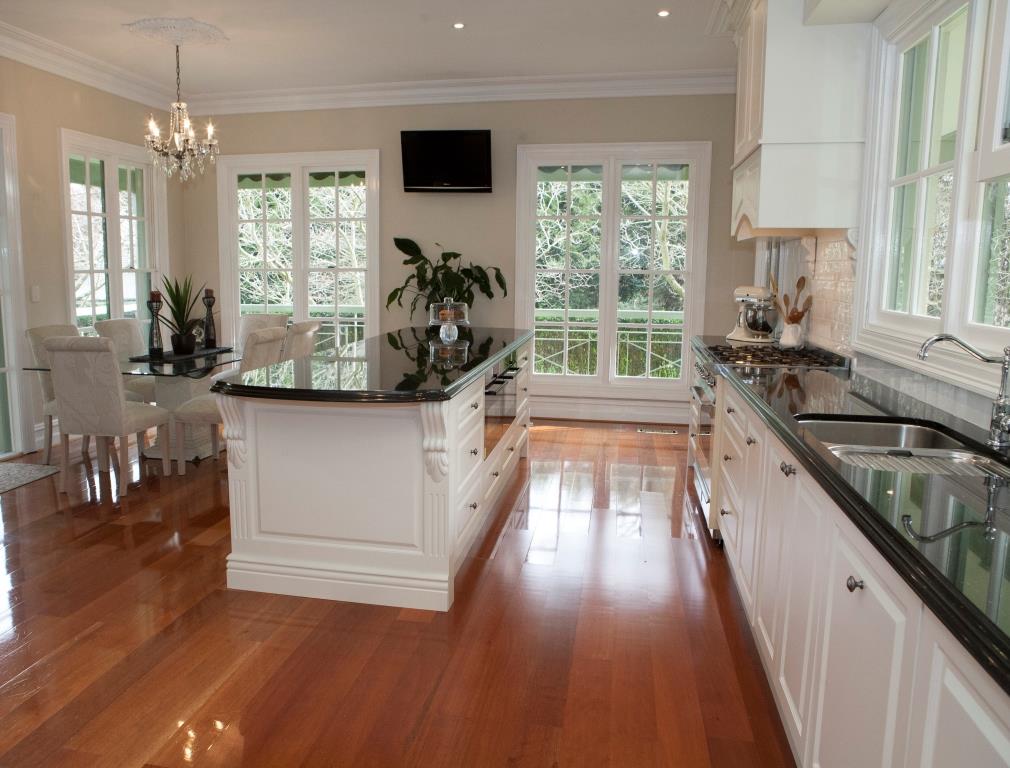 Add Personality With Pendant Lights
If you're not happy with your decades-old kitchen lights, consider replacing them with colourful pendant lights to give your kitchen more personality. Alternatively, you can paint part of your current pendants with metallic paint, to add some sparkle to your kitchen. This is one of the most inexpensive ways to transform your kitchen space and also makes for a real talking point.
Hang New Window Dressings
Spruce up your kitchen space with new curtains or blinds. It's best to choose a simple style and a washable fabric to keep the treatment clear of water and heat sources. If privacy is not your main concern, then consider valances, stationary shades or window toppers to bring softness, color and pattern into your kitchen. French provincial kitchens are a great frame of reference when it comes to choosing your window dressings. Whatever colour you choose, accent other items in your kitchen with the same colour to pull the look together.
Refresh Your Kitchen Flooring
Consider installing laminate flooring to give your kitchen a fresh look. Aside from being affordable, laminate floors are easy to clean and install (that's if you know what you're doing). Vinyl floor tiles also provide a cost-effective way to renew your kitchen floor. The press and stick vinyl tiles for instance, are really beautiful and look surprisingly high end; you should try them out.
Use these simple ideas to create a beautiful kitchen space at a minimal cost and enjoy looking at your "brand new" kitchen!