If you've got bare walls in your home that could use a bit of personality, the easiest way to liven them up is to hang some vibrant prints. A creative wall art display won't just bring color and zest to your living space – it can tell a story too. Framed photo prints let you explore your artistic side without spending a small fortune on professional interior decorating. And to help get you started, in this article we'll explain how to choose the best photos for different rooms and design schemes!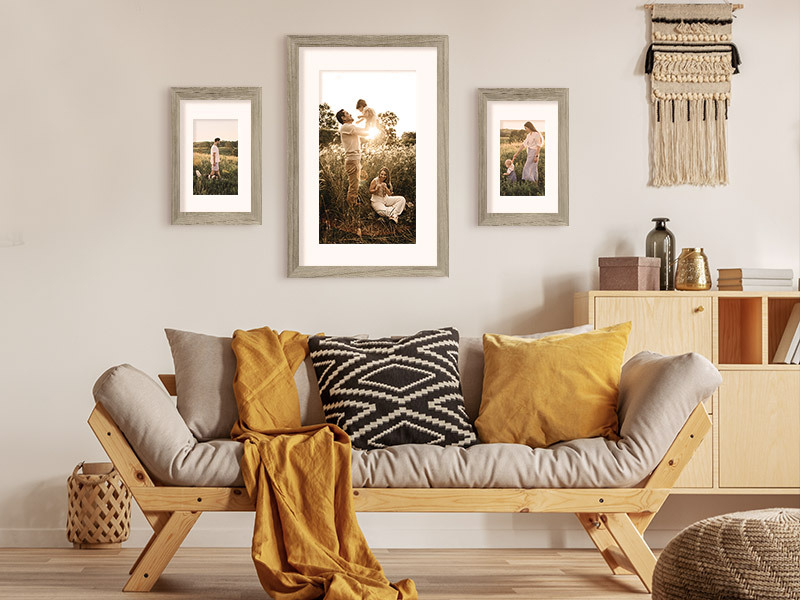 Why Framed Photos?
These days you can get your pictures printed on a range of different materials, from canvas to metal or even wood. But despite this abundance of options, traditional framed photos remain as popular as ever. And no wonder – they're a great way to revitalize any room without straining your budget. Shop around online and you can find some real bargains – at My-Picture.co.uk, for example, prices start at just £14.90 for a 20x20cm print, with larger sizes available at very reasonable prices too.
Brighten Up Your Living Room
The living room is your best choice for displaying striking and original wall art. Bold designs always suit an entertaining space, and just a few well-chosen framed photos are enough to create an amazing wall art display.
If you have a large blank space on the wall above a couch or dining table, why not use it to tell a unique story with your photos? 3-4 photos linked by a common theme should be enough. And don't be afraid of large formats – wall art is supposed to be a focal point of the room, so if you've got plenty of empty space then feel free to go for eye-catching compositions. Though you should stick to smaller prints in less spacious interiors to avoid throwing the room out of balance.
Set a Serene Mood in the Bedroom
The same general rules for installing wall art apply in the living room and the bedroom, but there are some subtle differences too. The bedroom is a private family area, and decorating it can be challenging – bedroom wall art should add personality without being garish or obtrusive.
When choosing the images you want to print, it's a good idea to match them with your bedding, as the colors and patterns of bedclothes tend to set a bedroom's mood. Landscape photos will blend well with floral bedding, while stylish urban photography or abstract prints will complement geometric patterns.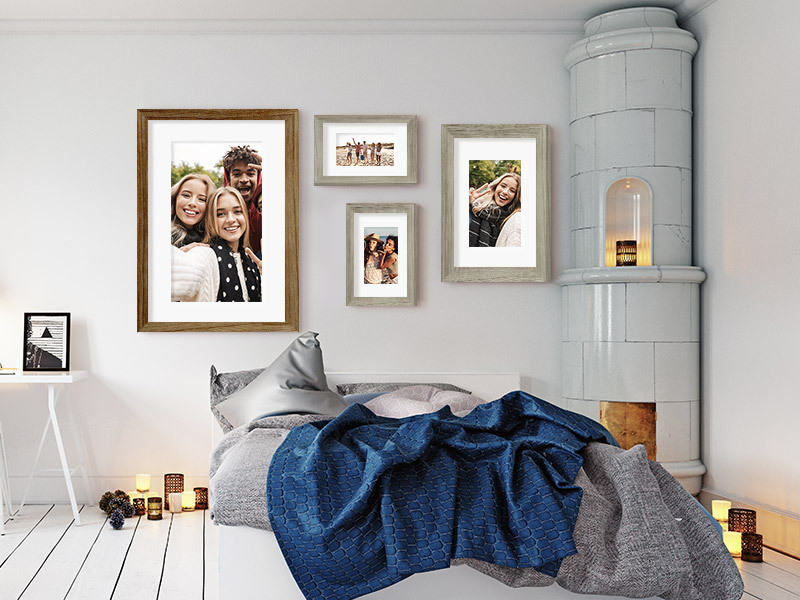 Make a Statement in the Children's Room
Children love lively designs, so if you've got some high-energy pictures in your collection, why not turn them into framed photos to decorate the children's room? Find the most dynamic images in your digital archives and create a personalized gallery wall that will win over the pickiest of teenagers.
Note that framed photos look best if the images are bordered by classic gallery-style matting. That way you can let the photos speak for themselves but also keep a link to timeless style.
Create an Inspirational Gallery Wall for the Home Office
Whether your home office is your main workplace or a general study where you catch up on extra tasks, one thing it certainly shouldn't be is drab – it needs to spark creativity and help you get down to business.
The easiest way to create a businesslike atmosphere in a home office is to stick to a restrained color palette. Leave personal family pictures for other rooms and use photos that you'd hang in your regular office space: travel shots, panoramas, abstract art etc.
Another popular choice for home office wall art is a framed picture with an inspirational quote. Combine it with some picturesque landscapes and deep background colors to achieve an invigorating visual effect.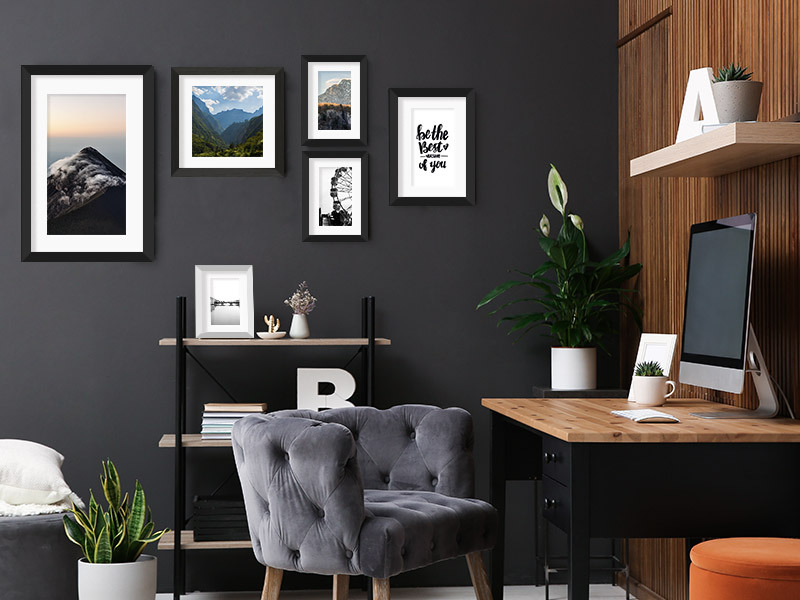 The Last Word on Framed Photo Prints
Framed prints can look great in any room and they're really easy to install. There are just a few design rules to keep in mind when hanging your prints. Firstly, remember that any print needs breathing space, so you need to hang them a reasonable distance apart. Even if several prints are displayed in a cluster, viewers should be able to look at each one individually.
Secondly, don't forget to match your framed prints with the room's overall design and atmosphere. Don't just think about colors, pay attention to patterns, textures and materials too. The easiest way to help a print blend in is to choose an appropriate frame. But remember that it should never distract from the print itself, so it's best to play it safe here and go for a simple frame design and clean colors.
Last but not least, choose a print size that matches the scale of the room. The bigger your room, the larger your prints can be. But even if you haven't got a lot of space, don't underestimate the power of smaller photos – framed and displayed just right, they can have the same wow factor as the most imposing formats!