Stability is very important when shooting a rifle, so it's important to find the right foregrip for your shooting style. Instead of just holding the barrel, a good foregrip gives you more stability and control over the gun than just holding the barrel. If you want to fire a lot of rounds, you have to have them.
There is no one "best" foregrip for a gun, and there are a lot of different kinds available. What works for you is what matters most. Here's a quick look at the top three foregrips for weapons.
The three main kinds of foregrips for rifles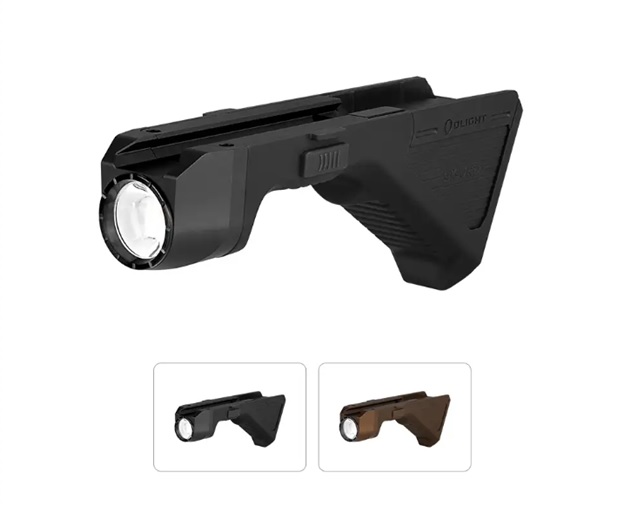 I. Vertical
The vertical foregrip is a grip that goes straight down from the barrel. They are usually round, and some people call them "broomstick grips." They used to be one of the most common types of grips, but now they are mostly used for certain models and ways of shooting. Even though they do give some control, most shooters agree that angled grips or handstops give more control. Some people still like them, though, and if you plan to fire a lot of rounds, they keep your hand away from the barrel so it doesn't get too hot.
II. Angled
Angled grips come in many different styles, but what makes them different is that they stick out at an angle from the barrel. The angle can be small or big, forwards or backwards, and the backwards grip is one of the less common ones. A good angled grip gives you much more control than just holding the barrel. It also acts as a backstop so you can keep the rifle close to your body for more stability when firing. Angled grips are the most common type of grips used today.
III. Handstop
A handstop is just a small piece of plastic that gives the back of your hand a place to rest as you hold the barrel. This lets the user hold the barrel directly, which gives them a lot more control than if they just held the barrel. It also makes it more comfortable for them to use. The main benefit of hand stop grips is that they are small and light, so they won't throw off the balance of your weapon. They don't give as much control as an angled grip, though.
Over the past few years, the Picatinny rail has become the standard way to add accessories to a gun. These days, a foregrip is one of the most common accessories added to rifles to help with accuracy.
When it comes to the best foregrip, right now Sigurd Angled Grip Light is the best you will find in the market. As this light has all the features that you can expect from a foregrip. The military grade quality and light feature makes it a better choice than others.
A brand-new two-in-one design: Leading the industry by combining an ergonomically angled grip with a powerful WML, the anti-slip grooves and finger stop make sure you don't lose control even in tough situations and keep your hand from getting too hot.
Premium Performance: It has two modes of output: 290 lumens and 1,450 lumens, and it can throw light as far as 240 meters. Excellent for both close-range and far-range lighting.
Wide Compatibility: The standard Picatinny mount made of aluminum alloy makes it easy to set up. You can also use a Picatinny rail adapter to mount it to M-LOK rails.
Easy to Use: You can turn the light on or off or change its output with either hand without having to let go of your grip or change your target.
Foregrips on rifles, especially the AR-15, can be a great place to put your support hand to help you move the rifle from target to target or keep your sights steady on the target. There are many different kinds of foregrips, some with built-in bipods, lasers, and weapon lights. All of these have their uses, but one of the most interesting things happening right now is that angled grips for the AR-15 are becoming popular again.
The angled grip isn't a new idea. It has been used on guns as far back as the Model 1921 Thompson submachine gun, but in the last few years, interest in angled foregrips has grown, and several companies have made new versions that can be attached to Picatinny rails. When using a vertical grip, many people found that they were more accurate and had better control of their rifle if they used the grip to keep their hand on the handguard. Many users also put the palm of their supporting hand against the vertical grip and wrapped their thumb and fingers around the rifle handguard. People eventually realized that if a pistol-like grip was good for your strong hand, it might also be good for your support hand, so the angled foregrip started to be used again.
One of the hardest things about any type of foregrip on a rifle, not just angled foregrips, is figuring out where the grip should go and where your hand should go on the grip. Many people have different ideas about this, but I find it easiest to hold an AR-15 with a 16-inch barrel by putting the foregrip about 2 inches back from the end of the rail, wrapping my last three fingers around the foregrip, and putting my index finger out parallel to the barrel and my thumb over the top of the handguard. I've tried other ways, but this seems to be the best way for me to hold the rifle for long periods of time while still being able to shoot accurately and move quickly from one target to another when I need to.