Anguilla is much beloved by all kinds of celebrities, from Kendall Jenner and Michael Jordan. Its enticing combination of powdery white sandy beaches, year-round sunshine, and privacy makes it an extremely romantic honeymoon destination. Anguilla has had a tough time recovering from the 2017 hurricane season, but the island is now open for business. If you are looking for a perfect honeymoon destination, keep reading.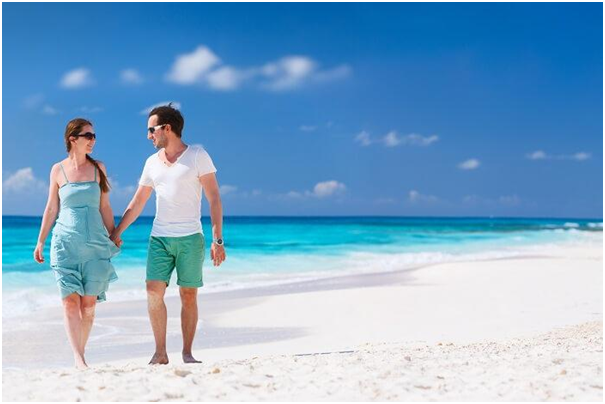 Arriving on Anguilla
Blowing Point, the island's ferry terminal, was destroyed by the hurricane, but new arrangements are in place until rebuilding is complete. Visitors can fly to St. Maarten and then catch a connection to Anguilla. It takes around 45 minutes on the ferry. Shared water taxis are inexpensive, but if you want to arrive in style for your honeymoon, why not splurge on a private charter boat, fully equipped with a well-stocked bar and music? Your other half will be thrilled!
If you don't want to catch a ferry or water taxi to the island, you can also hop on a plane from St. Maarten or pick up a flight from Antigua or Puerto Rico.  A short flight from St. Maarten takes eight minutes.
Booking Accommodation on Anguilla
Finding a place to stay can be overwhelming, because Anguilla has so many options for different budgets and styles. Since this is your honeymoon, you probably want to splash out on a private villa or resort for your wedding party. The majority of villas and hotels are open again, but some of the top-class resort hotels are still undergoing renovations. For instance, Cuisinart won't be open until the start of the peak winter season.
Many honeymooners prefer the privacy of a luxury villa. There are some wonderful Anguilla villas in premium locations on the beach or cliffside. You can look forward to waking up every morning with the sound of the sea lapping along the shore. For couples traveling with children and extended family, a well-appointed villa is an excellent choice for your trip.
Romantic Restaurants
It wouldn't be much of a honeymoon if you and your other half missed out on a romantic meal at sunset. Many villas have al fresco dining with gorgeous views, but if you want to enjoy local cuisine, there's tons of oceanfront restaurants to check out. Fresh fish is the island's specialty and many of the islanders go fishing daily. There are a host of restaurants and eateries, but Da'Vida Restaurant in Crocus Bay is the place to go for a really special occasion.
Things to Do on Your Honeymoon
Aside from soaking up the sun on a secluded beach – we recommend Little Bay for relative seclusion – you may want to try some new activities on the water. Kite-surfing is very popular in Anguilla and there are several operators that offer lessons as well as equipment rentals. Another fun activity for honeymooning couples is chartering a boat. Let the captain take you to some of the best snorkeling spots around the island.
Book your honeymoon on Anguilla and get a tropical start to married life.