Walking is one of the best forms of exercise you can take, whatever your age and fitness levels. And when you go walking in a beautiful part of the country like Cumbria you have the added benefit of glorious scenery and fresh country air.
Plan carefully
People from all walks of life and through all four seasons enjoy fell walking in the Lake District. Experienced fell walkers rarely allow adverse weather to put them off unless of course the forecast advises them not to. But whether you are a seasoned fell walker or just starting out the advice from the experts is always to carefully plan your walk in order to get the best out of the experience. An ideal way to enjoy your walk is to incorporate it into a weekend break and there are lots of lovely places to stay like the Inn On The Square in Keswick, for instance where you can enjoy a hearty breakfast before setting out. Here are a few tips to help you enjoy your fell walk in safety.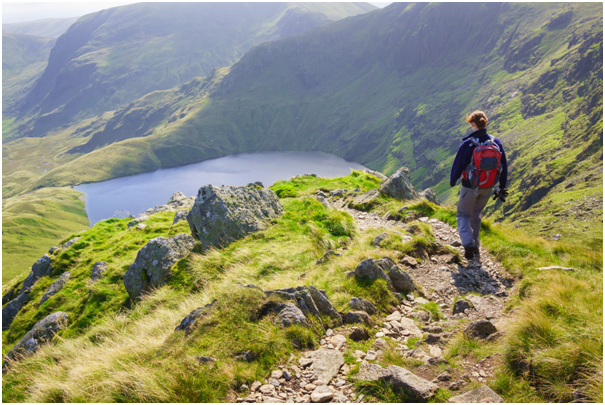 Essential equipment
In an area like the Lake District, or anywhere which is hilly or mountainous, the weather can deteriorate quickly even in summer. So it is always good practice to take warm waterproof clothing with you, even if it seems dry and sunny at the outset. If you become wet and cold, the wind chill at higher levels can seriously lower your body temperature. Many have been caught out by this and have developed hypothermia. Make sure you wear sturdy walking shoes; trainers are not suitable footwear for fell walking. Take warm gloves and a hat too. Other things to take with you are:
An up-to-date map. Don't rely on a satnav device or mobile phone because you won't always get a reliable signal; or your batteries could die.
A torch plus spare batteries.
High energy food like Kendal mint cake, fruit or chocolate.
Enough water to combat dehydration on a long walk.
A first aid kit which includes blister plasters.
A whistle. If you become stranded give 6 blasts of the whistle – or 6 flashes of your torch. This is the international distress signal.
Personal safety tips
It is very rare for people to be subject to attack whilst walking in the countryside but it is sensible to take a few precautions in order to keep yourself safe. Apart from wearing suitable clothing consider these points:
First and foremost, make sure someone knows where you're going and what time you expect to be back. If you're staying at a local guesthouse or hotel inform the reception staff of your route and stick to your intended route.
Don't attempt a very challenging walk without sufficient preparation.
If walking alone, avoid wearing headphones; music or podcasts can prove to be a distraction from what is around you.
If you feel worried at walking alone take a personal alarm with you. Better still, try and keep within sight of other walkers.
If you feel unsafe consider cutting the walk short. Follow your instincts.
Finally, remember that there may be livestock grazing along the route so take care not to frighten them. If you see cattle with their young do not go near them; a mother cow will defend her calf and a herd are easily spooked into stampeding. Also, be aware that there may be ground-nesting birds around in springtime.
Remember – plan carefully, prepare well and don't overestimate your fitness levels, if you are looking for somewhere to rest your head after your fell walk in the Lake District, the Inn on the Square based in Keswick offers excellent accommodation along with an unrivalled views of the surrounding area.