Whether they are checking your vitals, sorting out important documentation, or assisting with surgeries, nurses play a big part in their industry and people's lives. They do so much for communities and individuals, making sure that people stay happy and healthy. With all that they bring into the world, a dedicated week in May is the least we can do to thank them for their work.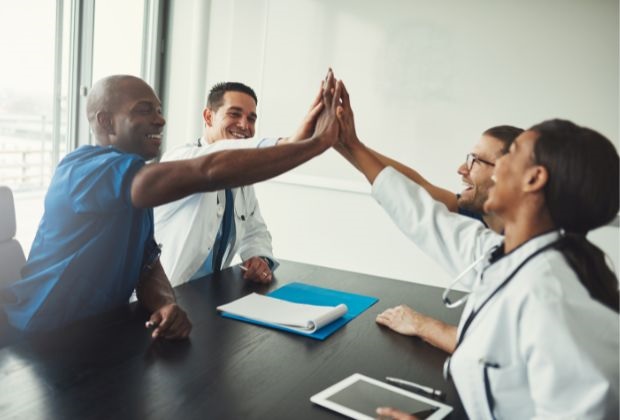 National Nurses Week begins on May 6 and ends on May 12. Although May is still a bit away, it's not too early to plan or start implementing some means to shower nurses with love and thank-yous. Here are the best ways to observe National Nurses Week and how to pay it forward to our local, everyday heroes.
Host a Celebratory Event in Honor of Nurses
Celebratory events are a great way to showcase and honor people's achievements. Just look at the success of the Oscars, Golden Globes, and BAFTAs. Ceremonial events spread the word of one's accomplishments fast and across a large population. They also provide a way for people to socialize, dine out, and have fun.
Host a celebratory event for your local nurses! Recognize their influence in the community, treat them to a nice meal, and gather everyone they've helped into one space to show your collective appreciation all at once. Whether you host a luncheon, dance, group outing, or award night, no matter the event, honor nurses with an evening focused on them and all they've done.
Spread Recognition of Accomplishments
A smaller-scale version of celebrating nurses' achievements is through social media recognition. Post a thank-you, get-to-know-you, or gratitude post about a specific nurse or group of nurses to bring the awareness of their influence into the light. Consider how you can use your social platform to help highlight these heroes in the community. Spreading recognition of accomplishments online illuminates awareness and encourages others to give back to nurses, reminding people to show their thanks to those who helped them. This small gesture can go a long way.
Send the Nurses in Your Life a Gift
Gift-giving is a long-standing tradition of showing appreciation. Gifts demonstrate thoughtfulness and can also help and improve the recipient's life, depending on the item. Explore different gift ideas for the nurse in your life and find the best fit for their personal or work needs. Nurses do so much for others. Return the favor with a little treat.
Fund or Donate Work Essentials
Medical school, gear, and equipment are notorious for racking up costs and time. From stethoscopes to uniforms, being a nurse isn't cheap, especially when your business doesn't pay for these supplies. Funding or donating work essentials—comfortable footwear, scrubs, pens—helps pitch in for the nurses and gives them one less thing to worry about. Nurses already have a lot to deal with, from patients to personal life, and donating items lends a helping hand.
Nurses live a busy and intense lifestyle. It's not easy to implement the necessary means to stay healthy and improve your future as a nurse without dedicating a lot of time, effort, and money. These four different ways to observe National Nurses Week—and show the nurses in your life appreciation whenever—allow you to lend a helping hand and more.