The great outdoors offers plenty of opportunities for reconnecting with nature and improving your mental health. Going camping is one of the best ways to immerse yourself in nature for an extended period and taking a break from the stresses and rush of everyday life. While a bit of discomfort is an inherent part of the camping experience, there are many things you can do to make the trip more comfortable and more fun.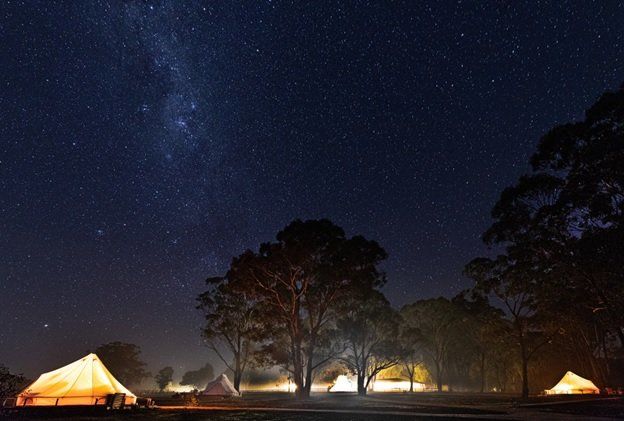 These days, "glamping" is on the rise as people of all ages seek to bring many of the comforts of home with them on their nature adventures. While some critics may scoff that this destroys the whole camping experience, there are many simple ways to glam up your camping trip while still reaping the benefits of being in nature. Things like a camp bed, for example, are basic items that can make being in the woods a bit more bearable.
Let's look at some specific ways that you can bring come comfort to your next camping trip.
Upgrade Your Camp Bedding
The sky is the limit when it comes to making your camp bed more comfortable. These days, people are packing their finest silk sheets and entire mattresses to haul along with them to the campsite.
While you may not have space in your vehicle to haul your entire bed from home along with you, you can also get creative and construct a DIY glamping bed once you arrive. If you want to make sure that you are maximising your comfort, be sure to bring enough pillows and blankets to make your slumber as luxurious as possible.
Light Up Your Campsite
While a traditional campfire still has a place for the glamping enthusiast, you will want to make sure that your campsite is well-illuminated in other ways as well. Try bringing some solar or battery-operated LED lanterns that you can place around your site to set the right mood. Not only will this make walking around at night safer, but it will ensure that your glamping experience is a bit more comfortable.
A Taste Of Haute Cuisine
To truly make your glamping experience top-notch, you need to bring along the right cooking equipment, cutlery and provisions to make every meal an unforgettable one. Especially if you are bringing your vehicle along, there is no need to skimp on space when it comes to packing food. Bring along your favourite recipes and you will be able to enjoy them in the midst of natural surroundings.
As with all forms of camping, it is a great idea to plan out a menu that works for your entire group. Do not forget to bring enough camping fuel to make sure that you can cook.
Do Not Forget About Recreation
While lounging around in comfort in the middle of nature is a lot of fun, it is also important to bring enough activities to keep things interesting. Take along some games, certainly; however, if you want to take your camping to the next level, consider bringing a projector to watch movies projected onto a white sheet in the woods.
Plan Your Next Glamourous Camping Trip
Glamping is a great idea for families and groups of all kinds. While you will miss out on some of the simplicity and endurance that comes along with traditional camping, you are sure to have an unforgettable time nonetheless. Before you finalise your glamping plans, make sure to set a course for one of the finest glamping spots in your area.