Arguably, the bathroom is one of the most important rooms in your house. It is the room that everyone uses when visiting or staying in your home. Showcasing a sense of your style within your bathroom is thus important. It's not feasible to redecorate and redesign your bathroom all the time. However, this list aims to present the hottest bathroom trends and styles, and modern bathroom ideas of 2022 if you're looking to spruce things up a little.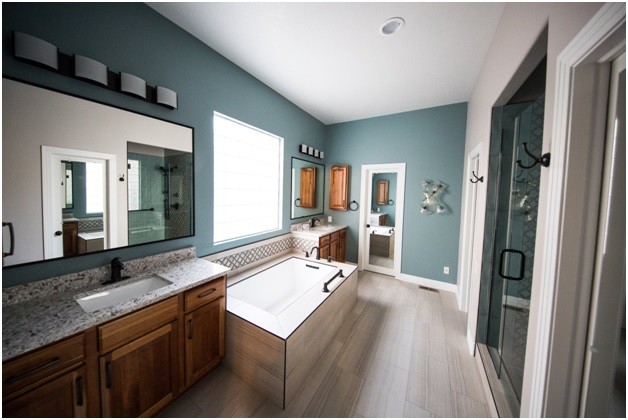 Here we present you the most popular bathroom trends for 2022. Check out what you should add to your bathroom to make it real oasis of relaxation.
The Rounded Rectangle Vanity Mirror
Medicine cabinets are out. Minimalism is in. For the past few years, circular mirrors have been quintessential for bathrooms. In 2022 however, rectangles and circles merged to give way to the rounded rectangle vanity mirror. This mirror style portrays mellow linearity. It's a comfortable and soothing mix between mirror styles of the past. With its straight lines, several of these mirrors can even be placed side by side as a design.
Floating Vanities
The one thing we're after in 2022 is maximizing the illusion of space within our bathrooms. We want airy and open bathrooms and floating vanities are a great first step to accomplishing that. Floating vanities are particularly lovely as they create the impression of a seamless space. With vanities, furnishings in the bathroom seem to almost arise out of the walls and this is an elegance that we never knew we needed.
A bonus point to floating vanities is that it makes it much easier for us to clean the floors underneath. There's no more struggling or having to unpack everything inside your vanity. Your regular mop or cloth will easily get the spot clean.
Wall Mounted Toilets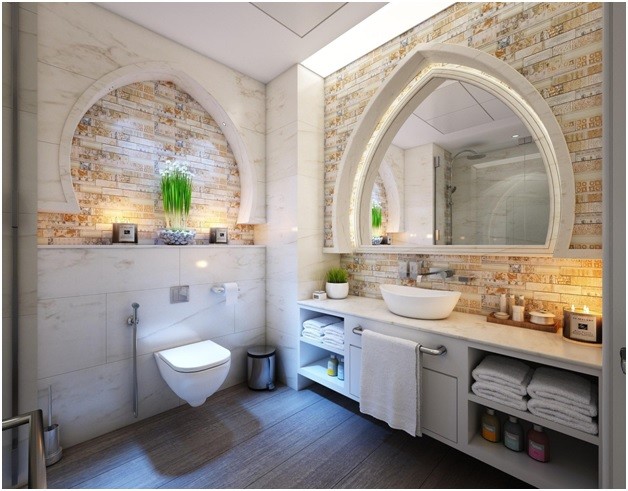 As with the vanities, wall-mounted toilets are particularly in because they create an illusion of extra space. In the past few years, this was seen as something far too modern and pretentious to have. However, as technology advanced and the idea of a modern lifestyle encroached, these floating toilets seem way more attractive. It contributes further to the creation of a seamless design for our bathrooms and there's just something about the extra space, unusable as it is, that appeals so greatly to our senses.
Again, the wall-mounted toilet holds the extra benefit of making it much easier to clean our toilets. With this, there's no need for us gripping our toilets and scrubbing around. Instead, a quick sweep or wipe under the toilet space is all that's needed. Easy and efficient, just like modern life.
Shower Dams or Lack Thereof
Most of us probably have a shower dam. It's good at keeping the entire bathroom floor from being flooded. And yet, the seamless design of a damless shower is so amazing. This design just exudes a sense of continuity and elegance. It's exactly the look we imagine when we think about the future.
However, it is worth noting that such a design requires the drain to be central or for the floor leading to the drain to gently slope. Without those features, a damless shower means that shower water may pool on the bathroom floor. This design may be gorgeous but the mess it may create is definitely something to keep in mind.
Glass All The Way
Again, this trend is all about being seamless. There's just something about floor to ceiling glass enclosures that is so eye-catching and soothing. This especially so as the glass is completely transparent. With this, the glass partitions the room into the toilet and shower area and yet, with the glass enclosure's seamlessness and transparency, the room stays the same size or even, seemingly expands further—both width and heightwise.
This look also screams luxury. It's a look that tells guests, "I had this custom made". If modern and understated luxury is what you're looking for in your next bathroom, then this is definitely a trend to implement for you.
Marble Marble Marble
Marble is propable one of the most use bathroom trends for 2022 so far. With marble, no pattern is exactly replicated. It's almost like installing a unique, one-piece-only artwork in your house. Marble is not a new look. For years, it has been a look that screams, "I'm expensive!". And yet, over time, the trend earned a reputation for tackiness and started to fade out. However, with these new selections of art-like marble, marble is coming back in!
Nevertheless, marble is still exceedingly expensive, especially if used just as a background design for your bathroom. So this trend, while gorgeous, is not one for everyone.
Long Skinny Tiles
In theory, stacking long skinny tiles next to one another is boring. And yet, when implemented, a fresh, eye-catching pattern is created. Smooth or matte? It doesn't matter. These long tiles create an illusion of length and help to make your bathrooms look taller than they are. This conveys a sense of airiness that allows your bathroom to further feel like your safe haven. It's beautiful and we want it.
Side Mounted Faucets
There's something about this that reminds us of a kitchen sink. It shouldn't work and yet it does. There's something so unique about this configuration that we can't help but love. What's even better is that it solves the problem of narrow sinks and not having enough space. This look is funky and special and definitely one for those that desire to make their bathrooms special.
Polished Nickel
When we say "Polished Nickel", some of you might be thinking, "No way! Brass is much better and fancier sounding". That's what we thought too! Then we contrasted white furnishings against polished nickel and we couldn't help but love it. Polished Nickel holds a warmer tone to brass and this somehow makes it look less tacky. It's also industrial looking and this further enhances the minimalistic yet modern design that we were gunning for. In short, brass isn't out. But polished nickel is still coming in too.
These were some of the hottest trends of bathroom furnishings for us for 2022. We simply adore how they look in bathrooms and hope these changes someone will implement in the future.