Congratulations on taking a swing and deciding to get serious about golf. As a novice golfer building skills and learning the rules, you want to be properly equipped and physically conditioned to face the challenges in the course.
So What Do You Need to Play Golf?
One such challenge is buying or putting together your golfer's starter kit. The whole process can be intimidating as you look up equipment and read intricacies, not to mention the terminologies that come with it.
The only way to get past this challenge is to go through it and find out what you need at this point.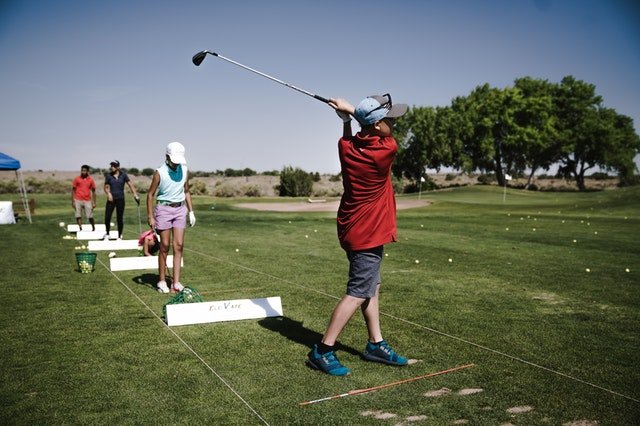 Golf Clubs
There's so much to know about golf clubs as the centerpiece of the sport, and it's ideal to sift through the basics to help you buy your clubs.
Break down the main points:
There are three types of clubs: woods, irons, and putter.
The use of woods or irons has to do with distance. Generally speaking, wood clubs are used for long-distance shots of at least 200 yards and irons for ranges below this average. It's interesting to note that both woods and irons have club heads made of metal like steel.
Woods and irons have numbers that correspond to their loft or the angle between the vertical plane and club face. Refer to this illustration.
A high golf club number corresponds to a higher loft angle, so the ball covers a shorter distance but travels higher. Lower golf club numbers equal lower loft angles to propel the ball to lower heights but longer distances.
The driver is a type of wood club designated as 1-wood because it has the lowest loft. This wood club may have the longest shaft in your bag.
Wedges are a member of the irons family but have a specialty class because of their roles in short-range shots and extracting balls in soft lies.
Putters are special golf clubs for low-speed and short-distance strokes to get the ball into the hole.
Hybrids combine irons and woods although they don't have a conventional design.
What to stuff in your golf bag? Experts recommend that you go with a driver, woods (3, 5), irons (3 to 9), wedge, and putter. You can buy individually as new or used or go for sets that have 14 clubs.
For now, look for clubs that will make it easier for you to hit the ball and control their shafts. As you develop your swing and form, you can try out other clubs to boost speed, height, and distance.
Golf Bag
It holds your golfing implements including balls and tees and secures them especially when you travel. Load this bag in your golf cart, and you are off to play.
What to look into when buying your very first golf bag? Lots of compartments to carry your main gear and accessories, lightweight and portable (but will store a few golf clubs), and sturdy to withstand daily use and commute.
Golf Balls
Buying them seems to be a no-brainer and tends to be thought of less. A practical way to shop for golf balls is to feel them, try a bunch, and consider your budget. For the technical aspects, look into the compression rating that dictates control and feel. There's also the spin rate, which works with the swing to give your shot's height and distance.
Golf Apparel
Clothes: dress for the weather and the code at the golf course. You have a range of comfortable, stylish, and even fun T-shirts, polo shirts, shorts, skirts, and socks. Don't skip your rain gear that is now available in streetwear style.
Shoes: whether you go for modern or classic golf shoes, make performance your number one criterion. This pair should (1) lend you support to execute your shots and avoid injuries and (2) offer comfort and breathability for your feet.
Accessories like sunglasses, caps, and gloves provide added protection, the authority website Wired Shopper believes.
Golfer's First Aid Kit 
Golfing looks a pleasurable activity done at a leisurely pace. It's not as physical as basketball or boxing is, but scrapes, sore muscles, and insect stings are all part of the game. Put together a medicine kit that contains bandages, relief pads, ointment, insect repellant, sunscreen packet, and athletic tapes.
Golfer's "Tape"
Indeed, golfers tape their fingers and grips to avoid or minimize blistering. There is another type of tapes that golfing pros and enthusiasts use for their game. You will need kinesiology therapeutic tapes for strained or overworked muscles, tendons, or ligaments when you play golf.
How does a KT tape work? You stick these therapeutic adhesives to the sore points (e.g., knees, thighs, and elbows). Correctly applied tapes reduce pressure and thus alleviate pain and discomfort. As kinesiology taping lends support to muscles, it reduces the chances for the muscles to overcontract and heals them quickly.
With these essentials in place, you are ready to tee off and play with a healthy body.