Do you want to decorate your small bedroom without overwhelming it? You should follow these tips: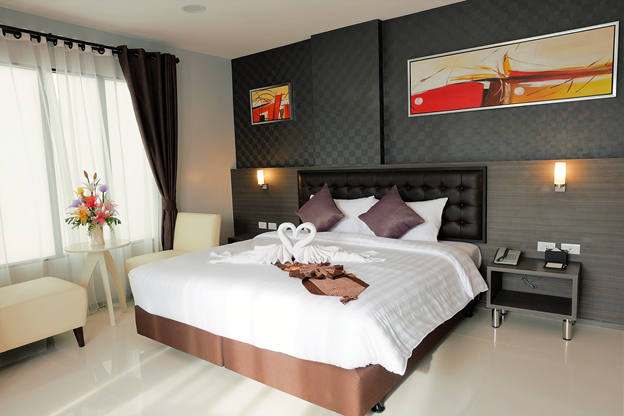 Think Tall
If you want to make the room feel taller, you should consider getting window treatments closer to the ceiling. If you do not think this will work, ask somebody to hold your curtains up high and check it out for yourself. Such a small change can end up making all the difference.
Create a Focal Point
Each room should have a striking spot and focal point that creates a hierarchy. In most cases, the focal point in many bedrooms is the headboard and you can draw attention to it by arranging pillows boldly. However, your eye might also be drawn to the windows when decorating a small bedroom.
Instead of letting your bedroom window and the head of your bed compete for attention, you should consider moving the head of your bed next to the window to allow both to meld cohesively. On the other hand, you can dress one of the focal points neutrally to ensure that it recedes to the background and allows the other one to take center stage.
Go for It
You can organize your small bedroom in one of two ways: boost daylight with reflective colors and barely dressed windows or make it dark with saturated chocolate browns or berry reds. Whatever, you choose to do, do not take the weak approach. It is possible to be bold in small spaces without wasting too much money.
Seize Opportunities
You can decorate your small bedroom with expressive patterns and punchy fabrics if you want it to look special. Make sure that you opt for interesting lighting such as sculptural table lamps and charismatic chandeliers. If you want to be bold, you should go with an extra tall headboard that is curvy or brightly upholstered.
You can also buy artwork that shows off your personality and it does not have to be expensive. Just remember that your bedroom is the most personal space so you should choose décor that makes you happy.
Keep Things Open 
Although you might feel tempted to purchase the biggest bed and create a comfy nest, you should resist the temptation because it will make a small room feel cramped. You should opt for a medium-sized bed that does not choke your bedroom. You can pick a bed without a footboard if you want to keep the middle of the bedroom open.
Sneak in Storage
When decorating a tiny bedroom, you should remember that every inch is potential storage. Of course, it is possible to hide boxes under the bed, but boosting your bed frame using blocks and then adding a skirt to hide some items is a better idea. If you want to gain drawer space, you can use a chest as your bedside table.
If you want to make the most of your bedroom space, you should use an organizer system to arrange your closet. Moreover, you can use your walls to hang bookshelves.
Raise the Ceiling 
Whether you are living at the Atlantic in Atlanta or your own house, you can use light colors to make low ceilings look higher. You can use bright colors such as white to make a small room look luxe or turn a room with a slanted ceiling into a spacious one. Just make sure that you choose a color that matches the rest of your décor.
Bedside Manners
You need to buy a nightstand with shelves and drawers if you want to create extra storage space in a small bedroom. For maximum clutter control, consider using room organizers.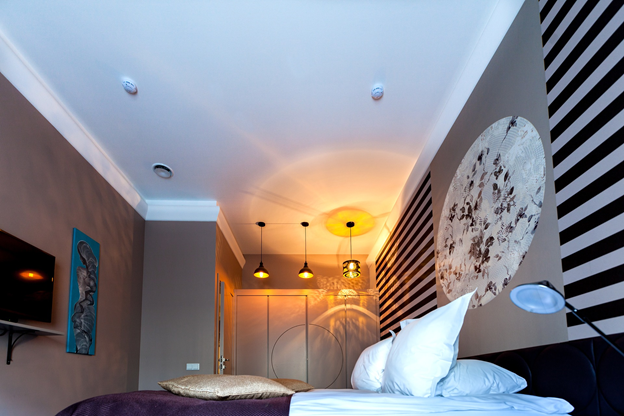 Taby G. is an influencer marketing pro with brownboxbranding.com who is passionate about building authentic relationships and helping businesses connect with their ideal online audience. She keeps her finger on the pulse of the ever-evolving digital marketing world by writing on the latest marketing advancements and focuses on developing customized blogger outreach plans based on industry and competition.