One of the most important things to do in your house is to personalize and style it the way you like; it's one of the many things that will make you feel at home. Styling your trendy home the way you want, will will make you feel comfortable, and you will enjoy daily!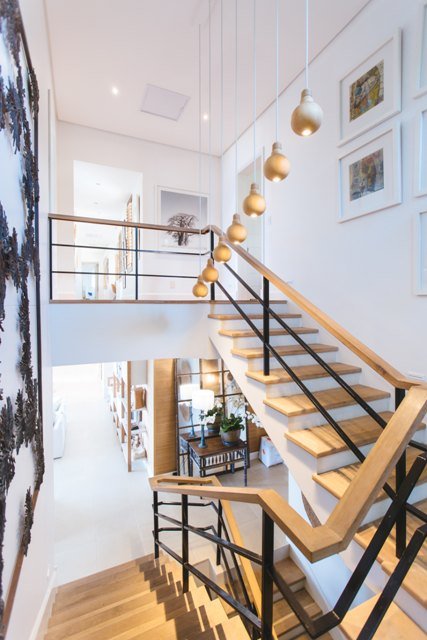 So, for example, if you're attracted to the contemporary aesthetic more than any other style, it's time for you to know the simple components that create a modernized house. 
Minimalism
The key to having a trendy home, often lead to a minimalist life. Nothing says modernization more than minimalism. You don't need to worry though, keeping it simply doesn't mean that you have to get rid of everything. It only means that you need to organize your space to the point where it looks like you're only using a few items when in fact you didn't get rid of anything you hold valuable. Now, there'll be challenges along the way. Items like loose cables, paper documents, old mail, magazines, and the likes will be randomly scattered around the house. You can get rid of the things you no longer use, and keep the really important documents in specific drawers. As for cables, all you need to do is stick them to the wall with electricity duct tape, so you attain that minimalist look. 
Paint
A fresh coat of paint can make all the difference. The first thing you need to figure out before painting your walls is which color would fit best with your contemporary aesthetic and with the furniture. There are many interior designers who believe that different shades of off-white, neutral-colored walls go well together and embrace any kind of furniture you own in your house. That doesn't mean that the only color you can have is off-white, black walls go a long way as well, especially if it's mixed with metallic wall accessories. There aren't specific colors to have a trendy home, rather it depends on your furnishing and how you style your house with vibrant wall color. 
Styling
Décor is everything when it comes to styling a contemporary house. The first that you want to focus on being statement furniture pieces; they are mostly large, colorful, and quirky. They are most likely to stand out, and they'll be the first thing that your guests would look at. Your statement furniture can take different forms from wall art, photographs, two giant mirror on the wall, weird couches, and wooden desks. The people at moderndigsfurniture.com believe that anything from bamboo furniture to bold design will make a great modern piece to your house. Adding large mirrors in  your house will make it look very spacious, as well as, contemporary. You can also invest in antique pieces or buy some geometric looking furniture. Such pieces might seem a little odd to you at first sight, but their magic only works when they're set in place in your house.
Lights
Lights go a long way as well; you really need to be picky when you're choosing your chandeliers, spotlights, or lamps. The first step to modernizing your house via lights is to have a somewhat dimmed lighting all the time. If you're going to have lamps around the house, make sure they are geometric enough. There are simple, unique looking lamps you can invest in. They mostly hang from the ceiling and tend to be very long. The idea behind this design is simply, the weirder, the better. You can also integrate pendant lamps with your house. They are considered a statement-furniture. Having anything from dimmed spotlights to geometric lamps will definitely increase your modern aesthetic.  
Fresh finishes
Statement-furniture and proper paint are important for a modern styled house, but they aren't the only things that you should have because the finishes are also important as well. Consider adding stainless steel and glass in your kitchen or sofa. They might feel like minor additions, but they are as important as any item in your house. They do make all the difference. You can pair the stainless steel with your black cabinets or against your matte black walls. You can also add dark brown wooden floors so it can match the ambiance you got going around. 
Contemporary division
The way you shape your house is also another important factor to consider. That doesn't mean that you need to re-shape your whole house, it only means that with minor changes your house's interior shape will look slightly different. For instance, the more light you have in your house the more modern it looks. So, if you can carve enough space for a window, do so. If you have doors in the middle of your house, remove them. It's always better to have light within your house, so don't let any object stand in its way from reaching every corner in your home.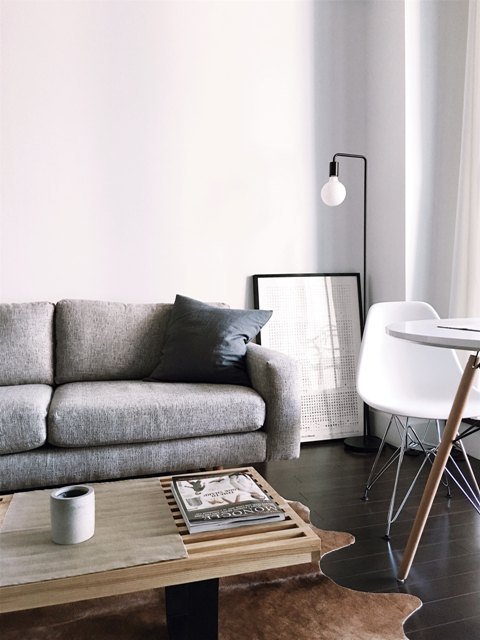 Declutter
In a world where everything is messed up and life is full of chaos, the last thing you can do is to keep your house a clutter-free sanctuary. Our life is characterized by efficiency, which is why you'll find that keeping everything in a specified place is quite the perfect match for a contemporary lifestyle. There are simple things you need to do, for instance, use up your wall space. You can hang your pans and pots on your kitchen wall, the same way you can also hang your toothbrush and towels on your bathroom wall. Speaking of bathrooms, make sure to get rid of all your plastic bottles by recycling them. You may also want to use your under-sink area to store all your hand towels, lotions, etc. 
The beauty of having a fresh-looking house is that you don't need much to create one. All you need to do is invest your money in a couple of trendy pieces and exert some effort into decluttering your house and maintaining your new minimalist lifestyle. Remember to add quirky furniture pieces on your walls so it can add to the ambiance you're trying to achieve. Invest in fresh finishes, buy geometric lamps, and personalize your house with items that will make you feel cozy at your trendy home.