It's not hard to style a home on a budget. With planning and clever thinking, any homeowner can make their interior decor shine and impress family, friends and guests. It's a surefire way to make a gathering memorable. Set the tone of the next dinner, party or holiday festivities with these x tricks to really elevate the elegance of any room.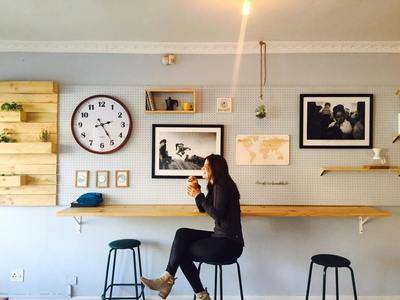 Define the atmosphere with the right color of paint
Neutral tones like eggshell, beige and taupe are excellent choices to match a variety of furnishings. Go bold and add a dramatic accent color like burgundy or baby blue to one wall. Paint a horizontal contrast stripe that runs the length of the room for an extra boost of style. There's so many style options just a stroke of the brush away.
Take it to the next level with dotted, floral or marble wallpaper
Make a powerful impression with patterned wallpaper. There have been a lot of modern innovations with wallpaper that make it easy to install and remove.
Try marble wallpaper for upscale sophistication. Floral swirls are a classic choice to accent rooms with patio doors. Whether traditional pin dots or jazzy zebra stripes, wallpaper expresses memorable personality.
Accent furniture with large throw pillows
Toss an oversized throw pillow or two on a chaise lounge to create an extra soft berth for lounging and relaxing with friends. Large throw pillows have plenty of room for quirky and unique designs.
Try several pillows in a complementary hue to really make an impression. A single throw pillow tossed on an armchair provides an inviting spot to snuggle with a book and a cup of cocoa. Fringe and tassels are charming embellishments that bring sweet personality to any room.
Keep organized in style with matching containers
A great way to keep a home looking in order is to clear off surfaces and keep small items tidied away in containers. Pick out a selection of boxes in hues and patterns to complement your decor. Clear containers are a fantastic way to see the contents of a box at a glance. Try a set of open shallow bowls for effortless display and ease of access. Remember that containers add to the decor too, and make sure to keep a whole matching collection to suit your shelf or side table.
Hang up oversize curtains to expand windows
Small windows make a room feel closed off and claustrophobic. An easy way to make windows feel larger is to simply raise the curtain rod and hang light-hued curtains. Hang the rod high enough that the curtains just barely skim the floor.
Set it wide as well, to expand the width of the window. It's a clever illusion that makes a big difference.
Fine tune lighting with multiple light sources
Overhead lighting can be glaring and uncomfortable. Brighten a room the more subtle way with plenty of table lamps and floor lamps scattered around the room. There's many different types of lamps, too. From intricate molded filigree designs to sleek, minimalist and contemporary, there are so many choices to furnish a home. Add in candles for a warm, flickering glow. Swap in a set of sheer curtains to infuse the room with natural light from outside. Lighting is a highly effective way to change the character of interior decor.
Say yes to hardwood floors and area rugs
Hardwood floors are in! Say goodbye to wall-to-wall carpeting and embrace the rustic beauty of hardwood. It's effortless to clean and it's versatile, too. Define the room with a well-placed area rug or two to add color and pizzazz. Long rugs are great for hallways. Area rugs protect flooring while adding visual interest to the room.
Make a statement with framed artwork
Protect old posters and photos by framing them for display. Framed artwork is an excellent method for bringing gallery-level sophistication to home decor.
Imagine the powerful effect of a whole selection of artwork in matching frames arranged along one wall. Mix and match for a quirky, trendy look.
Decorative centerpieces draw attention
An effective way to add personality to a home is to greet guests with a centerpiece on the dining room table. Crafting a centerpiece is a simple matter of using one's creativity. Set a grocery-store bouquet in an unused pitcher for a quick and simple centerpiece. Or go wild with ornaments, figurines and even tiny LED lights.
A centerpiece can be as simple or as complicated as the homeowner likes. Arrange one on an end table or welcome guests at the front door with a charming centerpiece arrangement.