London is a tourist haven with plenty of unlimited historic treasurers, pop-up cultural events not to mention a huge variety of street art. It's one of the most visited cities in the world competing with top contenders such as Paris and Bangkok. Surveys report an increase in the number of tourists travelling to London, with these numbers bound to shoot in the coming years heavily accredited to the aggressive marketing of social media.
What a time to visit London! From the world-class cultural buildings such as the British Museum, Royal National Theatre, Big Ben, Buckingham Palace, Kew Palace, Mansion house just to mention but a few. The city's old towns clustered with pastel buildings makes London a must-visit destination. Contrary to popular belief, London is a relatively affordable city to tour. It's possible to make a free tour in London and sample what this majestic city got to offer. Below are some momentous places that a tourist has to visit or how else will they claim to have been in London?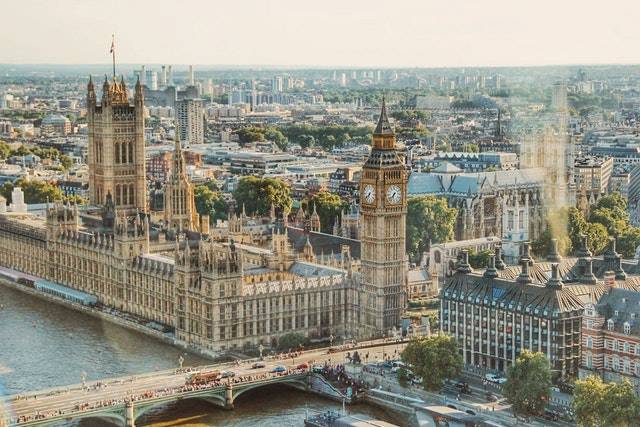 TOWER BRIDGE
Tower Bridge is one of London's most famous landmarks and a must-see for every tourist coming to the UK. It was constructed in 1886 and is a bascule bridge combined with a suspension bridge. The bridge is 213 feet high with a length of 801 feet. The Tower Bridge crosses the Thames River and is an iconic symbol of London. Crossing the bridge is free unless you want to have Tower Bridge experience, then you have to cough some cash for the ticket. The most fun occurs during the lifting of the drawbridge to give way to the ships and yacht and this happens several times a day.
PAUL'S CATHEDRAL
This world-renowned Anglican cathedral sits at the highest point of the city of London. It dates back to 604 AD and was originally designed as five churches into one by the one and only Christopher Wren. The dome of the church reaches a height of 366feet and weighs approximately 66,000 tons. The interior decor is impeccable with a large lantern hanging from the ceiling. It's free to attend mass at the cathedral and reminisce on some notable historic events done at the church such as the funeral of Admiral Nelson in 1806 and Winston Churchill in 1965.
WESTMINSTER ABBEY
This is another famous church built over 1,000 years ago. The church was constructed with a splendid mixture of architectural styles with English Gothic dominating. Many tourists make a point of visiting the Westminster abbey due to various significant events done at the church. Prince William and Kate exchanged their vows at the church and it's also where the funeral of Princess Diana was conducted. This royal church is at the centre of London and offers free daily services for all.
LONDON'S BIG BEN
Big ben is a nickname given to the massive bell located at the houses of parliament and  Elizabeth tower in central London. It's one of London's iconic landmarks and a must-see for any tourist. The bell weighs approximately 13 tons and 96 metres high. The clock first rang in May 1959 after which it cracked. A lighter hammer was fitted instead and the clock continued to rotate and rings up to date. There is a special light above the clock that is illuminated when parliament is in session. One can easily stroll to the Big Ben on foot and it's free to view the cloak.
THE LONDON EYE
The London Eye is the most popular paid-for tourist attraction not only in London but England as a whole. It was originally designed as a simple millennium attraction to the people but it has long since surpassed its intended purpose. The structure stands at 443 feet tall overseeing the Thames river and can easily be described as a giant rotating wheel. The wheel rotates at 360 degrees every 30 minutes giving one a spectacular aerial view of the city. All the 32 capsules are fully enclosed moving leisurely at a speed of 0.6 miles an hour. Each capsule has a capacity of 25 people, however, private bookings of two or a party of friends can be done in case of special events.
BUCKINGHAM PALACE
This is one of the most historic sites in London located in Westminster city. It's London's residence and administrative headquarters of the United Kingdom. The palace is where most of the state occasions and royal events are held. It's open to the general public but this only occurs from July to October each year. Changing of the guard is a special event that takes place at Buckingham Palace. This is a formal ceremony in which a group of soldiers are relieved off their duties as they welcome a new batch.