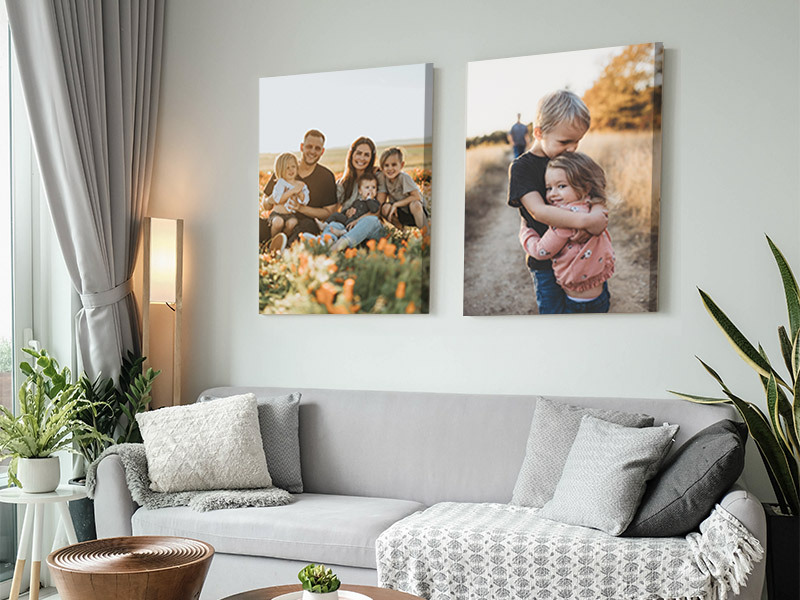 Hard drives and memory sticks might be essential if you've got thousands of digital photos to keep in storage, but the fact is that no digital archive can match the tactile appeal of real photo prints. And as our photo libraries grow bigger and bigger, our most cherished memories can end up getting lost in forgotten folders.
Luckily there's an easy way to keep those special moments fresh in your memory – simply get your favorite photos printed and create a personalized wall art display. If that sounds like a good idea but you're not sure how to go about it, we can help. In this article we'll look at six types of contemporary prints – all of them perfect for a range of interior decoration styles.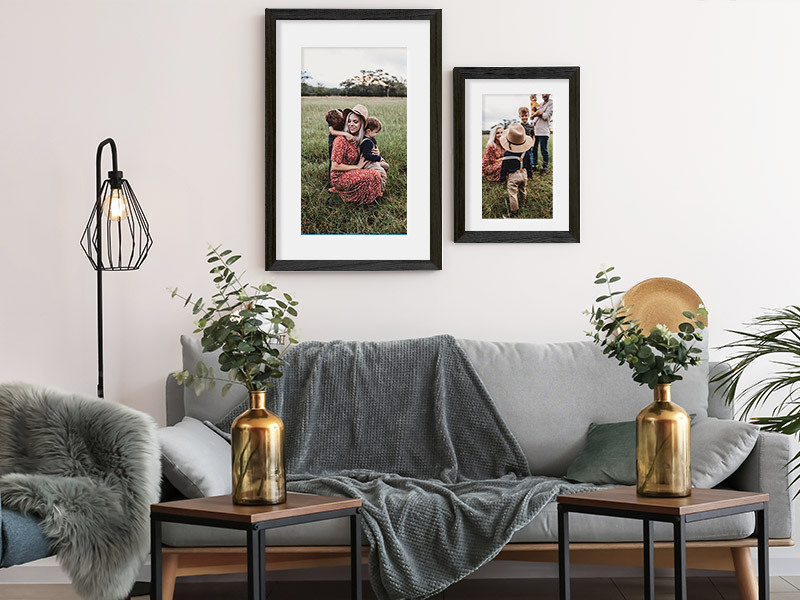 Traditional Framed Photos
Framed photo prints represent the classic aesthetic of old-school photography. But classic doesn't have to mean dated – these days framed photos can look as stylish and striking as the latest innovations in wall decor.
There are four factors that will make your framed picture stand out: lab-quality photo paper, gallery-standard matting, a premium frame, and a polished glass covering. Choose a respectable provider that includes framing services as standard and pay attention to the matting style – the best option is museum card-stock with an oblique cut that will accentuate your print without casting shadows over the photo.
Main advantage: refined gallery aesthetic
Best for: classic photos like family portraits, wedding pictures, travel shots
Canvas Prints
Canvas prints are a popular alternative to classic wall decor formats, blurring the boundary between modern photo reproduction and fine art aesthetics. The canvas texture softens the print without compromising the photographic quality – high-resolution printing comes as standard if you choose a respected provider. The result is a strikingly vibrant photo reproduction with a distinct artistic feel, emphasized by the sturdy internal frame and borderless design.
Thanks to their simple lines, canvas prints blend easily into a wide range of design schemes. Moreover, a canvas print will suit almost any kind of photo, and will look equally good as a stand-alone piece or as part of a gallery wall. Canvas prints could be the most versatile wall decor format available today.
Main advantage: striking combination of soft canvas texture and crisp print resolution
Best for: photos that merit state-of-the-art printing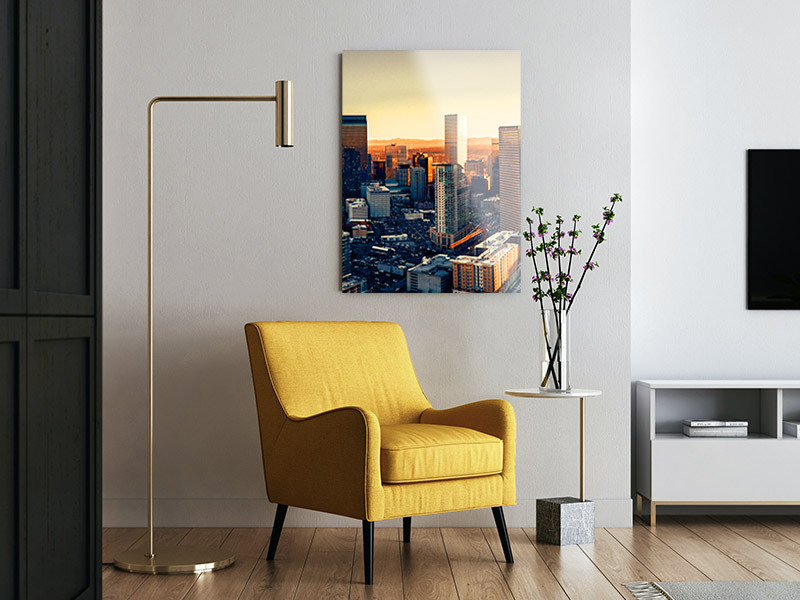 Metal Prints
Metal prints boast deep colors and a glamorous gloss finish. Printing specialists say they're a great choice for displaying large panoramas, drone photos, and any pictures with a distinctive contemporary feel. Metal prints provide superb longevity – meaning your print could become a cherished family heirloom!
Choose metal prints if you want a classic, restrained aesthetic with an appealing surface gloss and a strong, elegant construction – an obsidian-black core panel enclosed by two sheets of silvery aluminum.
Main advantage: sleek and glamorous look
Best for: colorful prints with a bold composition
Acrylic Prints
Acrylic prints are as glossy and glamorous as their metal counterparts, but their construction is simplicity itself – these slim and elegant prints come in a borderless design that leaves the transparent edges visible. This stripped-back layout is designed to let the print speak for itself – no unnecessary details will distract attention from the beauty of your special moment captured in print.
The most important feature of the acrylic print is the acrylic glass surface that adds radiance and visual depth to the picture. The polished surface of the acrylic print catches the light and produces magical reflections, bringing a touch of exclusive glamor to your wall decor.
Main advantage: sparkling surface and outstanding durability
Best for: prints you want to enjoy for decades on end
Photo Tiles
A relatively new trend in photo printing, lightweight photo tiles can be displayed in groups to create striking patterns, and can be rearranged any time you fancy a fresh composition. With their rich colors and top-notch print clarity, photo tiles are on par with canvas prints and classic framed photos – and the original format and ingenious hanging system set the tiles apart as a genuinely innovative decor solution.
If you want the freedom to rearrange your photo tiles, you need to choose ones equipped with adhesive pads. The pads will hold your print safely in place until you decide that it's time for a new arrangement, at which point they can be pulled off the wall and reapplied in a different position.
Main advantage: limitless display options
Best for: thematic wall art display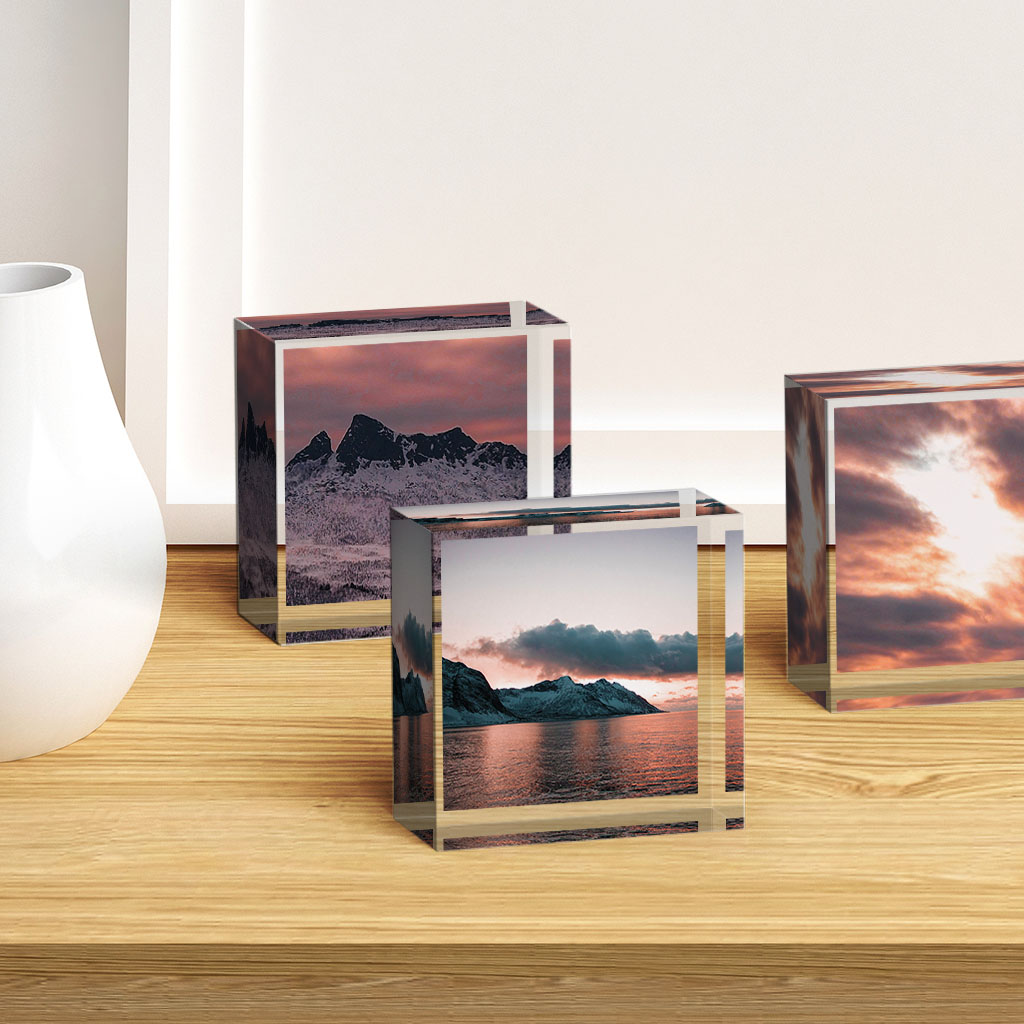 Photo Blocks
Photo blocks quite literally bring a whole new dimension to photo printing, turning your photo prints into three-dimensional objects. You shouldn't focus on wall decor alone when thinking of ways to spruce up your room, because these dinky photo blocks will brighten up free space on any bookshelf, mantelpiece, or office desk.
Photo blocks can be made from different materials, but the leading printing companies – BestCanvas.ca, for example – use crystal-clear acrylic glass. This wonderfully durable material will easily withstand the occasional knock or fall, and its polished surface will give your print reproduction a magical shimmering finish.
Main advantage: remarkable 3D effect
Best for: photos in vibrant colors without too many small details
Conclusion
You don't have to spend a fortune at an art gallery to get the ideal artwork for decorating your home – there's a range of printing options that let you use your own photos as decor, creating a unique wall art display at an affordable price.
The decorative potential of personal photos is still underappreciated, so why not take the road less travelled and create a unique wall display that will tell your own story? You can choose a single format consistently for a restrained look, or mix different formats to create an eclectic gallery wall. Thanks to the innovative photo print solutions available today, putting your stamp on your interior design is easier than ever!