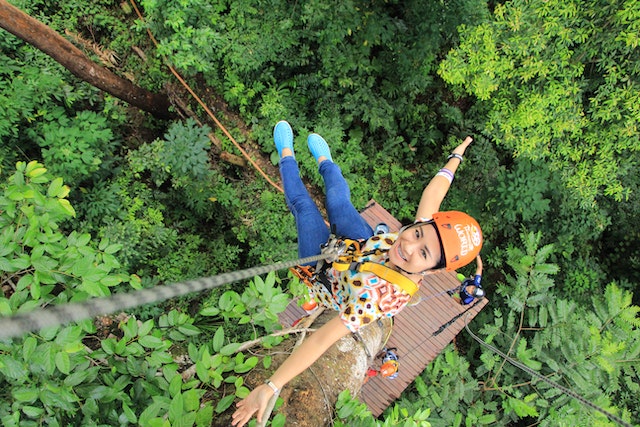 If you're planning to visit Pigeon Forge, prepare for a truly unique experience! This charming East Tennessee destination has plenty of fun activities to keep you entertained during your stay. From visiting the Great Smoky Mountains National Park and taking in breathtaking views to discovering family-friendly entertainment, there's something for everyone here. Ready to explore? Keep reading as we uncover the best activities that Pigeon Forge has to offer its visitors!
Dollywood:
It is impossible to visit Pigeon Forge without mentioning Dollywood, the beloved theme park created by country music star Dolly Parton. Enjoy thrilling roller coasters, live performances, traditional rides, and southern-style food! Plus, the park is home to multiple annual special events, making it a great way to spend a day!
If you're a thrill seeker, you won't want to miss a chance to ride the Wild Eagle roller coaster, the first winged coaster in the United States. Other attractions include the Mystery Mine, the FireChaser Express, and the Drop Line. Be sure to plan, so you make the most of your trip!
Ride Zipline:
Pigeon forge is famous for its zipline tours! When you come to Pigeon Forge, be sure to explore the. Smoky Mountains from high above on a zipline tour. Multiple operators in the area offer different routes and tours, so you can choose one that fits your needs. Zipline Pigeon Forge tours typically include zip lines, bridges, rappelling, and more.
The zipline courses are a great way to experience the beauty of the area and the thrill of flying through the air! Whether you're looking for an adrenaline-filled ride or a leisurely journey, there's something to suit every taste.
Hollywood Wax Museum:
Wax Museum Entertainment Center is a must-see attraction in Pigeon Forge. This unique museum is home to an impressive collection of life-like wax figures, allowing you to see some of your favorite celebrities up close. From politicians and presidents to movie stars, the collection has it all!
You will also find interactive exhibits like the 'Battles of Bridgton and the 'Mummy's Tomb.' Plenty of activities for all ages make this museum a great way to spend the day.
Shopping:
Pigeon Forge has plenty of shopping opportunities for visitors. There is something for everyone here, from large outlet stores to unique boutiques. Shopaholics will have their hands full with the city's numerous stores, offering everything from clothing and footwear to home goods and souvenirs.
You can also find various restaurants in Pigeon Forge, from fast food to fine dining. Whether you're looking for a quick snack or a full-course meal, the city's eateries have you covered.
Break Out of an Escape Room:
Experience an unforgettable adventure by breaking out of an escape room in Pigeon Forge. This thrilling activity puts you and your friends to the test, as you must solve puzzles and find clues to escape the room before time runs out. The rooms are designed with different themes, so you can choose one that best suits your group.
Take on the challenge and have a fun-filled day with your friends as you try to break out of the escape room!
Wonders Work:
This place is a great option for family fun. Here you can check out the WonderWorks indoor amusement park with over 35 interactive exhibits. From feeling what it's like to be an astronaut in the space zone to exploring the ocean's depths in the science zone, there is something for everyone. There are also plenty of activities for the kids, making this attraction a great way to spend the day.
However, WondersWorks is more than just an amusement park. The venue also hosts various events, such as laser tag tournaments, dodgeball games, and comedy shows. It's worth checking out!
Take a Jeep Tour:
Jeep tour companies in Pigeon Forge offer guided tours of the area, taking you to some of the most scenic spots. 6-mile off-road Jeep tours are a great way to explore the Great Smoky Mountains and experience some natural beauty. During these guided tours, you'll be able to take in some of the area's most stunning views and learn about local culture and history.
The tours typically last around two hours and include stops at some of the most popular attractions in the area. So, if you're looking for an adventurous way to explore Pigeon Forge, taking a jeep tour might be the perfect activity for you!
Titanic Museum:
Titanic is one of the most iconic ships in history, and it's no surprise that a museum is dedicated to its memory. The Titanic Museum Attraction in Pigeon Forge is packed with interactive exhibits and activities that allow visitors to learn about the ill-fated Titanic. You can explore the life-size replica of the ship and even take a "trip" to the bottom of the ocean.
The museum also offers several interactive activities, such as a scavenger hunt and a "Rescue Station" game. There are also special events such as the Titanic Ball and Tea Party. So, if you're looking for something unique in Pigeon Forge, visiting the Titanic Museum Attraction is worth checking out!
Practice Your Flips at TopJump:
TopJump activity is great for thrill-seekers looking to get their adrenaline pumping. To jump is an indoor trampoline park that offers a variety of activities, such as trampoline dodgeball and basketball. There's also the Foam Pit, which is perfect for practicing flips and other tricks.
The facility also offers several special deals, so you can get the most out of your visit. Whether you're looking to stay active or have fun, TopJump is a great place for an unforgettable experience.
Visit The Island:
The Island in Pigeon Forge, Tenessee, is one of the city's premier attractions. The Island features a variety of shops, restaurants, and activities for the whole family. There's something for everyone, from a relaxing stroll around the fountain show to exhilarating rides on the Great Smoky Mountain Wheel.
The Island also features a variety of live shows, including the popular Smoky Mountain Opry. And, if you're feeling adventurous, you can even try the Gatlinburg Skybridge, the longest pedestrian suspension bridge in North America. So, if you're looking for a fun place to spend the day in Pigeon Forge, The Island is definitely worth checking out!
Conclusion:
Pigeon Forge is a great place to visit and offers various activities and attractions. From exploring the depths of the ocean at WondersWorks to taking a thrilling Jeep ride through the Smoky Mountains and even testing your limits at TopJump, there is something for everyone.
More than 10 million people visit Pigeon Forge each year, and it's not hard to see why. With its abundance of attractions and activities, you're sure to have a fantastic time! So, plan your visit to Pigeon Forge and prepare for an unforgettable adventure.