We leave in a world of inventions and innovations that impress us every day. People are searching the right ways how to improve our life and this need is a background for a lot of innovation. In 2015 there were are lot of impressive inventions and design that we are may be using them right now. Below there is a list with the most ingenious designs that we were impressed by. Enjoy!
1.The Cloud Sprinkler
Korean designer Jeong Seungbin from DailyLife Lab invented something really cool for your plants — a 'rainy' pot. This pin-up construction has a cute cloud-shaped water filter, which turns common water into little raindrops.
2.The Pocket Cat
New York artist Jayme Lemperle created a cool design for shirts for a well-known sportswear brand Ripndip. They look completely ordinary at first sight, but then you notice that there's a cute and sassy cat in the pocket!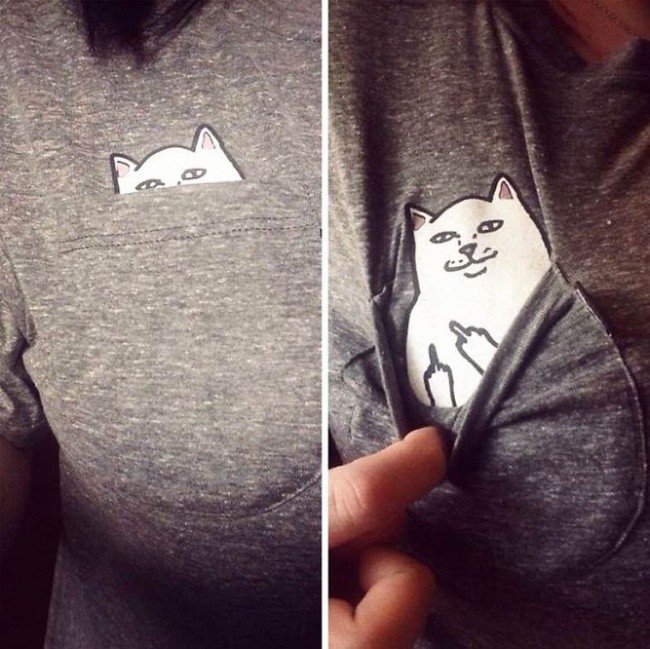 source
3.Lamps made out of old bottles
This LED Bottle Cork can help you turn old empty bottles into useful desk lamps. A cork-shaped accessory is made with an LED and integral battery charged from a USB. The gadget is waterproof, so it can be used outdoors.
4.Sushi Towels
enny Pokryvailo created a compact and original design for kitchen towels — now they can be rolled up to look like sushi!
5.The rainbow coffee table
This magical table was created by John Foster. The prisms deflect sunlight, and the space around is filled by flecks of rainbow-coloured sunlight.
6. The Whale's Tail brush
This whale's tail-shaped brush for windows and other surfaces looks cute and natural. It was created by designer Avihai.
7.Lamp-shaped Bookmarks
Peleg Design Studio created these original bookmarks shaped as lamps. Something special for all the book-lovers out there!
8.Walking With Dad
SaddleBaby is the best transport system you can ever give your kids. It's fixed on to the parent's shoulders, whose hands are almost always busy with smartphones, cameras, or other gadgets. It lets the parent carry a kid on their shoulders and at the same time keep their hands free. Brilliant!
9.Bed sheets which you can draw on
The Doodle Bed Sheets by Stitch are a simple invention really — they're just a set of white cloth which come with some coloured markers. The ink used in the markers is designed to allow you to get perfectly white sheets after you put them through the laundry.
10.Changeable shoes