There's nothing quite like driving down an open road, the wind in your hair and the radio blasting. A road trip can be a truly transformative experience, and America has some absolutely incredible options. Whether you are after a journey through a stunning mountain range, across an open desert, or along the sunny coast, the roads of America have got you covered.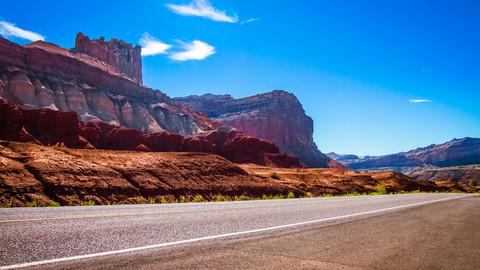 If you're considering taking a road trip across America, here are some of the best routes you can take, along with some tips on how to prepare yourself and your car for the journey.
Route 66
Where does it go?
This route spans three time zones and will take you from Chicago, Illinois to Los Angeles, California.
How far is it?
2,448 miles
How long does it take?
Around 30 hours of driving, usually 2 weeks
What will you see?
California, Arizona, New Mexico, Texas, Oklahoma, Kansas, Missouri and Illinois
Route 66 dates back to 1926. It was the first transcontinental highway in the country. Since then, it has become a famous route, thought of by many as a symbol of America itself. Along the way, you'll have a chance to experience all kinds of classic American eateries and motels, making this the perfect route for anyone interested in diving head first into American culture.
You'll start in Chicago then head southwest to Pontiac then onwards to Lincoln. Here, you can visit some famous sites including the Lincoln Heritage Museum. You'll then journey on through Springfield and head toward St. Louis.
Be sure to stop off at the famous Chain of Rocks Bridge, a mile-long bridge, now closed to vehicles. In Missouri, spend time in Springfield. You'll then pass through 13 miles of the state of Kansas.
In Oklahoma, be sure to catch a glimpse of the Blue Whale, one of the most famous attractions on the route. In Tulsa, take a look at the stunning 1930s Art Deco architecture.
After passing through Oklahoma, you'll enter Texas. Check out the U-Drop Inn as you enter the state for an example of Depression era artwork. You'll pass through Amarillo and Vega, where you'll see plenty of retro gas stations, buildings and restaurants.
After Texas, you'll enter New Mexico, where you'll find yourself driving along wide open roads through the state's remarkable dusty deserts. After the breathtaking views of New Mexico, you'll enter Arizona.
In Arizona, you'll have the chance to see some fascinating Native American sights, as well as some truly incredible views. From Arizona, you'll enter California, the final state on the route.
In California, be sure to take the detour to Joshua Tree National Park before heading to Los Angeles.
New England Roadtrip
Where does it go?
This route takes you in a loop across the Northeast of America.
How far is it?
Over 1,000 miles
How long does it take?
Around a week, depending on how long you choose to stay in each place.
What will you see?
Massecheusts, New Hampshire, Maine, Vermont, Connecticut, and Rhode Island
New England is known as one of the most picturesque, peaceful parts of the country. With its historic villages, gorgeous mountains, seaside towns and famous covered bridges, this corner of the country is not to be missed. With this windy route, you'll visit some of the most well-known towns and cities of New England.
Starting the trip in Boston, be sure to explore the famous city, known as the home of Harvard and MIT, along with the Freedom Trail walk. From Boston, head north to Portsmouth, a stunning and colorful coastal city situated on the border of New Hampshire and Maine.
In Portsmouth, look out for the historic, coloured wooden houses, the seafood restaurants and the unique microbreweries. From Portsmouth, head into Maine towards Portland.
Portland is a stunning coastal city with some picturesque waterfront views dotted with historic lighthouses. The Old Port district offers history lovers the chance to wander through a lovely, restored area.
From Portland, drive north to Acadia National Park. Here, you'll get to take in the wildlife of New England. From the stunning Cadillac Mountain to the serene Great Long Pond, there are miles and miles of breaktaking wildlife to see at Acadia.
From Acadia, you'll head west to the spectacular mountain ranges of New Hampshire. The White Mountains offer some of the country's best hikes, fishing and boating.
After the mountain ranges, head back to civilisation and the quaint city of Burlington, Vermont. This city is home to a buzzing marketplace and the headquarters of ice cream maker Ben & Jerry's.
From Burlington, you'll drive along Route 100, one of the most scenic, winding roads in Vermont. From the road, you'll see some gorgeous mountain views, and you'll pass through some of the cutest villages in New England.
The route takes you to New Haven, Connecticut, home to the famous Yale University. This historic university town has a lovely historic center that is well-worth exploring.
From New Haven, you'll head east to Newport, Rhode Island. This stunning seaside town is known as the playground of the American rich. Keep an eye out for the expansive summer homes, yacht clubs and five star restaurants.
The final stop on the trip is Cape Cod, known for its sandy beaches, and pretty islands.
The Pacific Coast Highway
Where does it go?
Along the Pacific Coast from north to south.
How far is it?
1,675 miles
How long does it take?
Five days to 10 days
What will you see?
Washington, Oregon, and California
This coastal drive will fill you with an incomparable sense of freedom. The trip is world-famous for its unparalleled ocean views and its fantastic stops along the way.
Start off in Seattle and head Long Beach, Washington. Then head into Oregon. Here, you'll find gorgeous long beaches and some incredible rock formations. You'll pass through Portland, which is widely known to be one of the hippest cities in the country, so check out the cafes and restaurants while you're there.
From Oregon, you'll keep heading south to California. With its breathtaking coastline, hot summer days and awe-inspiring sunsets, this section of the trip will blow you away.
You'll hit some incredible towns and cities in California, including Crescent City, Fort Bragg, Point Reyes, San Francisco, and Santa Barbara. You'll also see some famous landmarks like Big Sur and Pigeon Point.
You'll eventually reach the end of your trip in Los Angeles or San Diego, both worth taking a few days to explore.
Tips on preparing your vehicle for the trip
It's absolutely crucial to have your car in great condition before starting off on any of these lengthy road trips. A broken down engine or a faulty air conditioning system could turn a fantastic holiday into an absolute nightmare. Here are a few necessary steps to take before setting off.
Change your tires
Check that your tires have the right amount of pressure. Look for any cracks, blisters or misalignments. These are signs that you may need a new set of tires.
Check our oil levels
Oil is essential for lubricating the engine. If the oil needs a change now or soon, you'll likely find yourself on the highway with a faulty engine in a week or two. Use the dipstick to check oil levels.
Check the spark plugs
If you've noticed any funny sounds coming from the engine, now is the time to get it checked out. Spark plugs ignite the fuel in the engine causing it to combust, thus generating the energy you need to move the vehicle. If the spark plugs aren't the issue, you may need to replace another part of the engine system. If you're looking for affordable, quality engine parts, be sure to check out Goldfarb Inc.
Make sure you have a jack and a spare tire (or two!)
For flat tire emergencies, be sure that you have the necessary tools for a roadside tire change.
Check the brake fluid and pads
Because you'll likely be driving on all sorts of road conditions, your brakes will need to be up to the task. If your brake pads are worn down, now is the time to get them replaced.
Take your vehicle in for a check
When in doubt, take your vehicle to a professional. Tell them about your upcoming trip and they'll be able to perform all of the necessary checks and fixes to your car.
Conclusion
So, there you have it – three unbelievable road trips that will give a real taste of America. There's no better way to experience the varied wildlife and culture of this country than by diving in and driving across it.
Remember, to plan your trip in detail. Know where you're stopping and for how long. Know what sights you want to see and how to get to them. Invest in a portable battery. And, most importantly, make sure your car is in prime condition for the journey. After you've done that, you're ready to relax, roll down the windows, and enjoy the drive.