Many foodies go to great lengths to decorate their kitchen and dining room to create a cozy and inviting atmosphere. There's no sense getting excited about recipes if your kitchen decor is boring or outdated. Who wants to bake a cherry pie while staring at faded linoleum with an unrecognizable design?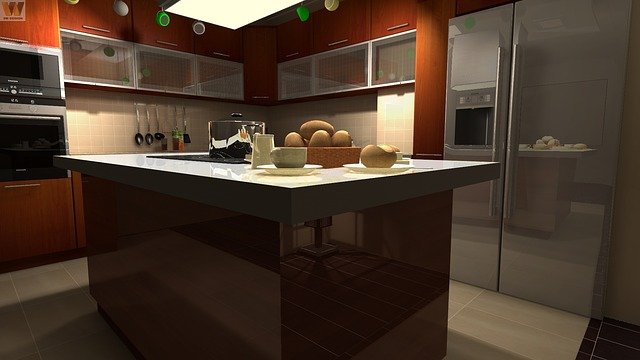 If you're a foodie stuck working in a dull or unworkable kitchen, don't worry, there's hope. All you need to do is start a small kitchen remodeling job to transform the aesthetics and functionality of your kitchen.
Get inspiration from famous chefs
Do you have a favorite celebrity chef? Check out these home kitchens owned by some well-known chefs.
Wolfgang Puck has a wine rack built into his kitchen island, along with drawers for storing raw coffee beans and some useful shelves.
Alice Waters tore down walls in her home to accommodate a large table and a wood burning oven.
You might even find inspiration from Julia Child's kitchen. Although her choice of decor is extremely dated, she made good use of pegboards and other organizational tools.
Use kitchen tools and images of food as wall decor
Have you ever seen a rolling pin hanging from the wall? What about framed recipe cards? Chalkboards with your shopping list? Posters of your favorite foods?
If you really want to make your kitchen unique, find some utensils and tools you can hang on the wall. For example, in this collection of kitchen decor ideas, someone hung a series of 3 cutting boards on the wall, each a different size and shape, with a single letter on each board to spell "EAT."
Another cool idea from the same collection of ideas is framed, painted silverware. In the example on the page, the silverware has been painted the same color as the frame, which looks cool. However, you can get creative with this type of project and use alternating colors, or paint all the silverware white and paint the frame black.
If this type of art inspires you, head over to the thrift store and pick up some kitchen supplies, and start making some art!
Go for a full remodel
If you've got the budget for a full kitchen remodel, go for it. If you're going to bake your treats and cook delicious dinners for friends and family, you deserve to be inspired by your surroundings. If anything in your kitchen doesn't work for you, and you can afford a full remodel, there's no reason to hold back.
Houzz has some of the best ideas for full kitchen remodels if you need inspiration. The benefit of remodeling your entire kitchen is that you can start fresh with a blank space. For instance, you can replace or rearrange your cabinets. You can swap your dishwasher to the other side of the sink if needed. You can even move your refrigerator or oven if they're not working where they currently sit.
Granted, you'll pay far more for a full remodel than you would to have your decor professionally redesigned. However, if you need more counter space, better countertops, or an island to work from, a remodel is worth every penny.
Have someone build custom utility shelves and spaces
Traditionally, remodeling your kitchen would involve choosing your cabinets, appliances, and layout, and having someone install everything in the designated spaces. However, sometimes you need a custom setup that has to be built from scratch.
For example, if you don't have room for an island, do you ever wish you had extra counter space to your side that wasn't permanent? Have someone build you a custom tray that slides out from the counter and functions as an extension of your counter. This extension can slide out like a cutting board but would be sturdy enough to support dishes full of food. You can even have it built with a support leg that folds out to reach the floor.
If you need shelves with specific heights, have those custom-built as well. Build your shelves to a custom depth, width, and height to make your time in the kitchen easier.
Your kitchen is your sanctuary
As a foodie, your kitchen is your sanctuary. Spice it up with decor that makes you happy and a setup that supports your specific cooking style. Any time, money, and energy you put into remodeling your kitchen will be well spent.