It's almost Christmas time, so it means that you are going to give and receive some wonderful gifts this season, right? Is it already that time of the year when everyone gets excited to share some love with friends and family? Are you looking to do it in a cool and personalized way? If yes, stay tuned. In this article I will share with you some DIY Christmas mugs that make perfect gifts, so check them out. Getting crafty has never hurt anyone. In fact, you may even like it and would love to get engaged in these types of activities more often, who knows!
Putting gifts under the Christmas tree will make both you and the receiver happy. There are tons of handmade and personalized products that you can order online nowadays, but nothing beats a gift that is handmade by the giver. Do you agree with me? The winter season is perfect for hot drinks, so that's why mugs are always a great idea. Everyone who wants to enjoy coffee, hot cocoa, hot chocolate, mulled wine, or anything else on these cold days, would certainly love the gift.
What's even more amazing about these gifts is the fact that they won't cost you a fortune and you can make lots of people happy for little money. All you have to buy are monochromatic mugs (preferably white) and some sharpies. The designs are truly endless. The ones below will definitely inspire you and get you thinking in different directions. Feel free to experiment and personalize the mugs according to the person who's going to use it!
Christmas Ornaments Mug Decoration
Do the different shapes and prints of Christmas ornaments manage to amaze you every single time? Draw your favorite ones on a mug and paint them in playful colors, so they make the gloomy winter days more magical and positive.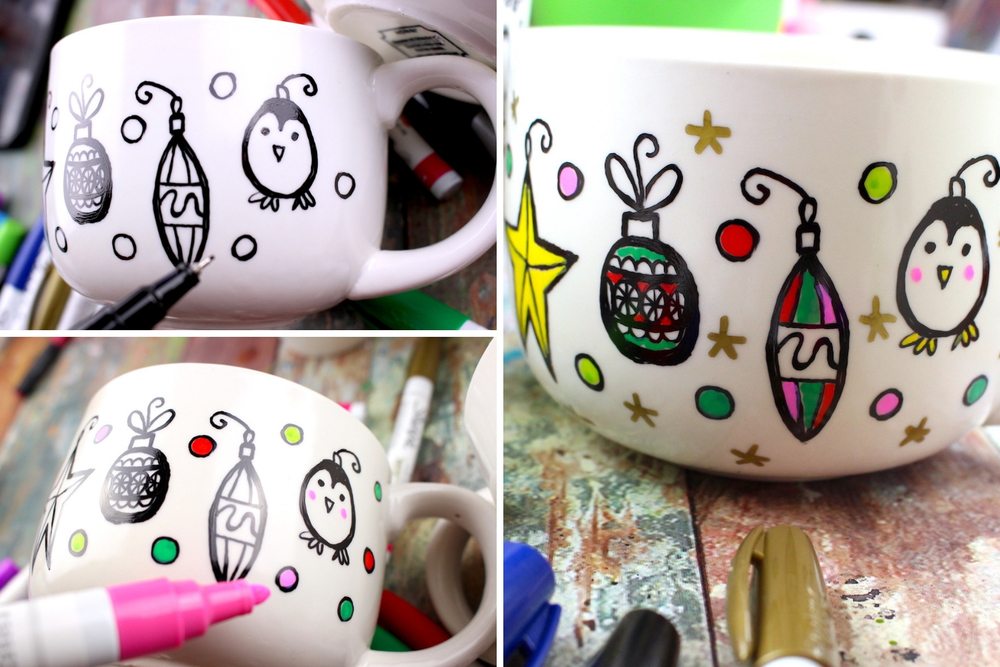 Joy To The World Christmas Mug
"Joy to the world" is such an amazing quote to write on a mug to someone you love. In this festive way, you will share your appreciation with them and show them that you care.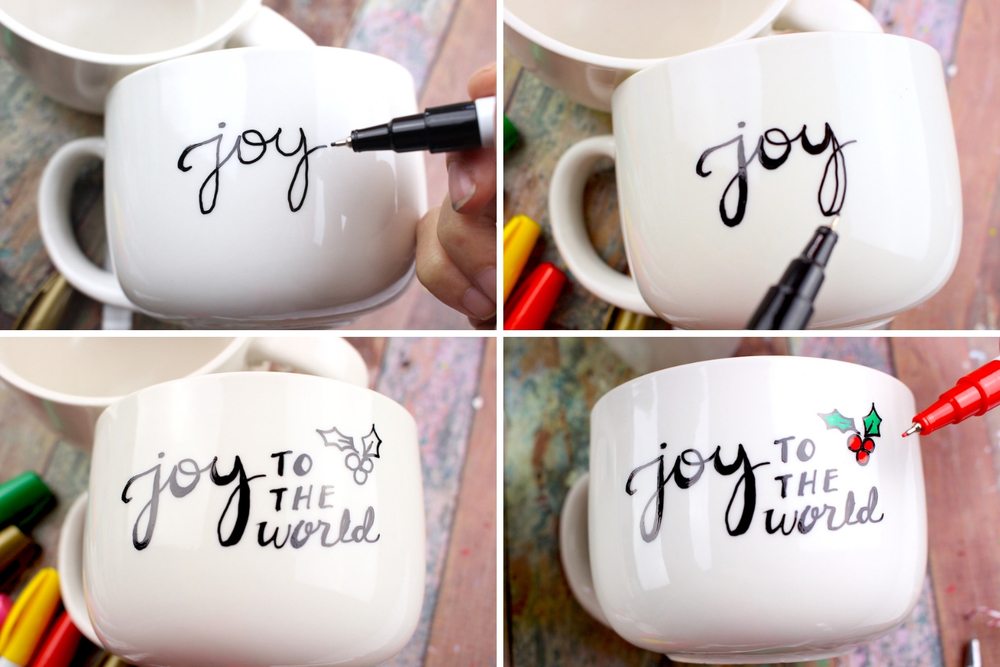 Let it snow
Snow fanatics will be obsessed with this mug. They will probably wait for snowy weather too in order to make some fascinating photographs!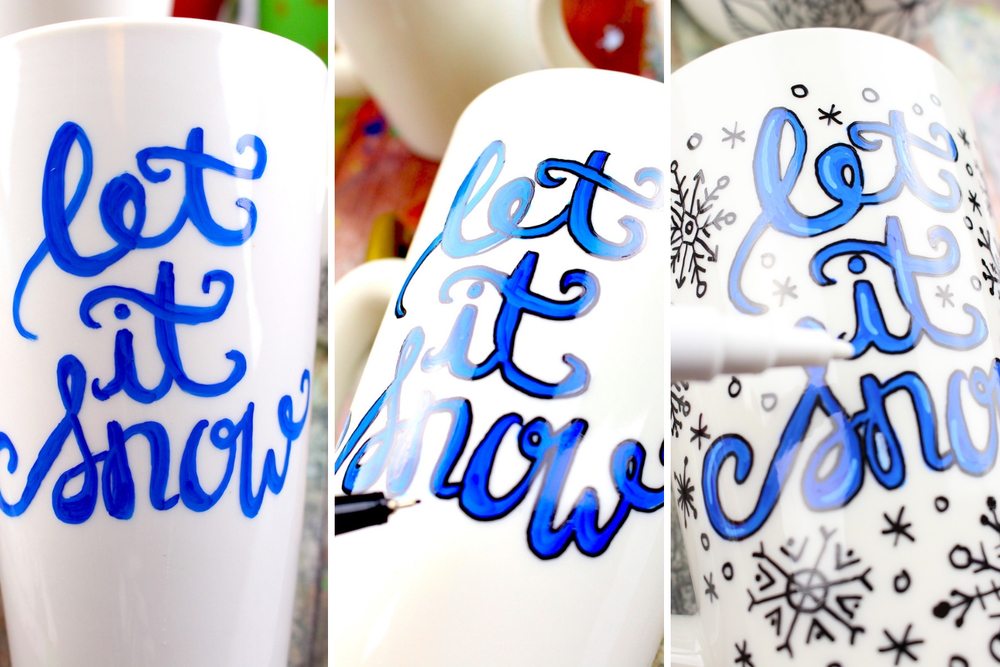 Christmas Tree Mosaic
Are you looking for a design that looks complicated but it's super easy to make? This faux mosaic may be the thing that you are looking for. Choose the preferred colors and get down to work to recreate it.
Be Merry
The DIY Christmas mugs can be so versatile, chic, and stylish. One of my personal favorites is this "Be Merry" mug which is amazing for winter.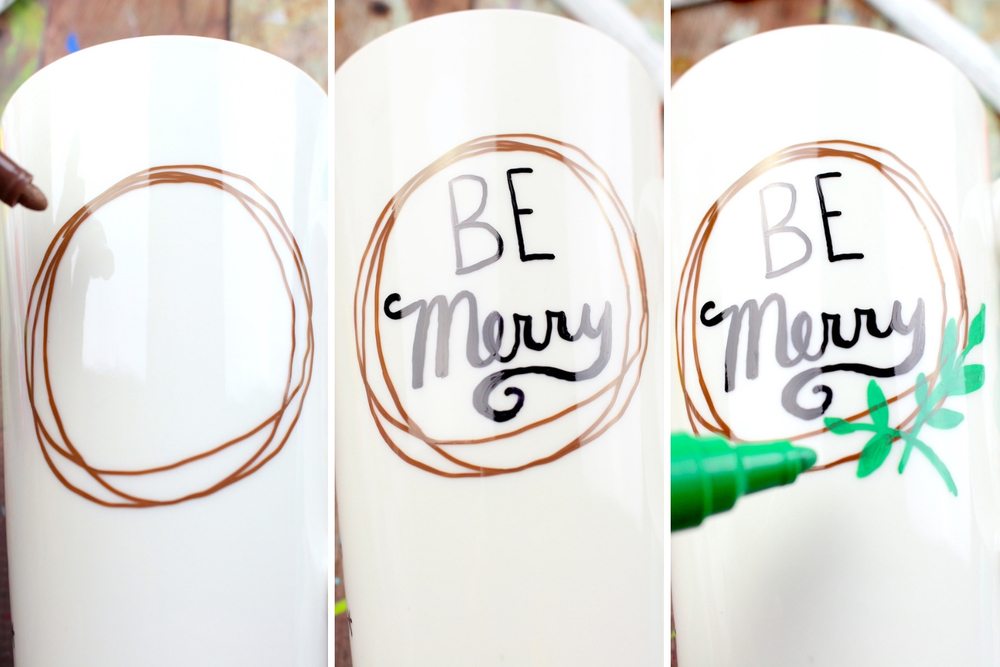 Red And White Let It Snow Mug
What do you say about drawing some attention-grabbing snowflakes on the mug? Make sure you use a silver sharpie to achieve the right effect.
Joy
Here's another interesting technique that you can use. Print the letters that you want to display on the mug, stick them to it temporarily and use sharpies to make dots all around the letters. When you are done, just remove the paper. You can do dots on the whole mug or juts around the letters. It all depends on your preferences and style.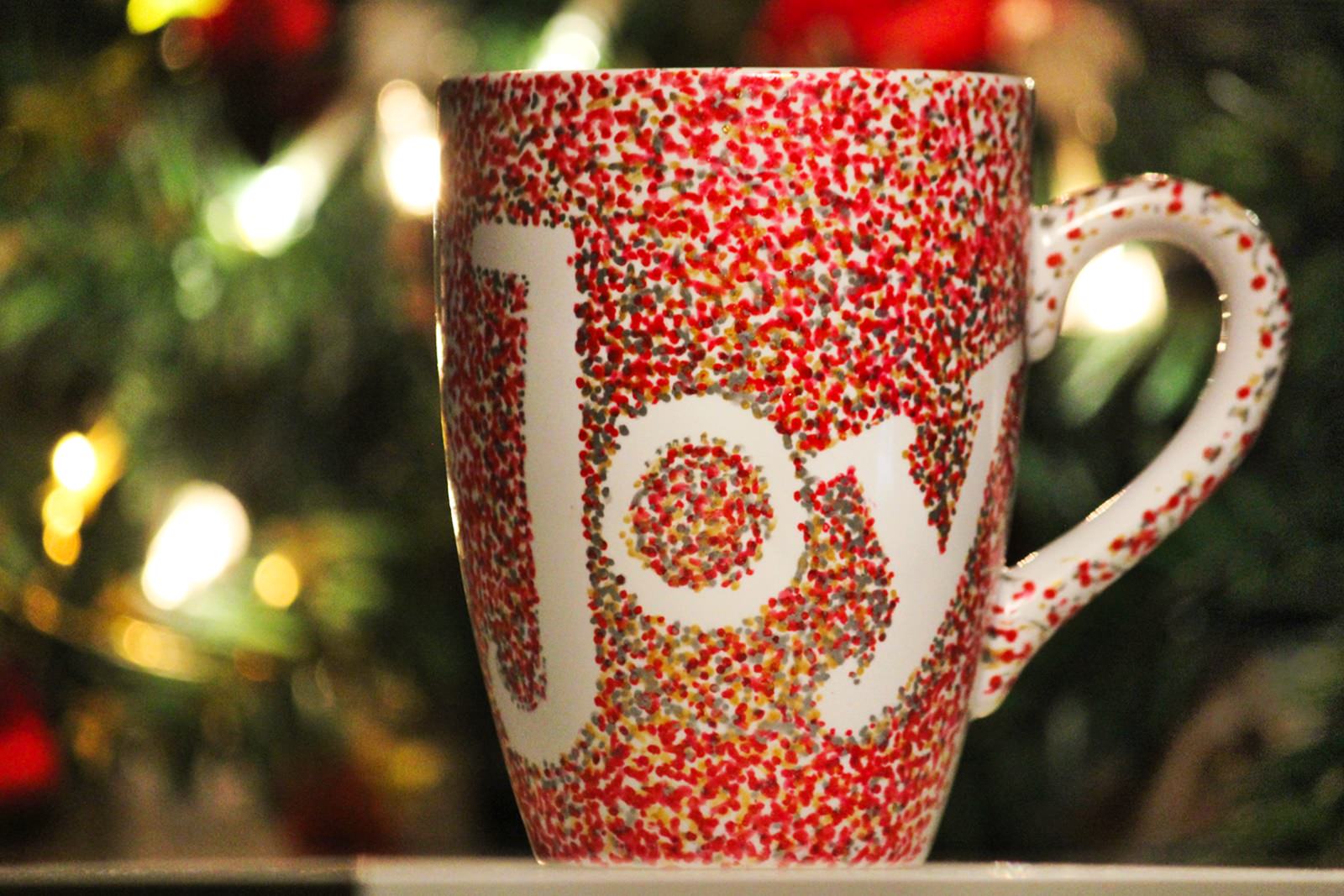 All I Want For Christmas Is You And Coffee
Isn't this red mug totally stunning? If you choose a mug in another color that's not white, you should make sure that you get some high-quality sharpies that will make the job easier for you.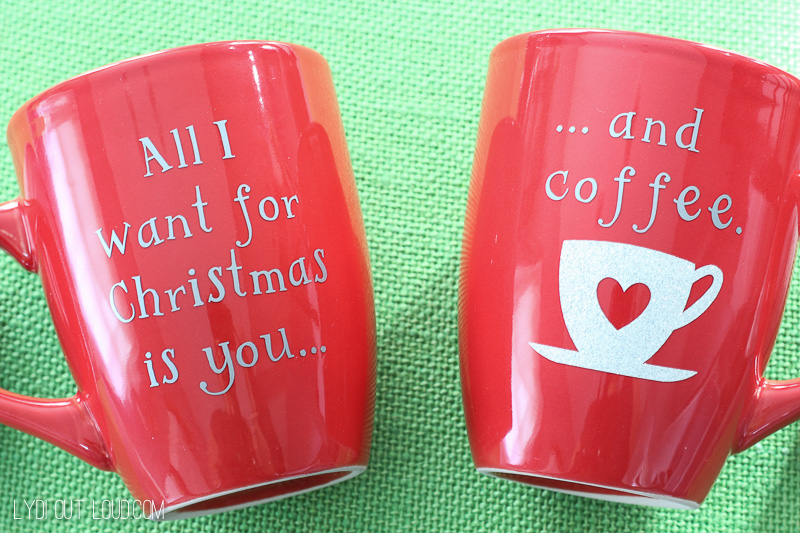 DIY Christmas Gift
Write some cool quotes on the mugs and don't forget to fill them with candies or other gifts if you want to make a stupendous impression on everyone.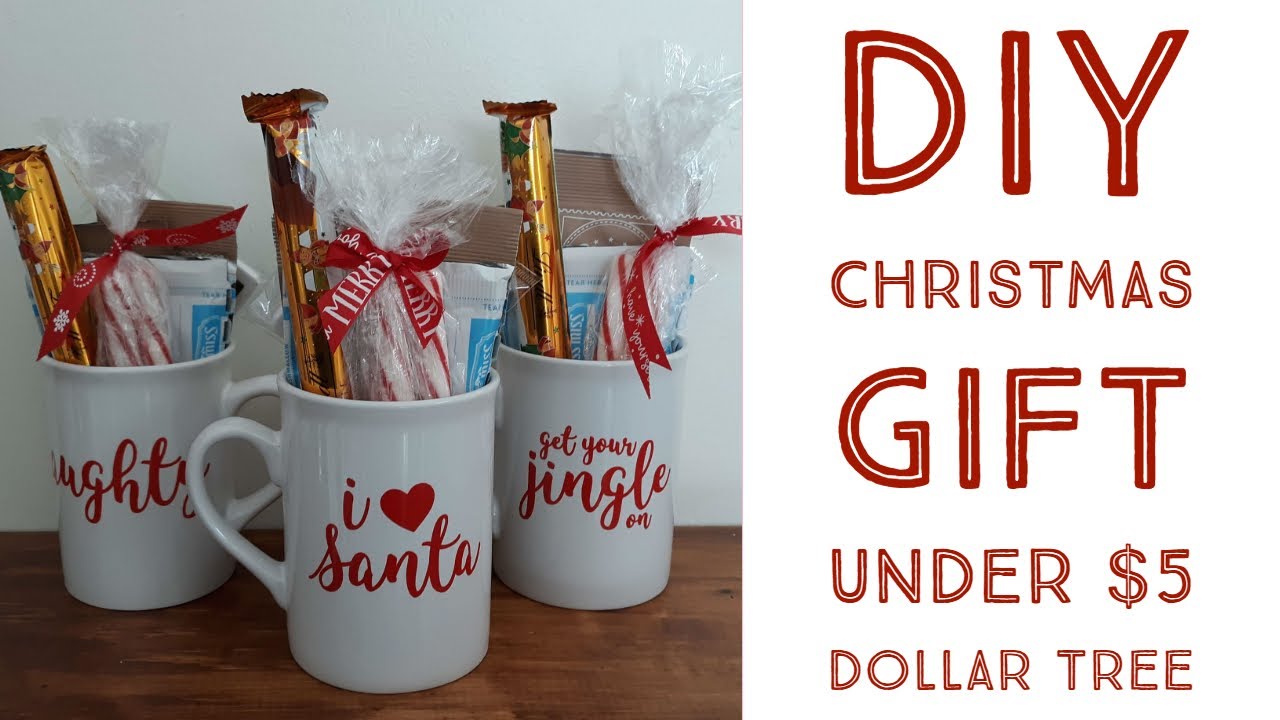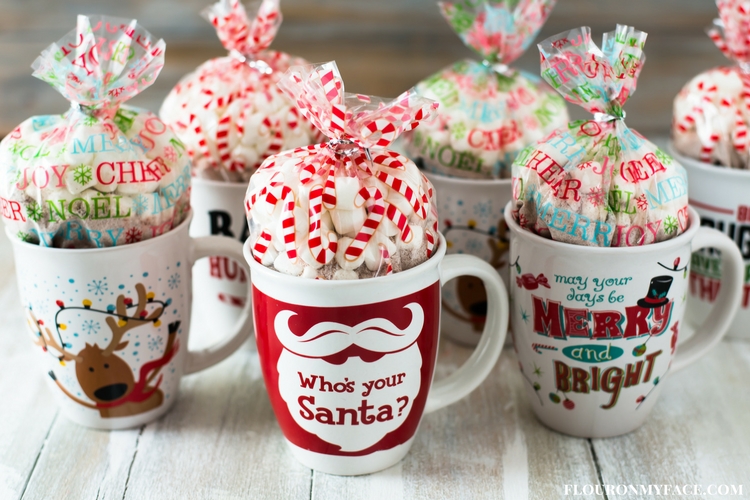 Christmas Trees
I really love these variations of Christmas trees on the mug. You will enjoy creating this piece of art, believe me!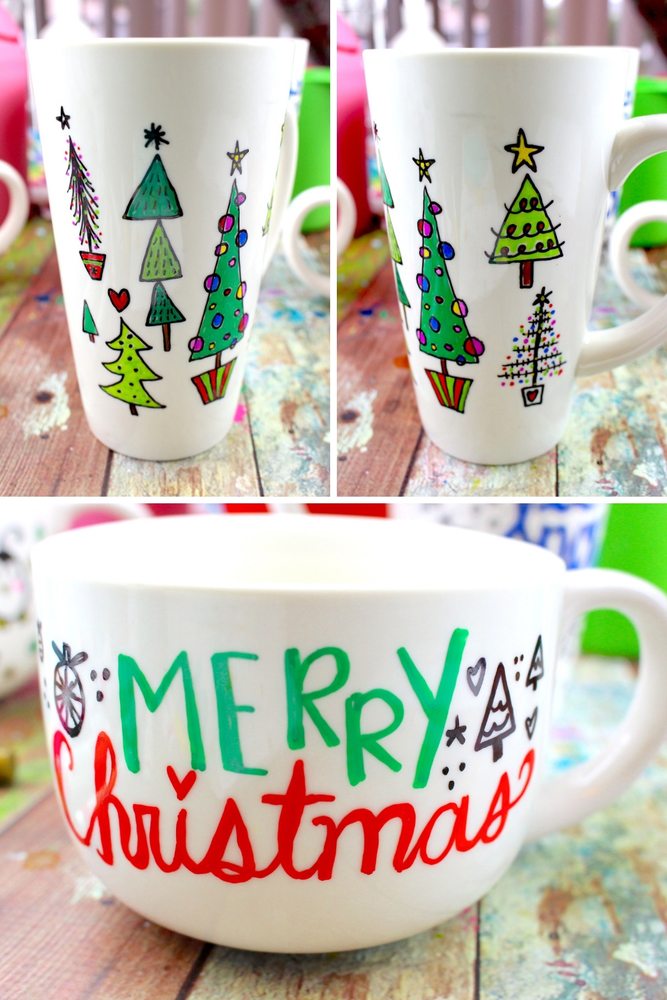 Merry And Bright
Some people really prefer minimalist designs, so go ahead and just write a word or two, or a short quote on the mug without adding anything else. Before deciding on a design, have the person who's receiving it on mind.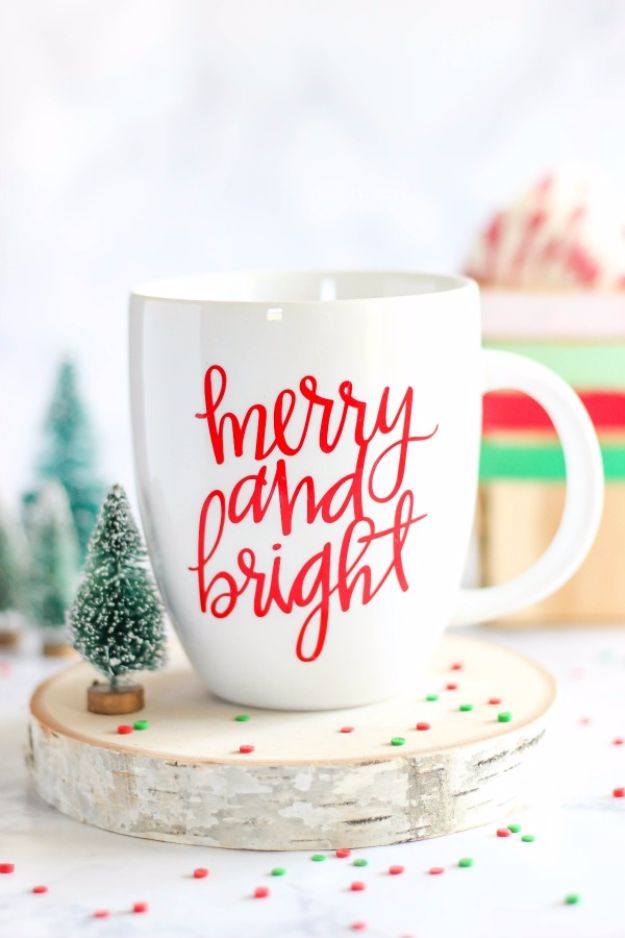 Closure
It doesn't really matter which is the design that you chose, as soon as you make the right planning and execution of your art. Remember to draw the desired drawings on a piece of paper and carefully plan whether everything's going to fit on the mug. Then use a pencil or a pen to transfer the drawing on the mug and only when you are sure that that's the way you like it, use a black sharpie and then colored sharpies to get the final designs. Although these DIY Christmas mugs can seem complicated at first, they definitely aren't. Some sharpies require later baking of the mugs, so read the instruction carefully because I bet that you don't want your art to fad away from the first washing, right?