Using graphic editors is usually pretty complicated regarding how many features you may need to create a unique design for special needs. But VistaCreate is a perfect solution for people who want to use modern solutions and get top results but not spend too much time handling the difficult system of a pro tool. Here, you'll find a free mood board creator which provides you with the best conditions for quick and pleasant work.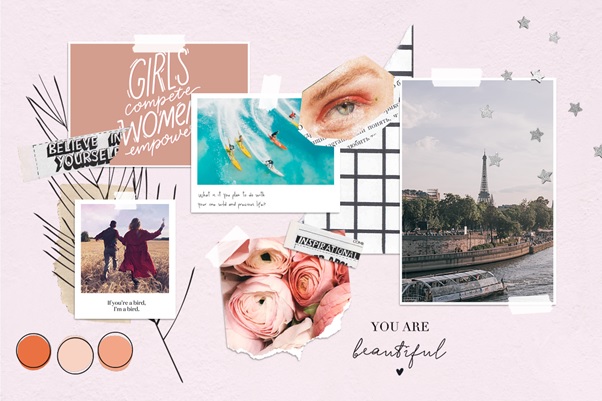 VistaCreate editor – what is it?
VistaCreate is a tool for editing visual content for various needs – from private to business. Here you'll find the best feature for working with visual content for social media, self-organization, developing teamwork, etc. The best is that all the provided formats and templates are available for free and there are no watermark or file size restrictions that would interfere with the comfortable work with the editor.
VistaCreate works online, so you don't have to install any application. All you need to start working on the platform is to create an account using a convenient option. Then, you use the pages that the website offers:
homepage with the main formats users often edit;
templates, where you can find inspiration and save time not doing all the work from scratch;
creative assets where you can find royalty-free materials to work with;
tutorials to learn the baseline principles of work with the platform;
brand kits for using unified styles if you create content related to one brand;
my projects where you can find all the projects you've worked on.
Thus, working in VistaCreate you have everything necessary for comfortable operation.
How to start working in VistaCreate
To start your work, you need only to log in to the system. You can use your e-mail address for this, or choose another convenient option. To sign up or log in, find the corresponding button in the right upper corner. Then, choose a format you'd like to work with and start editing. Pay attention to the aspect that if you want to resize the picture, you'll have to upgrade your profile to the Pro version or start another project from the beginning with a different format. For mood boards, there is a separate format size, but if you need it for social media or another source, it's better to choose a convenient format from the beginning.
Mood board features
When you start editing the mood board in VistaCreate, you can use all the common features accessible in the editing panel on the left part of your screen, and something more specific:
adding pages (presentation-like format);
changing the scale to use more details;
duplicating pages;
showing the print bleed.
This can help you develop your board with more consideration.
VistaCreate is one of the best tools to create composite content for various sources and purposes. If you want to get the most out of your creative pastime, VistaCreate will be the best free option for you. Go now and try all the features!