If you love modern things and like to be abreast with the current furniture styles, then you're a contemporary style follower. While some people think that interiors with such designs are minimalist and cold, these insides are clutter-free and bright. This way, they are welcoming and comfortable. Simplicity, intentional use of texture, subtle sophistication, and clean lines define the modern furniture décor. Interiors tend to display space other than things. The modern style focuses on space, color, and shape. Here are some important tips that can help you achieve this type of design in your home, and decorate it with conemporary furniture.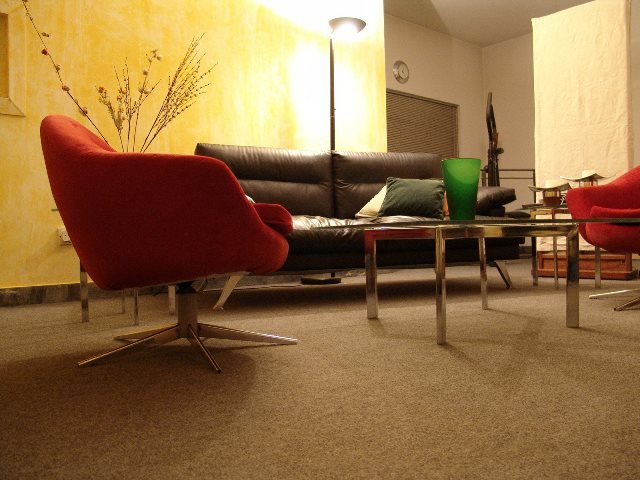 source
Proper Color Use
The main colors for a contemporary style interior include black, white, and neutrals. Black grounds and defines rooms. You should punch up and accent the palette with a bold and bright color to play against the neutrals. However, remember that your anchor pieces should stick to either two or three colors. Play with the prominent colors.
If your walls have bright, bold colors, then use neutrals for your furniture. However, if you paint the walls in a basic neutral, they give a wonderful background for bold-colored sofas and tables. If you painted the wall and windows in pastels, then your furniture's trims should be neutral colored.
Shapes
Polished, pared-down shapes are very important in modern designs. For your living room, choose furniture that is low-profile and fairly compact. This may include accent tables that have minimal hardware or sofas that sit close to the floor. Beds and lounge seats should only conceal short, simple legs.
Contemporary furniture built low can feature thin but sturdy legs. It may also rest on a solid platform. However, you don't have to choose the low pieces for desk chair, dining room, or other seating types. In this case, the pieces should not rest on solid platforms. Instead, maintain thin and sturdy legs.
Line
The most obvious and unique feature of interiors with contemporary styles is line. From straight horizontal and vertical lines to curved shapes, the contemporary-style home evidently features strong visible lines. However, your furniture pieces should be without curves to retain simplicity.
Remember to maintain clean lines, especially the ones that have rounded edges. Instead of floppy or over-stuffed pieces, look for the furnishings that have solid and well-defined lines. The contemporary style usually features rectangles that have slightly rounded edges above the ones with sharp corners. However, the lines remain to be smooth.
Fabric Choice
For your contemporary home, look for natural fabrics. The popular choices for upholstery are canvas, leather, and cotton. However, you can introduce linen, wool, and silk in the mix in form of pillows, throws, drapes, and other types of fabric accessories. There are endless options for being creative with natural fabrics for your furniture. Also always a good choice is ikea friheten cover.
Conclusion
Being a contemporary style follower requires simplicity and discipline. Your color choice for furniture should stick to utmost three colors and your fabrics must be natural. The minimalist approach is evident with the pieces being fairly compact and of the low-profile nature. If you follow the simple rules, you'll have an inviting home.