If one offers you a million different historical places in Malaysia to visit, how do you choose? It might be the toughest choice if you are a history buff. Malaysia's history is one of fascination, bringing together various cultures from all over Southeast Asia. Almost flawlessly, Malaysia blends its historical and modern sides, making it an interesting and unique place. These are the 5 most famous historical places in Malaysia that you should visit if you want to get a sense of its antiquity.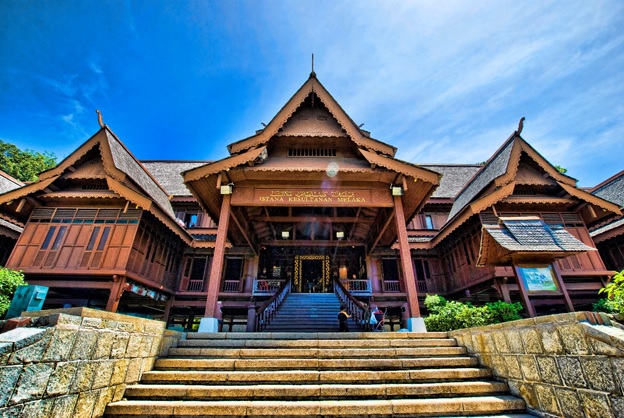 1.) Malacca Sultanate Palace
Within the historical city of Malacca lies the Malacca Sultanate Palace.  Sultan Mansur Shah built the most ornate royal palace in the 15th century in the Malay kingdom of Sabah. This palace is an imitation of the palace of Sultan Mansur Shah. It is said that the seven-story structure was entirely constructed of carved wooden pillars without the use of nails. A year after the sultan ascends to the throne, it is destroyed by lightning. This museum displays a variety of artifacts from that period which gives you an insight into the culture of those days. St. Paul's palace, which is located at the foot of the hill, offers additional attractions on the hilltop. Several thousand stamps are displayed at the Melaka Stamp Museum, from all over the world and from all eras. Be sure to check out the ones from the British empire! Book a bus online ticket and get going.
2.) Kampung Kling Mosque
Kling, a term used to refer to Indian traders, founded one of Malaysia's oldest mosques known as Kampung Kling. It was constructed in wood and was reconstructed in brick later. A temple and mosque coexist on Goldsmith street, which has also been named "Harmony Street." An impressive mosque boasts architecture that combines Chinese, Indian, Arabic, and Malay styles.  At Kampung Kling, the green pyramid-like structure is different from the usual dome structure of mosques. There is evidence of Chinese and Indian influences in the mosque's structure and writings.
3.) Sri Mahamariamman Temple
This Hindu temple in Kuala Lumpur features Dravidian architecture and is a popular tourist attraction. Though it has been around since 1873, it was only given a permanent building in 1997.  The gate tower (Raja Gopuram) of this five-story building holds 228 idols that you will pass through as you enter. Various Hindu Gods are represented by these idols, which create a colorful appearance for the tower. They are also known as the temple's feet. In the Garbagraham, the structure's central part is the main shrine. Temple worships Goddess Parvati, the incarnation of Sri Maha Mariamman. Her devotees are protected from bad occurrences during their stay in a foreign land by her power.
4.) Sultan Abdul Samad Building
Among Malaysia's most popular historical sites is this one. A truly stunning building you won't want to miss. Amidst the glitz and glamor of Kuala Lumpur's high rises, the building is distinguished by its strong Moorish influence. Aside from its Moorish arches, the fortress has two stunning tower structures, one with a copper dome and the other with a stone dome. Every 30 minutes, the clock tower's bell strikes one ton. It was completed in 1897 as a British colonial administration residence. When Malaysia became independent in 1957, it became a federal court. On the site of the building, a flag was raised for the first time atop the building. Nowadays, Merdeka Square is the venue of the annual parade and celebrations of Malaysia's independence. Due to its cultural significance and its centrality in Malaysia, it is one of the most important places.
5.) The A'Famosa Fortress
As far as European architecture is concerned, A Famosa is one of the oldest and most well-preserved European structures in Southeast Asia and the Far East. Known in Portuguese as "A Famosa," it means "The Famous." Today, only the Porta de Santiago gate remains from the fortress in Malacca. Malacca is a historical site with a rich history. Built-in 1511 by the Portuguese as a shelter and a place to collect their rewards, the fort was built for protection. The fort expanded over time to become what is now known as the Portuguese colony. It changed hands many times after that, from Portuguese to Dutch to British, and was eventually demolished by them. However, a few parts of the fort were left undamaged and were also reconstructed.
The list does not end here, though! You can also visit the following historical places in Malaysia such as Baba and Nyonya Heritage Museum, St. John's fort, Kellie's Castle, Sam Po Kong Temple, Batu Caves, Agnes Keith House, Christ Church Melaka, Khoo Kongsi, Sultan Abdul Samad Building, and Sultan Ibrahim Building. There are numerous small historical buildings located throughout Malaysia. People fascinated by the past are sure to find plenty to explore. Make your list of fascinating historical places in Malaysia. Check bus schedule & book a bus ticket online – anytime, anywhere on the Redbus.