Investing in a refrigerated truck or trailer is a big decision. However, the limitations of a refrigerated truck should not be overlooked. If you're planning to expand your business by managing your own shipping, a trailer will allow you more room to grow your business.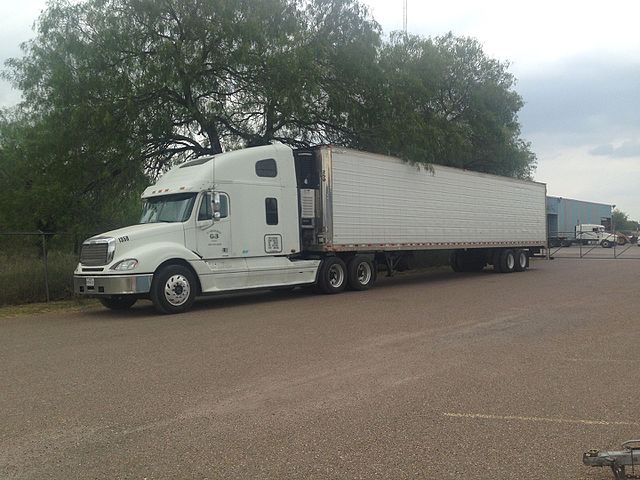 Volume
A refrigerated truck will allow up to 26 linear feet of trailer space and approximately 1600 feet of cubic space. A refrigerated trailer can be up to 53 feet long and offer 8 feet of interior space.
A refrigerated trailer will allow you space to grow. If you have a small amount to ship on a regular basis, consider renting the shipping space out to other suppliers that need to send to stops along the way or to the same final destination. This space rental will not only reduce your fuel expenses, but a trailer full of cold stuff will stay cooler than a trailer full of cold air.
Specialization
Dry vans are much more common on the road. Owning a refrigerated truck for your product deliveries could make you a popular shipper, and you may be able to set up a subscription or regular shipment rental space.
Do be aware that your refrigerator truck will be open to much more intense cleaning requirements and you may be required to undergo inspections from organizations beyond the Federal Highway Administration. These rules will impact you whether you have a truck or a trailer, but be sure to follow the rules that will impact your transport for the state where you started, the states you're passing through and your final product destination.
Weight Tolerance
The hauling power of a reefer trailer is much larger than what a truck can tolerate. Your reefer truck may top out at 13,000 pounds, but a refrigerated trailer can haul up to 45,000 pounds.
As you plan your purchase, make sure that your prospective van undergoes the necessary checks from the
chilling unit
insulation quality
structural supports
suspension
The professionals with Hale Trucking recommend "..also review the temperature range log with reviewing reefer trailers for sale."
Flexibility
If your reefer truck breaks down or is in a wreck, your whole shipping process will be disrupted. You may be dealing with unhappy clients, delays down the line, an overloading of stock in your facility, and a risk of spoilage or of your product falling out of date range for sale.
With a reefer trailer, you can easily swap out the "motor" to get your product back on the road. If you don't have the shipping volume to hire a permanent driver or keep someone on retainer, build a database of independent drivers who can be trusted to haul your products in the time frame you need things to move.
Your reefer trailer purchase can turn into multiple income streams when you can offer steady transport instead of facing rental risks. You can also plan to expand your offerings and the volume of your current production when you know the product will get their on time.