Long hospital stays can be draining, lonely, and often downright painful, but adding a homey feel to your loved one's hospital room can make his or her stay so much more pleasant. There are many easy ways to bring in a touch of warmth to any room, be it a hospital room or a bedroom. Here are several ideas to get started with that'll show your love and, at the same time, add a touch of hominess to your loved one's current quarters.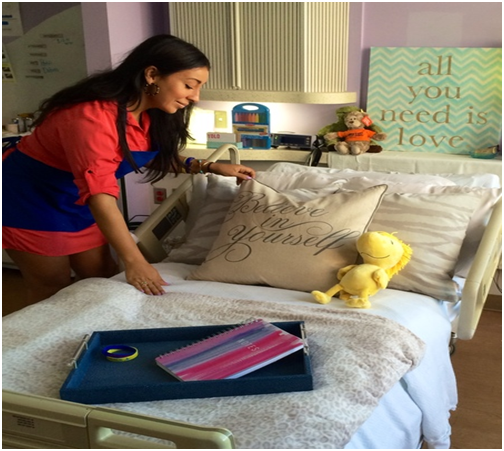 One thing for you to do before attempting these ideas is to make sure they're allowed by the facility your loved one is staying at. Every hospital has its own rules and regulations, and you wouldn't want to get yourself or your loved one in trouble. Just look around for anyone in medical scrubs, and ask the person if he knows if what you want to do is allowed. If he doesn't ask him how to find out.  If the ideas mentioned below are allowed in your loved one's facility, go right ahead and start making his hospital room as homey as it can possibly be!
Food:
Hospital food is undeniably nutritious, and eating the food provided to you by caregivers will only help to speed up the individual's recovery. Even so, supplementing hospital meals with permitted favorite snacks or foods that are relatively healthy will give the patient a much-craved taste of home.
Obviously, if the patient is diabetic or has been put on a special diet by his doctor, only permitted foods should be provided to him or her.
Decor:
Pictures of the patient's loved ones or family members can be hung up across the room. This will not only provide a fun, homey look but will also remind the patient of the blessings he has in his life even throughout this ordeal.
Bedding:
Insomnia is undeniably common in hospitals. Help prevent your loved one from suffering from lack of sleep on top of everything else by providing him with comfortable bedding that is conducive to restful sleep. A soft, snuggly blanket, comfy linen, or even a familiar pillow can give the hospital room a homier vibe, and, simultaneously, make it easier for your loved one to drift off into sleep.
Since lack of sleep can slow the healing process and increase risks of depression, any natural means for reducing sleep should be explored.
Hygiene:
Some people find it gross to use hospital shampoo, and others just would prefer to use something a little more familiar. Either way, a surprise basket of the patient's favorite hygiene items, like shampoo, soap, a soft towel, and a diffuser to go with it all is a wonderful gift to give a loved one who's away from home. It makes the washing experience so much more pleasant and familiar and will scent the room to smell almost like home.
Music:
Which song is always playing in your loved one's home? Who's her (or his) absolute favorite singer? Turn on one of your loved one's favorite songs. Sound can do so much to make an atmosphere and is such an easy means of increasing hominess.
These are just five top tips to make a hospital room homier; get creative, and you'll surely come up with many more!