A great time to visit the mountains is during the Fall. And here are some of the best places to visit where gorgeous trees, breathtaking views, and cooler weather abound. For a scenic drive through or a longer stay, it's refreshing just to be in the mountain air. Whether you're camping, driving an RV or looking for comfortable accommodations such as a vacation rental, these destinations are all amazing in the fall.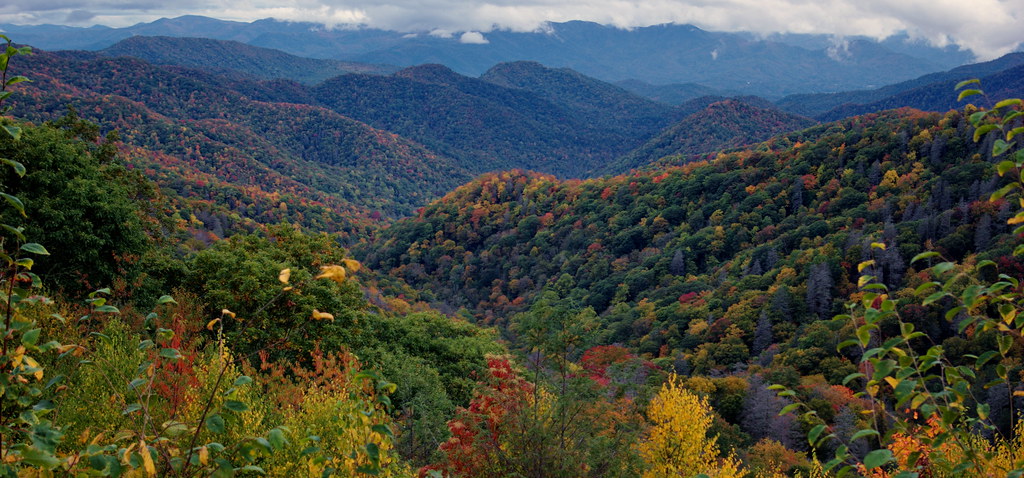 Great Smoky Mountains National Park
The vibrant fall colors of the more than 100 species of trees in this diverse ecosystem attract countless visitors to this beautiful park straddling Tennessee and North Carolina. America's most visited national park is open year-round, and charges no admission fee. Nearby Gatlinburg cabins on the Tennessee side offer a rustic luxury in the middle of all the surrounding nature. The Smoky Mountains boast incredible panoramic views and multiple forest systems with diverse wilderness terrain. There are a variety of attractions to explore, with hundreds of miles of trails, thousands of miles of waters, many waterfalls and great scenic drives offering spectacular panoramic views of the landscape. The gateway towns are family-friendly and star-studded with attractions, while the park offers several developed campgrounds and other amenities, with options ranging all the way from backcountry wilderness to wheelchair access.
Acadia National Park
Acadia National Park in Maine is one of the best places to experience the change from summer to fall. From late September to the end of October visitors can catch this transition in all of its colorful glory throughout the park. Three main campsites include the forested Blackwoods Campground, Schoodic Woods, and Seawall Campgrounds. Since this park is popular throughout the summer and fall season, reservations are recommended at campsites. Acadia National Park offers amazing mountainous views from destinations like Cadillac Mountain where visitors can see Nova Scotia and breathtaking vistas. Visitors will also enjoy kayaking in the lakes and waterways as well as hiking, wildlife viewing, and other activities. For the less adventurous, numerous rustic rental cabins abound in the area too.
Big Bend National Park
Though this far west Texas park may not seem like a fall destination at first, it may be surprising to discover what it has to offer during this time of the year. You can expect comfortable temperatures as the blazing summer heat cools in Big Bend National Park. The desert landscapes are warm and enjoyable in the fall, making it an ideal destination to be outside. The wide-open terrain of Big Bend offers endless open skies and starry nights, plus incredible opportunities for visitors who enjoy solitude and remote camping destinations. Cottonwood, Rio Grande Village, and Chisos Basin are the three campgrounds located in Big Bend, with the Chisos Mountains forming the heart of the area. Backcountry camping in the park is available as well, and there are hotels and lodges with cabins in the area.
Grand Tetons National Park
Located in Wyoming, Grand Tetons National Park is, as its name implies, simply grand. Towering mountains and deep wilderness make the Grand Tetons a great place to get away in late summer and fall. Activities are plentiful and include fishing, horseback riding, rafting, and backcountry hiking. Campers will find developed campsites in the park and hiking in primitive camping is available. Overlooks with vast views from destinations like Signal Mountain give visitors grand views. The Jenny Lake Scenic Drive offers an unforgettable of the mountain peaks. A bounty of fall colors and rich flora and fauna make the Grand Tetons a memorable place to visit.
Rocky Mountain National Park
The golden aspen trees make Rocky Mountain National Park a worthy place for a fall adventure. It's especially great if you take your RV to this park and plan on staying for at least a few days. It's 415 square miles of park, with temperate weather in the fall and snow on the mountain peaks all around. Many people enjoy mountain biking and hiking, and there are great RV facilities in Granby, only minutes away from the park's western entrance. With the majestic surrounding peaks of the Rocky Mountains all around, the park is a popular driving experience – Rocky Mountain National Park Scenic Loop is about a 4-hour drive with mountain scenery all the way. Nearby Estes Park (a town, not a park) offers lodging and attractions as the gateway on the east side of the national park, with Grand Lake as a gateway on the western side.
White Mountain National Forest
New Hampshire in the fall? Consider taking a drive through the Kancamagus Highway, which is 34.5 miles long and famous for its fall scenic beauty. Then stay a night or a few in White Mountain National Forest, which has a variety of campground spots. The Cold River, Crocker Pond, and Hastings campgrounds of eastern New Hampshire and western Maine feature sites that are first-come, first-served. Every location has access to hiking trails and Cold River accommodates recreational vehicles. Campgrounds in this forest stay open until the middle of October, but early fall is a prime time to bring your RV for a trip. There are about 6 million visitors on average to this forest every year. Hotels and rental cabins abound also in the area, as well as much history and places of interest.
Through all of these pristine areas, pandemic precautions are still in place, with some ranger stations closed, and other areas asking for advance reservations available online to drive through or stay – but everywhere is essentially open and accessible for travel. Check out the destinations before you go, and consider a rapid test or a vaccination before you leave home, to make sure you and your group are in good shape.