Maybe one of the most challenging interior design problems is designing a small kitchen. Especially if we get in mind the fact that women spend a lot of time there while cooking for the whole family. That means that they need space to organize all the kitchen utilities, which can be a little difficult when the room itself doesn't offer you enough space for it, and that is why we need small kitchen design ideas. Designing a small kitchen means, that you need to pull out any smart tricks for making it look bigger. Here are some of the small kitchen ideas you need to use to maximize a small kitchen. We recommend you try some of these small kitchen ideas and solve forever the problems with lack of storing space in your kitchen.
1. Use Double Sided Kitchen Islands
People with small kitchens try to use the space as much as possible. That is why they usually place a kitchen island in the free space between the kitchen and the dining room (or living room in small apartments). But, sometimes items stored in islands can easily get lost in the back of the islands which as always very deep in dimensions. So here is the first idea from the small kitchen design ideas. In order to avoid that you can use island cabinets that open from both sides, so you can store your utilities within easier reach, and they won't get buried when you search for them. This is one of the best small kitchen storage ideas many designers use nowadays.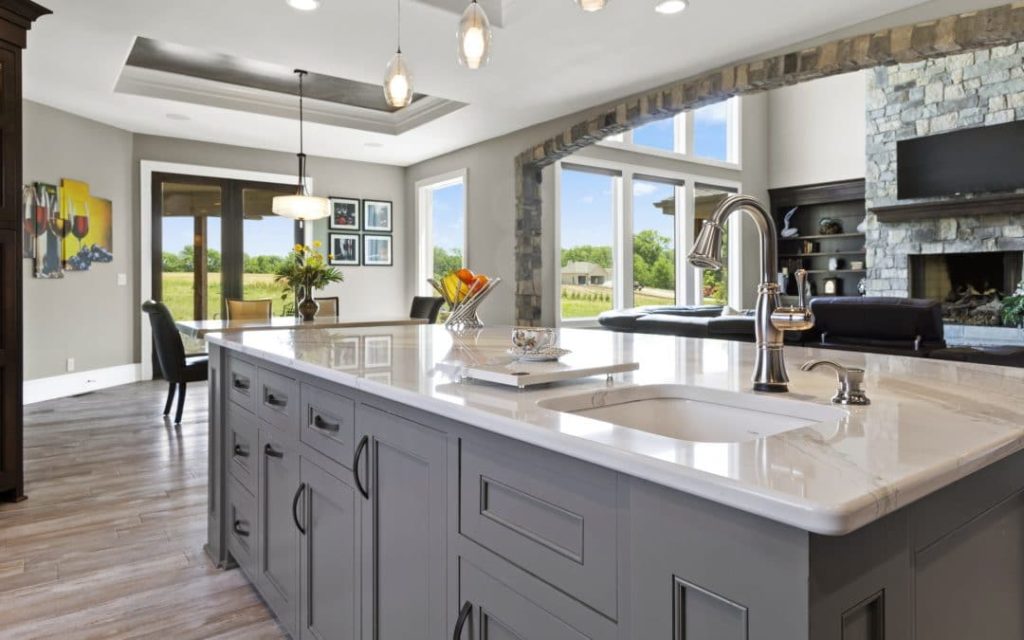 source
2. Experiment With Light And Dark Shades
Colors can also help you in making a small kitchen look bigger. Interior designers won't advise you to use dark shades in small kitchens to avoid shortening the space even more. But, they would definitely advise you to use the contrast of light and dark colors to create optical effects and enlarge the small space. You can use dark cabinets, or you can use a dark grey for the wall behind the white cabinets to create the same effect of a small kitchen looking large.
3. Consider Counter-Depth Upper-Uppers
One of the biggest trends that kitchen designers use nowadays is changing the traditional 12-to-15 inch upper cabinets dimensions.  Instead of that, kitchen cabinets are divided into two levels, so that the first above cabinets at eye level keep these dimensions, while the upper ones are even deeper. In this way the upper cabinets flush with the fridge, creating a tidy look and much-storing space. These small kitchen cabinet ideas with deep kitchen cabinets above are the perfect tricks to create extra storing space in small -kitchens and this is one amazing small kitchen storage idea that you may find useful. You can store less-used items and utilities in there because they are too high and not that practical for use.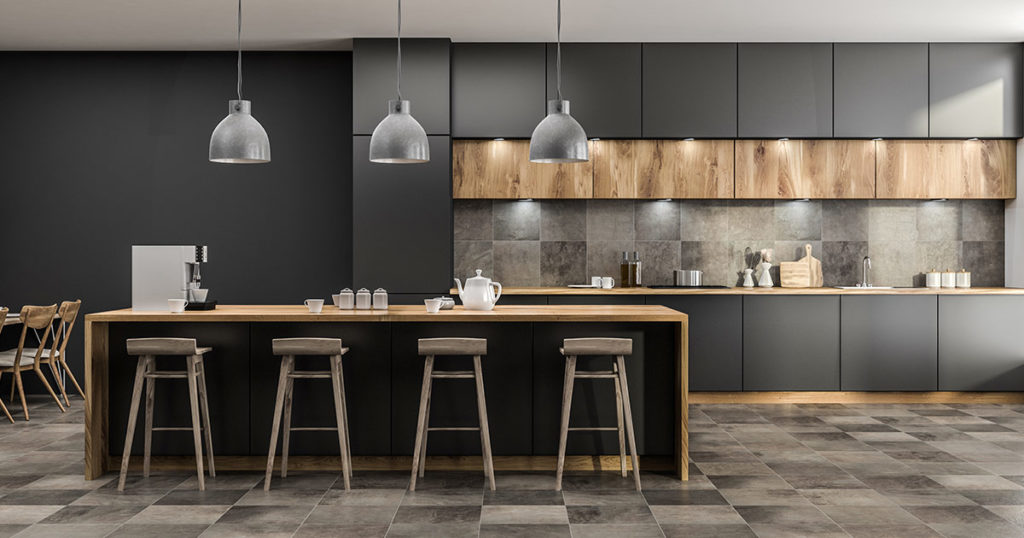 source
 4. Float Open Shelves, Cool Small Kitchen Design Idea
Another trendy way to create some extra storing space in a small kitchen is to float some open shelves above a peninsula. It will give your space a modern look and will help you keep your items organized and on hands any time you need them. This free space can be used to place some lowered lights, or the better option, floating open shelves. So, when styling your kitchen do it smartly so follow these awesome small kitchen ideas. Open shelves are a perfect small kitchen renovating ideas when you break down some walls between the kitchen and the living room to open up space, but you still want to create a barrier between them.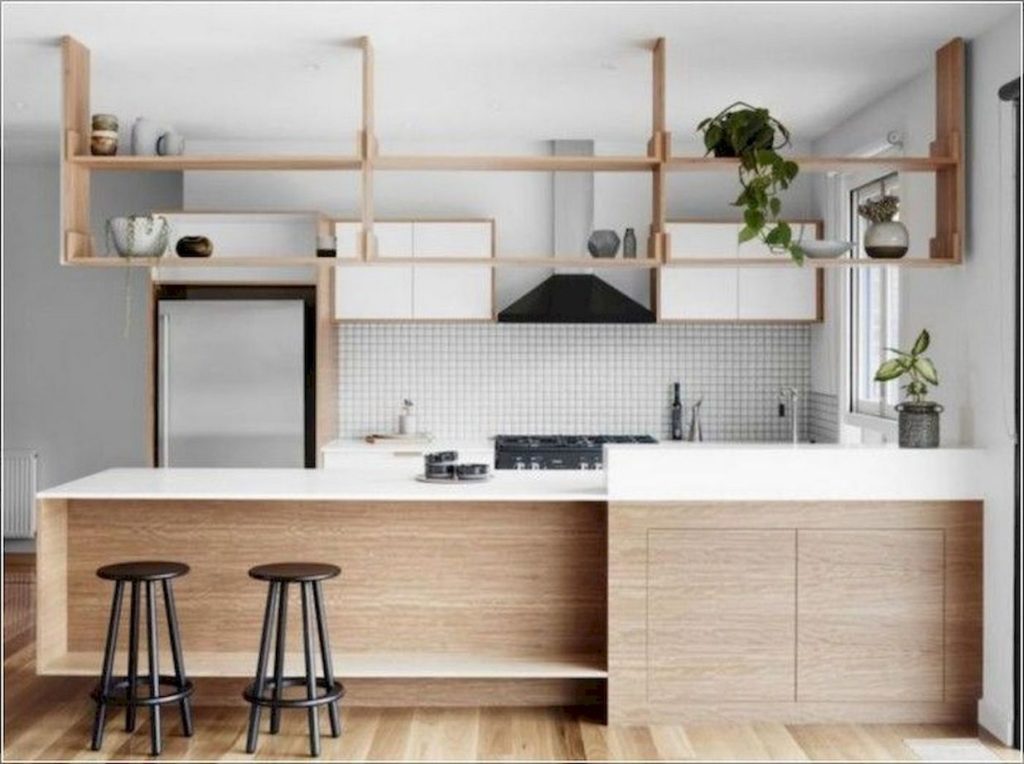 source
5. Welcome The Up To Ceiling Uppers
If you don't choose the idea of deeper upper-upper cabinets, you may consider the idea of high uppers. Today's kitchen designers try to use all the free space above the counter to the ceilings. This way you use the space that other way would stay useless, and transform it into less-used items storing area. This may not be the best small kitchen idea on a budget, especially because the up to ceiling uppers need more materials and can cost more than you have firstly planned to spend for your kitchen.
6. Swap In Some Secret Floor-Storage
This is probably not the most popular way to create some extra storing space in a small kitchen. First, in order to make it, you must have planned it while building the house. Second, it is not practical to keep things under the floor. But, in some houses in the kitchen, you may found some under the floor storing spaces that you can use. You can store wines or other items that can be kept in dark places there. The best at the end is that you will have things stored, in an "out of the box" way.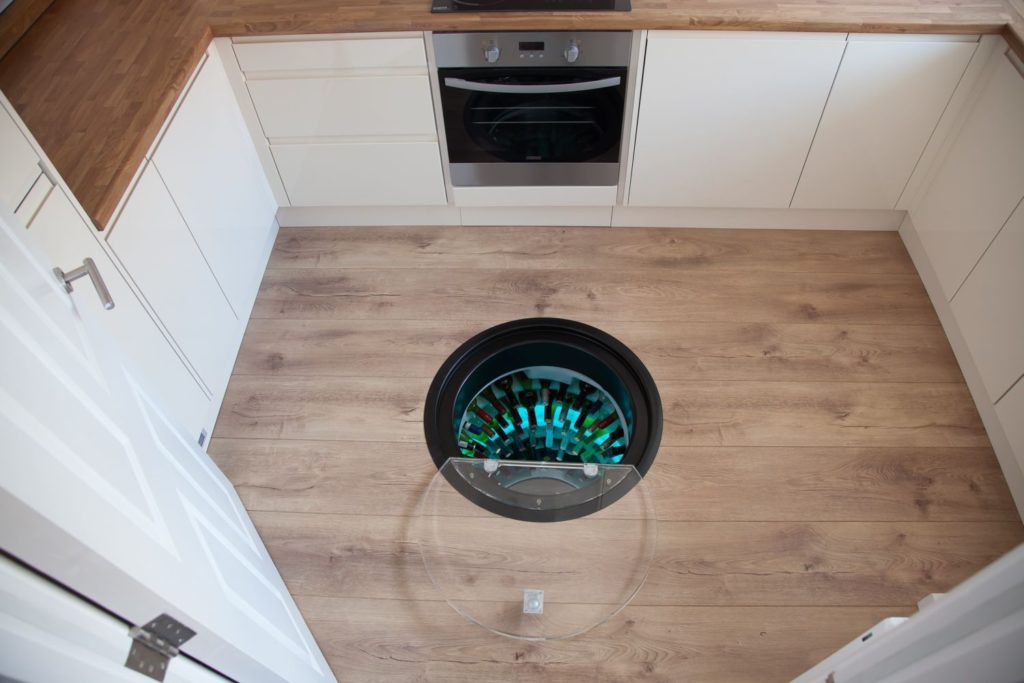 source
7. Use The Mirror Backsplashes Pass-Through Effect,
The dark walls behind the white cabinets are not the only way to make your small kitchen look more spacious. Mirrored backsplashes are another modern and luxurious way to have your small kitchen looking deeper. The reflective mirror surface will create the illusion of depth beyond the cabinets. That is a trick many supermarkets use in fridges to create a pass-through effect. Copy it in your kitchen too.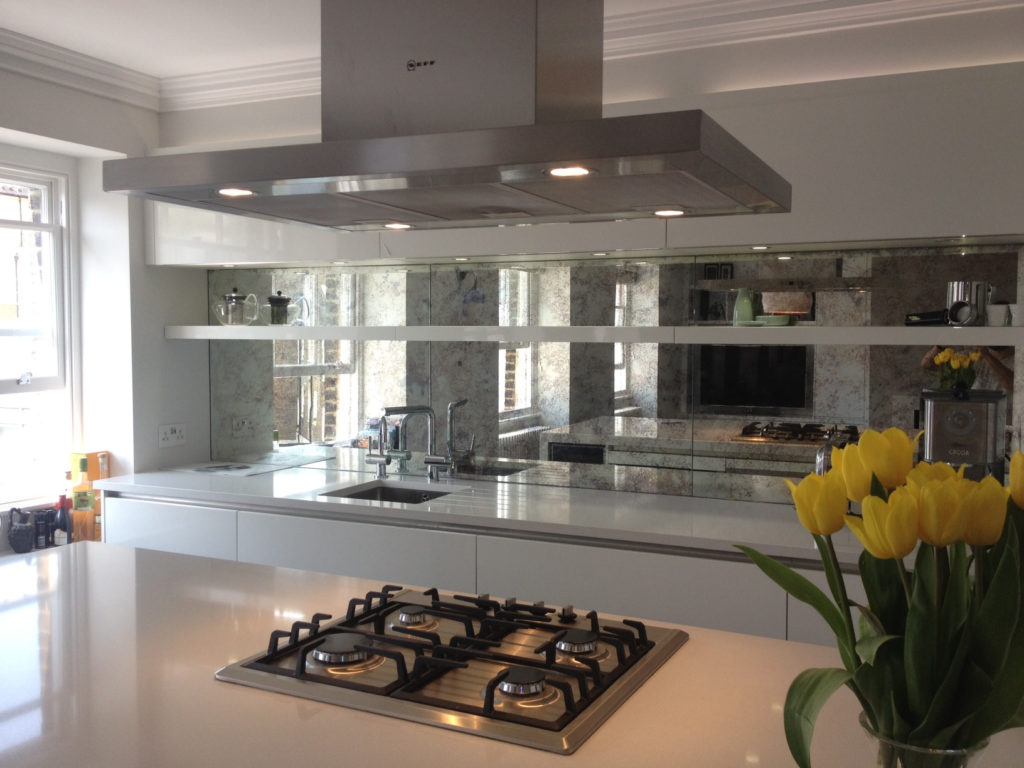 source
8. Bet Seats That Tuck In
In order to create more space where there is not enough space, you can visually separate one room into two. For example, you can use a surface as a prep station while cooking, or the same surface can be used as a dinette table while dining. This way you are having one item with two functions, and one room separated in two different areas.  Once you have solved this problem you can consider another one barely related to it: the bulky stools or chairs that take up much space that they should indeed. You should instead use backless seats that are still comfortable and that fully tuck under the table or the dining surface.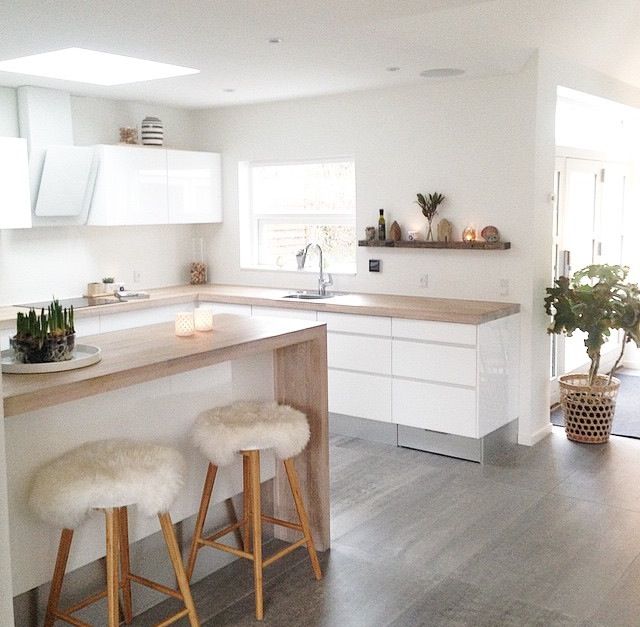 source