The kitchen is more than just a place to prepare meals; it's a space for gathering, sharing stories, and creating memories with loved ones. As the heart of the home, it deserves to be decorated and personalized to reflect your unique style and personality. And what better way to do that than with crochet and knit accessories?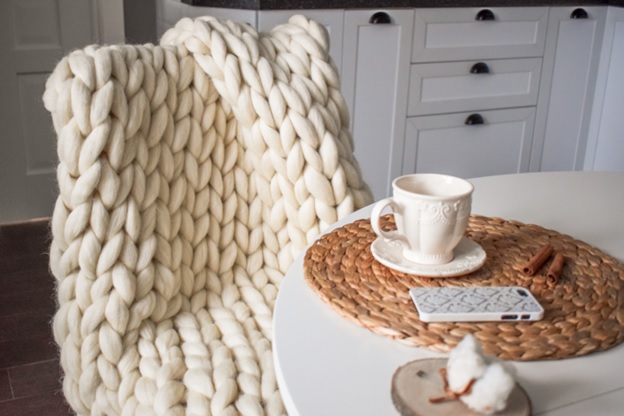 These functional and decorative items add warmth and comfort to your kitchen and create a cosy and inviting atmosphere. From potholders to coasters and placemats, crochet and knit accessories come in various designs and styles, making finding the perfect fit for your home easy.
But they are not just about the aesthetic appeal; these items also serve a practical purpose in protecting you and your kitchen.
And in this article, we'll tell you how to add style to your kitchen with crochet and knit potholders, coasters, and placemats. We'll also provide tips on choosing suitable materials and how to care for your handmade items properly.
Potholders: Functional And Decorative Accessories
Potholders are essential in any kitchen, as they protect your hands from heat and prevent burns when handling hot pots and pans. But that doesn't mean they can't also be stylish and decorative!
Crochet and knit potholders come in a variety of designs and colours, making them a great way to add some personality and charm to your kitchen.
When choosing a potholder, consider the material. You'll want to select a heat-resistant yarn, such as cotton or wool, to ensure your safety in the kitchen.
The size and thickness of the potholder are also essential factors to consider. A larger size and thicker padding can provide more protection and make it easier to grip hot items.
But potholders aren't just functional – they can also be used as decorative accents in your kitchen. Choose a pattern or colour that complements your kitchen decor, or make a set in different colours to add variety. You can even create matching sets with other crochet or knit kitchen accessories, like coasters and placemats.
Care And Maintenance
When it comes to caring for your potholders, be sure to follow the care instructions on the label. Most cotton and wool potholders can be machine washed gently and laid flat to dry. And if you notice any signs of wear or tear, it's best to replace them to ensure your safety in the kitchen.
Coasters: Protect Your Surfaces With Style
Protecting your furniture from water rings and scratches is important when you have guests over. That's where coasters come in! But who says they have to be boring?
Crochet and knit coasters can add a touch of style and personality to your home while still serving their practical purpose. Like placemats, coasters can be made in various designs and materials.
You can choose from traditional square or round shapes or create unique shapes like flowers, fruits, or animals. You can also play with colours and patterns to match your decor or add a pop of colour.
When it comes to materials, cotton and wool are once again popular choices due to their absorbent and heat-resistant properties. However, you can experiment with materials like jute or hemp for a more rustic or natural look.
One great thing about coasters is that they are small and easy to make, making them a perfect project for beginners or those short on time. You can even mix and match different patterns and colours to create a set that's uniquely yours.
Care And Maintenance
Regarding care and maintenance, coasters can be washed and dried, just like placemats and potholders. And if you have a spill or stain, they can easily be spot-cleaned or thrown in the wash with your other kitchen linens.
In short, coasters are a small but mighty addition to your kitchen decor. They protect your surfaces while adding a touch of style and personality to your home. Plus, they make great DIY gifts for friends and family!
Placemats: Add Elegance To Your Dining Experience
Placemats are an excellent way to add elegance and sophistication to your dining table. Not only do they protect your table from spills and scratches, but they also create a beautiful backdrop for your meal.
There are endless options for styles and designs of placemats. You can choose simple, classic designs like stripes or solid colours or get creative with more intricate patterns like lace or floral motifs.
The material you choose will also affect the overall look of your placemats. Cotton is popular for its durability and easy care, but you can also use wool or linen for a more luxurious feel.
Regarding size, standard placemats are usually around 12 inches by 18 inches, but you can adjust the dimensions to fit your table or personal preference. Some people even choose to make oversized placemats to double as table runners.
Crocheting or knitting your placemats allows you to customize them to match your decor or create a new look. Plus, they make great gifts for housewarmings, weddings, or any occasion.
Care And Maintenance
To care for your placemats, wash them in the washing machine gently with mild detergent and lay them flat to dry. With proper care, your handmade placemats can last for years, adding elegance and personality to your dining experience.
Choosing The Right Materials
When choosing materials for your crochet and knit kitchen items, there are a few things to consider. First, you'll want to select a heat-resistant material that can withstand moisture, such as cotton or wool.
You'll also want to choose a material that is easy to clean and maintain. Cotton and wool are machine washable, making them a convenient choice for kitchen accessories.
Another thing to consider when choosing materials is the texture and feel of the yarn.
Avoid materials that are scratchy or too delicate for everyday use.
Opt for acrylic yarn as it is soft, easy to care for, and comes in various colours and textures. When making items that will contact food, ensure you choose yarns labelled as "food safe" or "baby safe" to avoid any potential chemical transfers to your food.
Moreover, properly storing yarn at home is crucial to keep it in good condition. Store your yarn in a cool, dry place away from direct sunlight and moisture.
Use storage containers or bags specifically designed for yarn to prevent attracting moths and other pests. Keeping your yarn organized and correctly stored will help ensure it's in excellent condition for your next project.
Tips For Making Your Own
If you're new to crocheting or knitting, making your potholders, coasters, and placemats can seem overwhelming. But with a few tips and tricks, you'll quickly create your custom kitchen accessories.
Start with a simple pattern and practice proper tension. Tension is essential in crochet and knitting, so ensure you're not pulling too tightly or loosely as you work. Choose high-quality materials, and don't be afraid to experiment with colours and designs. And most importantly, have fun!
Conclusion
Crochet and knit accessories are a great way to add warmth and style to your kitchen decor. From potholders to coasters and placemats, there are endless possibilities for creating unique and personalized kitchen items.
Whether you make your own or purchase pre-made items from artisans and shops, these accessories serve a functional purpose and add a touch of charm and personality to your home.