While winter weather ravages the majority of North America, the unwavering tropical climate of the Turks and Caicos Islands brings visitors in droves and puts Catchin' Caicos to the test. The luxury charter experience is passing with flying colors, netting 54 exclusively five-star reviews and a 2021 Traveler's Choice Award on TripAdvisor.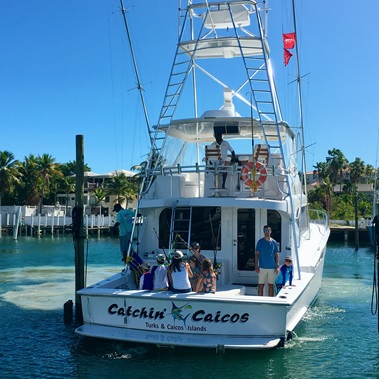 It is unparalleled dedication to service that places Catchin' Caicos at the upper echelon of luxury sports fishing adventures. Fresh off of a successful fall fishing season, Captains Roy and Codney and crew continue to assist deep-sea and shallow water expeditioners, helping them fight on the line with the sea's toughest fish to their heart's content.
During the winter fishing season, Catchin' Caicos guests can expect an array of wahoo, mahi-mahi, and sailfish, the last of which are catch-and-release only. Once the angling is complete for the day, visitors shuttle their daily catch to a nearby restaurant for preparation of dinner and decompression from a long day's work.
To peruse the Turks and Caicos waters for the finest and freshest fish, guests of Catchin' Caicos can explore the forty islands and cays of Turks and Caicos Islands on their vessel of choice: a fully equipped 36' Benchmark Catamaran outfitted with a double-hull and 430hp diesel engine, or a 60' Hatteras yacht, both which boasts a spacious fighting deck to reel in that prize-winning fish that'll have guests smiling from ear to ear.
Each vessel is outfitted with top-of-the-line fishing equipment like Talica TAC50II Drag Reels on the Benchmark and Shimano Tiagra TI80WA 2-Speed Lever Drag Reels on the Hatteras, all mounted on Blackfin rods. This combination of cold-forged reel and rod creates a drag system durable enough to sustain extensive battles with fish on the hook.
If a mere day trip aboard these luxurious, comfortable vessels isn't sufficient, Catchin' Caicos offers an overnight trip package, complete with a sunset cruise and awe-inspiring views of the starry sky from the yacht deck.
From January through April, Catchin' Caicos also offers whale watching off the Grand Turk and Salt Cay to witness the breathtaking annual humpback migration during overnight trips. Often, spectators will witness whale calves alongside their mothers and pods of five whales or more.
TripAdvisor reviewer Devin B from New Zealand wrote a glowing review about his Catchin' Caicos experience, noting that "everyone we worked with was amazing. The staff (shoutout to CJ) was so incredibly helpful and made our deep sea fishing experience so much fun. Not only did the first mate help us with every fish we pulled in, but he made sure we had enough food and drinks for the day. Definitely would recommend this company for any fishing excursion!"
2022 has already brought about anglers in action to Catchin' Caicos. Rana R from Marietta, Georgia ecstatically detailed her "fabulous fishing experience on the 60 ft Hatteras. Captain Roy and First Mate Marvin did not disappoint. We had multiple fish on the line at one time and enjoyed fighting them to the boat. CJ was awesome during the booking process. We definitely recommend this company and crew. Highlight of our trip."
Curating the most idyllic luxury experience on the crystal-clear waters of the Turks and Caicos is crucial for the Catchin' Caicos crew. An unprecedented chartered excursion through the Caribbean with rare and delicious fish, stunning seascapes and a welcoming, knowledgeable crew all culminate in an unforgettable journey aboard a dream vessel.
For more information or to book an experience, visit Catchin' Caicos' website or call 649-244-2927.