Camping is the ultimate gateway to a fantastic night in front of a campfire, with a night sky full of stars, just in the lap of Mother Nature. The fresh air scented with pine needles somewhere very far from your mundane city life in a dense wood or on the rocky slope of a hill.
But for a perfect camping experience, you have to take a few necessary preparations, equipment and also precautions. In case you are a beginner, you should read some camping guide before planning your trip.
Here, we are going to prepare a checklist for your camping trip; have a glance: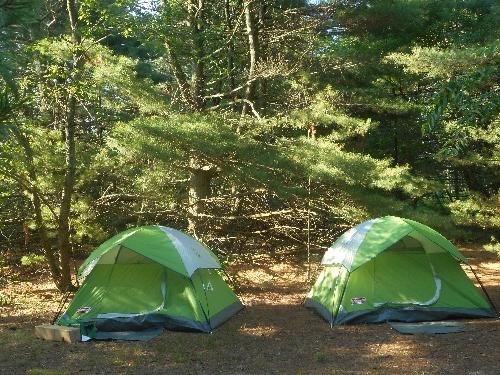 Tents:
Within the camp, you need to have required outdoor privacy because it protects you from insects and any other dangerous creatures. Tents come in a variety of color, size and price; you must choose the suitable one. Check https://www.tent.net for tips regarding tents.
You should try to adjust in a small space when you are spending nights in a camp site, don't expect the luxury of your home there. If you have no experience at all, then you must first learn how to set up tents ahead of time at your home.
   

The sleeping bags:
It will serve both as mattress and bed. You need to get a three-season sleeping bag which is suitable for use anytime, except during winter. Similar to tents, sleeping bags are also available in different sizes and types to meet your needs and budget.
   

Camp Furniture:
Sitting in the wet grass or a rocky slope for a long time is not very great for your mood and health. Try to buy nifty camp chairs and stools. The best part of it is some of them can even be packed down as small as a loaf of bread. You should also get a folding table to keep some of your important belongings on it. Apart from the torch, you should get an emergency light with a portable charger.
It is also recommended to take a tarp with you. It can seem an extra expense as you already have the roof of your tent above your head, but you can hang it above your camp table, food, and drinking water, so it will protect your stuff from dust, fallen leaves and rain.
   

Clothes and Hygiene:
Always wear clothes, like jeans, cargo shorts, T-shirts and sweatshirts which will give you extra body coverage as well as comfort. You should always change in fresh clothes and wash and dry up your dirty clothes, whenever you can to keep yourself clean. Wet clothes are the hub for bacteria and virus, which may later cause skin rashes and itching during your outdoor enjoyment.
Apply calamine lotion or medicated cream on the open portions of your body to prevent yourself from insects and poisonous attacks. Also, don't forget to carry Mosquito coils, citronella candles and your first-aid box.
   

Camp Kitchen:
Campfire is nice to roast marshmallows and chicken, but for all other things, you will need a camp stove with a stable cooktop to control the flame. You can choose stoves with single or double or triple burner as the cost doesn't differ much.
You will also need other cooking utilities, like a frying pan, a generous saucepan, spatula, serving spoon, chopping knife and an inexpensive cutting board, disposable paper plates and bowls, etc. Carry some nuts, eggs, pasta and other dry food with you.
Conclusion:
We hope this article will be extremely helpful to you if you are going out for a camp for the first time.