Those long summer days are just around the corner, and now is the perfect time to give both your home and garden a make-over. If you're more of a designer than a decorator, then focus on the fun part – choosing functional furniture! When it comes to indoor furniture, the first thing to consider is which items you need to replace, and which ones can be saved. Moving around old furniture, for example a bookshelf from a bedroom into the hall, can make a huge difference to the overall look and feel of your home. So all the time you need to tend to choose cozy and functional furniture that suit all your needs and desires.
Likewise, do you have favourite pieces that are a bit tired? Join the up-cycling train (so hot right now!) and give them a new lease of life, by sanding, painting, adding handles, or all of the above. You may be surprised to find that wardrobes, tables and chairs can all benefit from a bit of TLC. Not only can upcycling be great fun. But you'll be helping the environment by reducing landfill, and saving money in the process.
Which is the right furniture for your garden?
Of course, there does come a time when we need something new, and furniture is no exception. Statement pieces such as beds or sofas can be expensive, but changing them can make a huge difference. It's worth taking the time and spending the money, therefore, to get them right. Think about the look you want to go for in each space. For example do you want something ultra modern and minimal, cosy and homely, or stylish vintage chic? Before you rush out to the shops, always measure the space you plan to fit the furniture in, and take a swatch of the color of the walls and soft furnishings with you, to avoid clashes. Above all, think about comfort – don't be shy to test out beds and sofas in shops!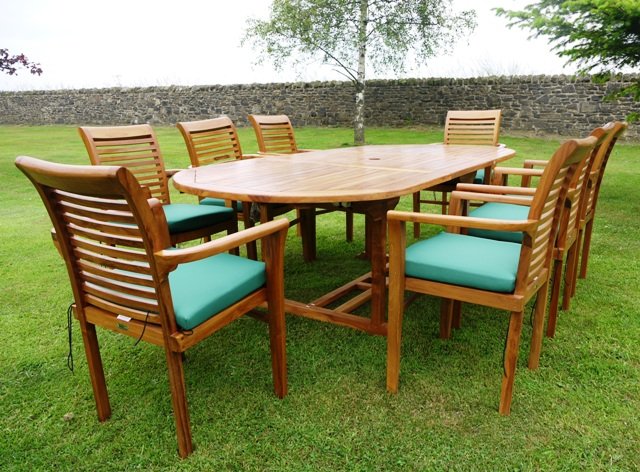 Image by Stevencoxon, shared under a Creative Commons Licence
When it comes to your home, the outside is just as important as what's inside. The garden furniture you will need will depend very much on the space you have. Whether it's a small patio or a large lawn or garden, there is plenty on the market to choose from. Another consideration is how you intend to use the space. If you would like to build a sheltered outdoor space you could consider gazebos or sheds, you can find plenty to choose from stores like Tesco. Will you be entertaining guests, for example, or simply relaxing in the peace and quiet?
Functional Furniture For Real Enjoyment
Once you have a plan, think about what kinds of materials will work best. Mahogany and teak are both some of the world's most endangered wood species, so help the planet and opt for more sustainable choices such as reclaimed FSC beech, wood or pine. Again, there are some fantastic examples of recycled, and up-cycled, garden furniture widely available on the internet. Get inspired by tables made form old palettes, chairs crafted from used tyres, benches made from salvaged trees and even reclaimed doors and windows.
As with all interior design projects, the most effective spaces are those that reflect the owner's personality. So be respectful of the environment, and your home's natural vibe and above all, experiment and have fun.