With a little bit of creativity, you are able to convert a plain looking bedroom into a haven. Best of all, there are many ideas that will make your bedroom inviting, and you will not have to break the bank. If you want to save, you do not have to overhaul your whole room for a desired look. The key to romanticizing your bedroom on a budget lies in making small changes, which have a considerable impact on the final outlook. Here are five sure-fire ways to romanticize your bedroom, on a low budget.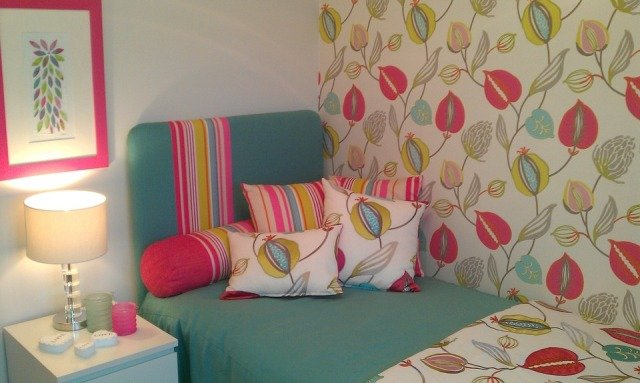 Change the sheets
According to the familiar blog, FreeYourSpine.info, covers are the most conspicuous items on your bed. The ratio of the space taken up by your sheets, compared to the whole room is significant. Best of all, the diverse range of options laid out for you, at such a low price is quite bankable.
You have the choice of floral patterns, boxed patterns, or different fabrics, to name a few. Consequently, you have an option of downright changing the bedroom on a whim. Choose linen that matches or contrasts to your wall, bed or other décor. If you want to turn it up a notch, why not choose some satin or silk sheets. Even though such beddings are a bit more pricy, the soft touch makes them fit for memorable moments.
Add some artwork
A painting standing stark on your wall shifts the viewer's attention towards it. With that in mind, why not add art that has some fetish intonations on it. It does not need to be a Picasso painting to stand out. If you are keen enough, you may stumble upon some cool sketches. On the other hand, you can make a painting as a DIY project.
There are many tutorials on how to come up with some unbelievable art. Furthermore, you will feel satisfied looking at the work of your hands in your room. Alternatively, you can add a photo of you and your significant other, in some of the happiest moments together. These types of pictures and drawings evoke certain emotions, sure to light up a fire from time to time.
Change the color
The colors on your wall say a lot about ones character. To put it clearly, psychologists say that red makes people more aggressive, and blue has a calming effect. Therefore, you should choose the colors that make you feel calm and relaxed for both you and your partner. Choose the right tone of color that will not shout too much, taking all the attention away.
Shy away from plain colors like cream and white throughout the room. Some people paint different shades of the same color to different places, to put on some stylistic effects. Others even use entirely different colors to add some contrast. You have to get the balance right though. Remember, you are making your bedroom more romantic, not some playroom. Alternatively, you can choose some wallpaper with distinct patterns like flowers and engrossing colors.
Lighting
Light is vital to set the mood right. Bright light does you no favor especially if your partner is shy. Therefore, add some dim lights that give a sense of relaxation. Also, add a chandelier on your light source to make the room look classy. For those special occasions, why not use some candle lighting in your bedroom. With this classic type of chivalry, your partner is bound to be blown away and entangled in your romantic spell. The right kind of lighting will set the mood, for a vivid experience.
Add some fragrance
Psychologists discovered that people are much more susceptible to certain scents. Scents like sandalwood, vanilla and jasmine, evoke emotions of relaxation. There are multiple types of ways to achieve the desired scents in your bedroom.
You can add some aerosol can, that automatically sprays the room. These types of auto aerosols are quite cheap. However, for those special nights, why not use real flowers like red roses on Valentines Day. These flowers, not only add some sweet romantic aroma, but you will also supplement some contrasts to the colors mentioned earlier. Additionally, for another desired effect, you can find scented candles cheaply. Talk about killing two birds with one stone.