As the name suggests, a refrigerator with two doors is a double door refrigerator. In all likelihood, a double door refrigerator will meet your cooling needs better than a single door model, as by the dint of separate sections for the freezer and fridge, cooling is optimized for different needs. Conventional double door fridges have two doors — a large one for the fridge area and a smaller top one for the freezer. With consumer convenience in mind, however, top brands like LG, Samsung, Bosch, Whirlpool and Haier have adopted a bottom freezer section. As you tend to use the fridge area more than the freezer, having the refrigerator as the top section, making it easily reachable makes more sense. This prevents you from bending down too often if the fridge section were positioned in a conventional manner. Thus, you can opt for a double door fridge with a bottom-mounted freezer or the freezer at the top depending on your preference. Additionally, rather than having a door at the bottom for the freezer, some fridges have a drawer — easy to pull out and push in.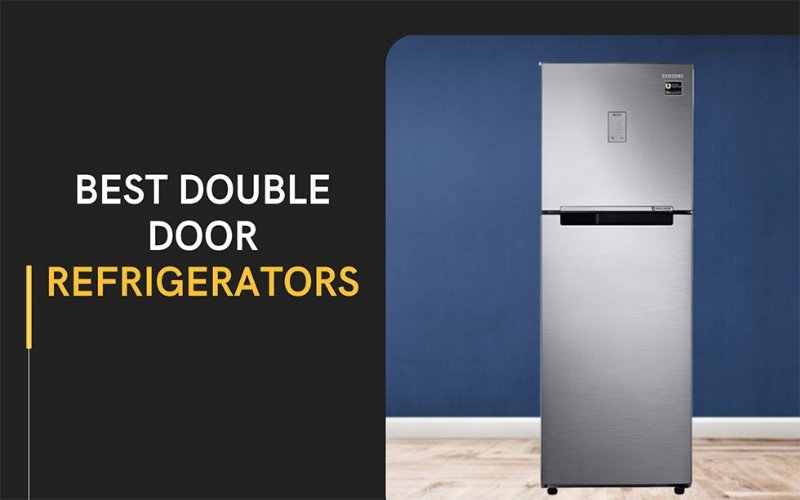 Why a Double Door Refrigerator is a Good Idea
Cost-wise, if you consider a double door refrigerator from top brands such as LG refrigerators or Samsung fridges, you may find that a double door fridge is less affordable than a single door model. Moreover, as double door refrigerators come in large capacities, you may think that these require more energy to run and will elevate your power bills. While you do pay more for a double door fridge, you must remember that it comes in a large capacity, offering you space for a potentially bigger family in the future. Since you buy an appliance like a refrigerator once a decade, you should plan ahead. Additionally, with the advanced energy efficiency specifications in double door refrigerators, you get fridges with 3 and 4-star ratings that manage to cut your electricity bills significantly.
Furthermore, consider the fact that double door fridges are frost-free and don't require manual defrosting. Other advantages include the best inverter compressor technology that gives you cooling in every part of your fridge so that eatables stay fresh for longer periods. Double door fridges are also more robust, giving you durability inside (with toughened glass shelves) and outside.
Features, Specifications and Cost
Talking about the price of a double door refrigerator first, you can easily afford a top selling double door fridge from top brands like Samsung, Hisense, Haier, LG, Bosch, Godrej and Whirlpool as prices of these range from 20,000 INR to 45,000 INR (on average). Of course, the term 'double door' extends to side-by-side fridges which have two doors technically, but these come in very large capacities of over 500 litres and cost you a lot more than the conventional type. You must note that prices between brands for similar capacities may differ as one brand may be considered more premium than the other. For instance, LG refrigerators are more affordable than models with similar capacities and features offered by Hitachi. Price aside, here are some key features and specifications you should check out in double door refrigerators.
Space – A double door refrigerator strikes a good balance between high-end flagship fridges with massive capacities and affordable models. In terms of capacity, average double door fridges can boast anywhere from 235 litres to 400-litre capacity and are well-matched for households having 3 -5 members.
Technology – The double door refrigerator uses inverter compressor technology with fans inside the fridge to cool the interior uniformly. This ensures that the food stays fresh for a longer period. These days, efficient double door fridges like those from Whirlpool manage the optimal temperature inside the refrigerator according to the outside temperature. In this way, your fridge gets the right amount of cooling, thus consuming less energy. Additionally, LG's Smart Inverter Compressor runs on various cycles and adjusts cooling to adapt to the amount of food inside the fridge.
Features – Besides the features of a double door fridge that involve technology, double door fridges from leading brands come with large door bins and adjustable shelves. Moreover, you get double door fridges with humidifiers, so food never reeks or leaves a bad odour inside the fridge. Double door fridges have self-cleaning mechanisms that keep fridges hygienic at all times.
The Best Branded Double Door Refrigerator
You can effortlessly buy a double door refrigerator from any of the following brands with models to suit your every need in a fridge.
Whirlpool
Godrej
Samsung
Bosch
LG
Haier
At the Bajaj Finserv EMI Store, you can buy the best double door refrigerator from any of the top brands like LG . What's more, you can find a wide range of models to compare and analyse. Affordability is at your fingertips as you can avail of superb discounts and offers such as a zero down payment facility on select models. You can also rely on the Bajaj Finserv EMI Network Card to purchase the refrigerator on No Cost EMI. The EMI Network Card comes with a pre-approved limit of up to Rs. 4 lakh. Thus, you won't have to worry about digging into your savings to purchase your preferred model.