We downsize our home for all sorts of reasons – perhaps we are relocating to another town or city, moving from a house to an apartment or moving back in with parents. Whatever our motive, downsizing poses a few challenges when it comes to storing our prized possessions. You're used to a larger living space, and you might not be able to take everything you have at present with you to your new home. Once you've had a tidy up and a good sort out of your clothing and belongings, what are your options when it comes to keeping them all stored safely and within easy reach? Will a wardrobe organiser do the trick?
Have a final look at what you want to keep
You might think you've had a really good clear out but it's really easy to get sentimental or to find clothes you love but never wear; keeping them with the premise that they will eventually see the light of day! Try to be really ruthless and evaluate each item individually. Do you really want to keep that tacky straw donkey your friend brought you back from Mexico? If you come across items of clothing you bought over 6 months ago but have never worn, it's time to ditch them. Similarly, try everything on and make sure it still fits. If it doesn't, it's taking up valuable space – space which is now at a premium!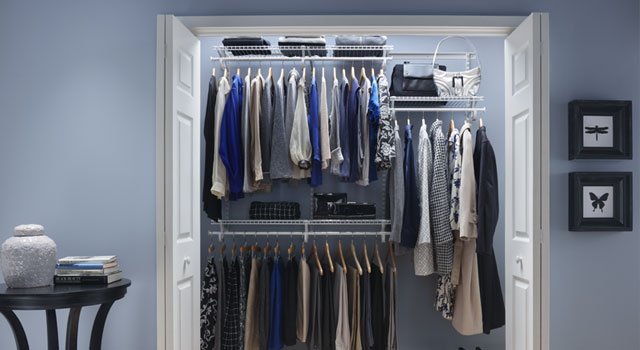 source
Take a look at your storage solutions
There are lots of handy, innovative storage solutions on the market now for small spaces. From clever floating shelving and drawer dividers to under-bed boxes and vacuum packs for clothes and linens, there are plenty of options available when it comes to stowing away extra essentials, which perhaps don't get used on a daily basis. A wardrobe organiser is also a great idea for a property of any size. These can be placed in any space – not just wardrobes – and can be used to house a variety of belongings, from documents and food items to electronics and high heels.
Consider a fitted wardrobe system to maximise the space you have
Fitted wardrobes make the most of even the smallest of spaces – and they can even be tailored to you so that you can easily store and locate your clothes and possessions. Rather than being bulky and too large or too small for your room, these wardrobes mould perfectly to the space you have, however awkward it might be. They can also be fitted inside with your choice of shelving and storage. So, according to the type of clothing you have and how much of it there is, you can tailor the interior to suit your needs. Love shoes? You can have shoe racks installed. Want space for you shirts to sit folded neatly? Ventilated shelving systems might be for you. If you're interested in having a wardrobe system fitted, you can find plenty of solutions online by searching wardrobe storage systems.
Make the most of every piece of furniture
Nowadays, most items of furniture can be found with nifty built-in storage, which can be a godsend when living in a smaller environment. There are now beds available, which lift to reveal a cavity perfect for storing clothes, boxes and linens – ottomans and footstools, which sit at the end of your bed and open up like a chest to store paper, toys and shoes. Also, consider storage when choosing furniture. Does your dressing table have ample drawers with plenty of space in them? Could you pick bedside tables with drawers and cupboards built in? Keep storage in mind at all times, and you're sure to make the most of your space.