The largest and the capital city of the Czech Republic offers sights, sounds, and activities that will make every groom's last night as a bachelor memorable. Dubbed as the king when it comes to stag do's, a send-off in Prague is definitely hard to beat. Your best man will definitely get his hands busy planning that epic day or night out with the boys, what with the exciting activities that the city has to offer.
Trigger Happy
 Head off to the outdoor shooting range for fifty minutes of pure shooting fun with your boys. Each of you will get a total of 60 bullets each from five different weapons per session. An AK-47 Kalashnikov assault rifle loaded with 40 shots, a six revolver .357 Magnum rounds, six pistol CZ 75 9mm, a deadly sniper rifle, and a pump action shotgun each one loaded with five shots are all part of your arsenal. When the session is over, all men get to chug down a bottle of beer and offer a toast to the soon-to-be groom.
Bikes and Beers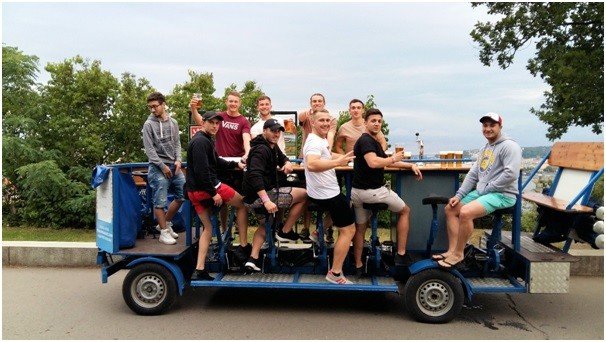 Source: prague.eu
Speaking of beers, you can take the boys out on a tour and have a great time in the city with the bottle of alcoholic goodness in hand. The beer bike is one of the most sought after activities in Prague. As a matter of fact, people from different parts of the world travel just to experience it. Each one has to pedal to make the bike move around the city's tourist spots, and are rewarded with three bottles of beer for a job well done.
Bathe in Barley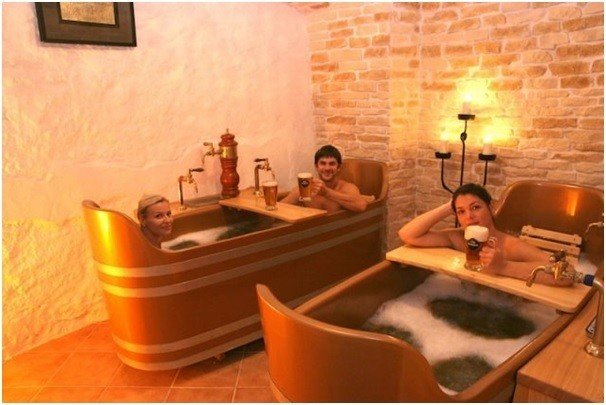 Source: eatingeurope.com
Still in the theme of all things beer, there's a spa in Prague that allows you to take a dip in a tub full of all-natural brewed beer. The ingredients include yeast, hops, and barley, all constantly bubbling at a temperature of 37 degrees Celsius to release proteins, carbohydrates, and vitamins. The session is for a good thirty minutes, and spa-goers can pour as much beer as they can consume from the tub-side tap. A 20-minute massage on a heated bed comes right after the beer bath. Who can say no to that?
Glowing Golf Balls
Now there's more to Prague than just beer and babes so if you want a chill stag do, you can go for a night of driving golf balls around the course. This is an indoor activity with obstacles painted in neon that are illuminated by UV lighting. It's an 18 hole course that's trippy because everything glows and the light play just adds up to the excitement.
Go Kart Indoors
Source: praguestagweekend.com
Thirty-five minutes away from the buzzing centre of Prague is a go karting track. Placed inside a glass house, this Formula 1 course is scaled-down and is only 1 kilometer long. Don't let that get you down though, because it can hold 14 karts all at the same time! It has 32 bends and it will take a lot of skills and 25 minutes of pure fun to complete! The beer at the end is optional, but then again who says no to beer?
The Fake Bride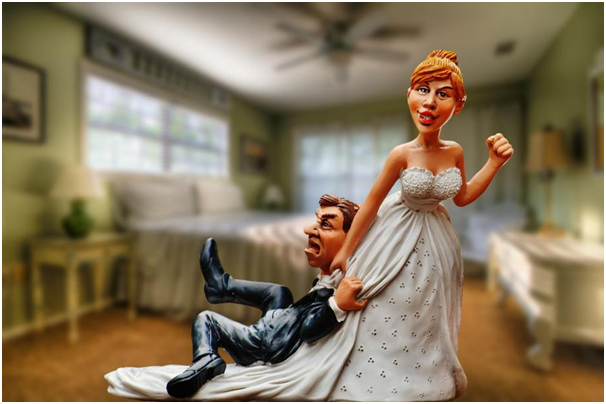 Source: praguestagweekend.com
This act is definitely one for the books. Taking inspiration from a popular movie, this prank will leave the stag speechless. A bride will enter his room and insist that they got married and she will even have a certificate to prove that it's true. Now, fair warning, you are only allowed to do this prank if the groom has a good sense of humor. Besides, he will be treated to a sexy dance once he finds out what the real deal is.
Slide Down the Bobsled Track
Source: prague-stay.com
Be like kids again and use a toboggan run to go down a bobsled track. This is set on the outskirts of the city, and the best part is you have full control of your speed. If you're not into the adrenaline rush, worry not because the board has a brake that you can use if you want to slow down. The course has plenty of bumps and curves to your delight, topped with an epic view of the city as you speed down. You and your friends can use the track exclusively for an hour and in typical Prague fashion, chug down a bottle of beer as your reward.
Stag dos are breaks from all the gory wedding preparations. It's that one day where the groom has license to chill, and it's the best man's job to give him a send-off party that will allow him to do two things: relax and have fun. Of course, at the end of the day it's all about who's with him during the experience, but adding activities worth talking about decades down the line wouldn't hurt, right?