Southern hospitality means a lot of different things to a lot of different people. To some, it's about manners. To others, it's about community. To the people of Knoxville, TN, it's about food!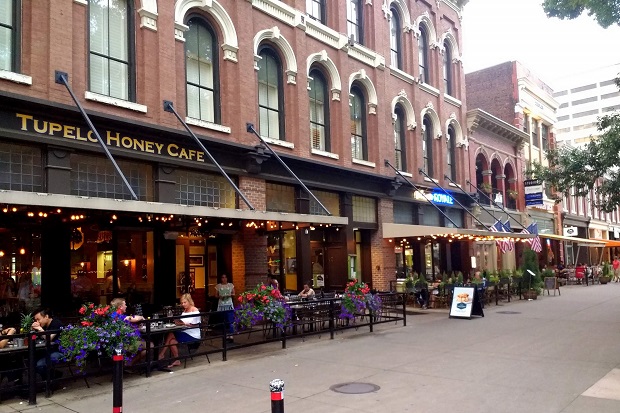 See, around here we know that the quickest way to a person's heart is through their stomach. And the quickest way to a person's stomach is with a taste bud-tingling, euphoria-inducing, utterly delectable dinner the likes of which only Tennesse's greatest restaurants can provide.
Here are three local businesses that take southern hospitality, and southern cuisine, to a whole 'nother level…
Sweet P's Barbecue & Downtown Dive
If there's one type of food the south is best known for its barbecue with each stating have its own unique style. Tennessee's, of course, is the best. So where do you go when you're looking for the best of the best? Sweet P's Barbecue & Downtown Dive!
Located in the heart of the city's art district, there's nothing quite like a day spent visiting the local galleries or taking in live music performance, then following it up with a heaping plate of smoked andouille sausage or barbecue-stuffed burritos. In addition to delicious chopped pork, pulled chicken, brisket, and ribs good enough to have out-of-town foodies looking for vacant apartments in Knoxville, TN, Sweet P's also boasts a diverse selection of wines and one of the best beer gardens in the city.
J.C. Holdway Restaurant
Tennessee might be known for its barbecue, but that's far from the only culinary trick it has up its sleeve. Looking for something a bit more upscale? Knoxville, TN, can do high-quality cuisine with the best of 'em, and J.C. Holdway Restaurant is a shining example of that fact.
With an a la carte menu that changes weekly, you may not always know what's available to order, but you always know exactly what you'll get: excellence. Whether that be slow-cooked farm-fresh egg with chicken confit, gnocchi, and mushrooms or squid ink farfalle with shrimp, cherry tomatoes, and parmesan, you won't find food more fit for gourmet tastes anywhere in the city. Not surprising, given that owner and chef Joseph Lenn is a James Beard Award winner.
Buttermilk Sky Pie Shop
Between homemade barbecue and perfect crafted gourmet cuisine, it's clear the city of Knoxville, TN, has the market on savory goodness cornered. But what about something sweeter? Yeah, we've got that, too, as evidenced by the Buttermilk Sky Pie Shop, where tasty treats are never in short supply.
In addition to always-available classics like Granny's Apple, Souther Custard, and the signature I-40 (a combination of pecans, chocolate chips, and toasted coconut with shortbread crust), Butterfly Sky offers an array of blink-or-you'll-miss-it seasonal specialties, like the ever-popular Caramel Turtle Pie. Luckily, with two different locations in the city, you never have to go far to indulge your sweet-tooth.