People traveling a lot know the importance of well organized suitcase. It is more than a necessity to have everything you can need on a journey well stored and organized, so you can easily find it whenever you need it. In order to have your suitcase well organized, here we are sharing with you some helping packing tricks that you need to follow the next time you pack your suitcase for a new adventure.
Packing cubes
Packing cubes are definitely the best solution ever existing for a perfectly packed suitcase. The best about them is that you can use them to pack different clothes in different cube; so that you will know fast where everything you need is, at the moment you need it. You can have one cube for your pants and shorts, one for t-shirts and tops, one for sweaters…
Hanging Toiletry Kit
Hanging toiletry kit is one amazing way to store your toothpaste, toothbrush, and dental floss; a bottles of shampoo, conditioner, and body wash on one single place. Caring a hanging toiletry kit is always a good idea when you are staying in a hostel or if your room is having a small bathroom that has not enough space to store everything you need in there.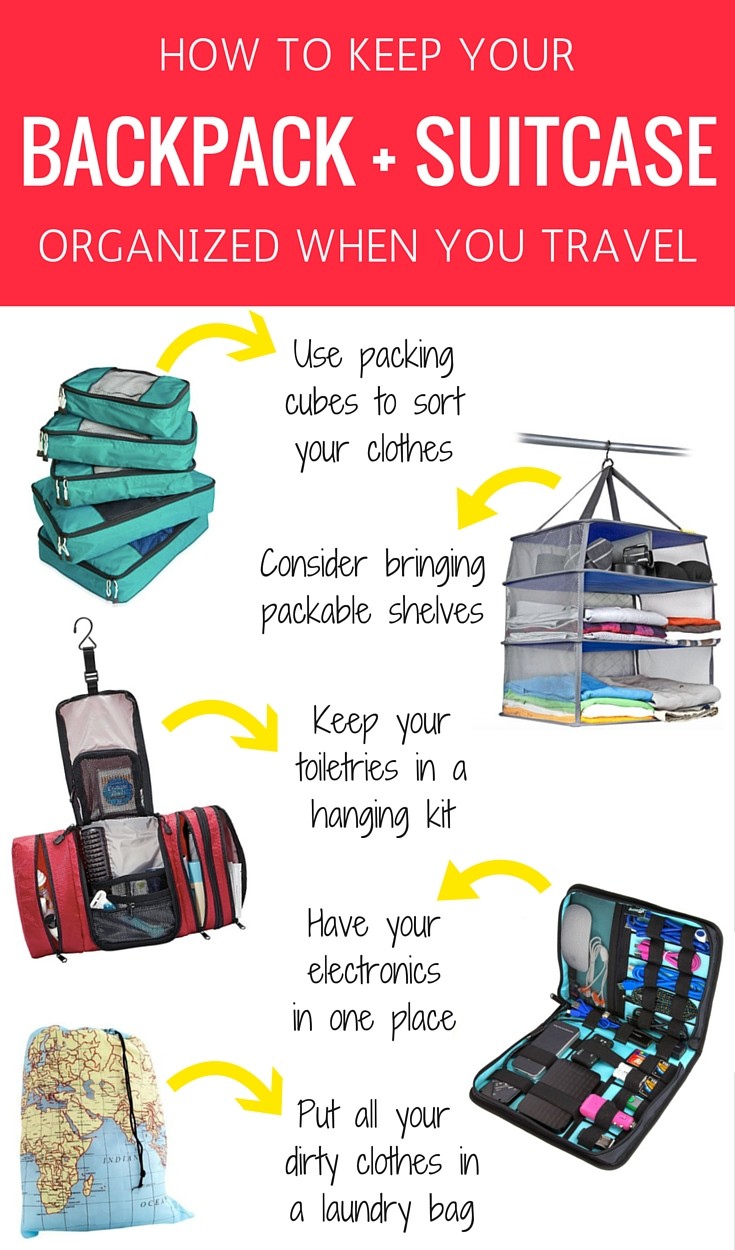 source
Electronics organizer
In the era of modern technology we can't even imagine a journey without our computer, tablet or Smartphone. Bringing them with us means a need to carry even more electronics with us, such as cables, batteries, hard drives, and chargers. And there is nothing better to keep and store them in one place in the suitcase so that you can find anything you need easily without having to search further in the whole suitcase. With a electronics organizer you can have all your modern technology gadgets organized and well stored during the whole journey.
Laundry Bag
Don't forget your laundry bag when traveling the next time. You can store in it the dirty clothes and you can avid mixing them with the clean ones, which is very important especially if you are taking a longer journey.
Packable Shelves
Perfect gadget if you are having a short trip that won't ask you to carry too many clothes. You can pack all your clothes into this three-tier stackable shelf in order to have your clothe wrinkles-free when you arrive at your desired destination.