You've decided to take your empty, ugly basement and transform it into a man cave. There's just one question: How can you do it? While turning your basement into a man cave is a big project, it's not so intimidating when you break it down into steps. Here's how to transform your basement into the ultimate man cave:
Set your budget up front.
Before you let your imagination run away from you, you should set a budget for how much you want to spend on your future man cave. It's much easier to start planning with a budget in mind than to get attached to expensive ideas and have to reel yourself in. While creating a man cave can certainly be done on a budget, it can also be a very expensive endeavor, especially if you need to refinish the basement or decide you want to install a tricked-out replica of your favorite sports bar. Talk with your partner, if you have one, and decide how much you can afford to spend on the basement. If you do need to hire contractors for construction work, remember that projects often end up going over budget, so leave some padding for yourself.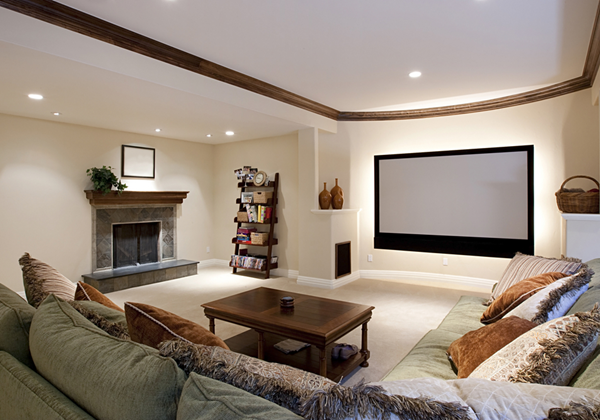 Decide what activities you want to do.
After you set your budget, you need to decide what you will use the basement for. This is an important step because it will determine whether or not you need the help of outside contractors, as well as what equipment you will need to buy. Popular uses for basements include entertainment rooms and at-home bars. For example, if you decide to create a sports bar in your basement, you'll need to install not just the bar itself, but also a refrigerator, a drink cooler and any other preferred appliances. If you decide to create an entertainment room, you might want to keep one wall free so you can use a projector. Think through your ideal man cave now before hiring anyone or making any large purchases.
Convert the basement, if necessary.
If your basement is nothing but bare concrete and drywall, you'll need to do some work to make it inhabitable. At the very least, you'll want to put up insulation and real walls, as well as lay down some flooring, or at least stain and finish the concrete. Depending on how all-out you want to go and what your budget is, you might also want to do some additional work. Many people like to put in a small bathroom so they don't have to go upstairs and some kind of kitchen hookup is popular as well. You can do a full kitchen for entertaining or just install a sink that can be used in the bar area.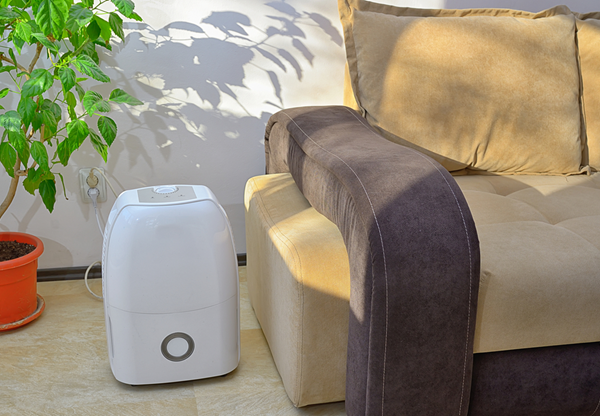 Keep it cool and dry.
It can be a bit tougher to regulate the temperature in basements since they are located underground and tend to trap moisture. If you're getting the basement finished by professionals, you might want to consider getting heating and cooling installed for the best temperature control. If that's out of your budget, you'll at least want fans or an air conditioning unit if your basement has windows. If you live in an especially humid area, you might want to get a dehumidifier to keep the basement from getting too muggy. Dehumidifiers are especially helpful if the basement has any windows you can open to dry it out. Speaking of humidity, you'll probably want to install faux wood blinds or mini window blinds in your basement as they stand up better to humidity than traditional wood blinds.
Select a decor theme.
Once the basement is fit for occupancy, you can go about the fun part: decorating. First, decide on a color scheme as well as a theme and base all your decisions around that. Some potential themes might include your favorite sports team, your hometown, a movie theater, hobbies, such as fishing or hunting, or an arcade. If your basement is large enough, or divided into rooms, you might choose a different theme for each room. Once you've settled on a theme, choose a color scheme to go along with it and start planning out your decor. You'll need to buy furniture and paint the walls, not to mention add small touches that bring the room together, such as throw pillows and wall art.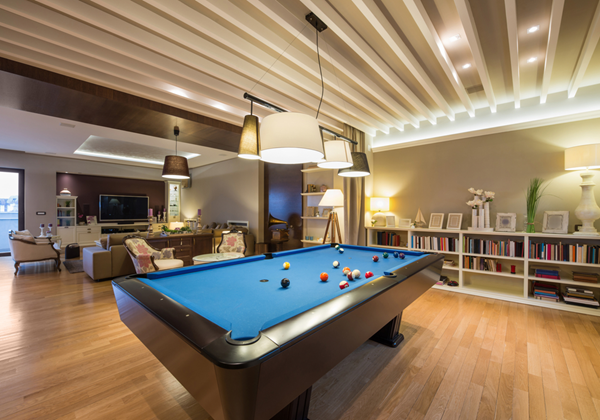 Trick out your space.
While each man cave will be set up differently, there are some basic technologies that most people like to include in almost every basement. At the very least, you'll probably want a big TV or a projector as well as a speaker system. You might also want to set up a gaming console, especially if your kids will be playing down there from time to time. Other fun additions include popcorn machines, jukeboxes and foosball, air hockey or pool tables (3-in-1 options allow for multiple game choices). Many of these items can be rather expensive, so if you're on a budget, see if you can get them used on eBay or via yard or estate sale near you. You might be surprised what you can find!
Create a kitchen area.
If you've ever tried to walk down the stairs with a carefully balanced drink tray, then you'll know why having a kitchen area in the basement is so convenient. Even if you decide not to put in plumbing in the basement, you'll want to create a small kitchen area so you aren't having to constantly run upstairs to get a snack or drink. You'll at least need a mini fridge, if not a full size one, to keep drinks and food cold. You might also want to get a rolling kitchen cart you can use to store glasses and servings platters. If you get one with a food safe top, it can act as a counter you can use to prepare drinks and snacks.
Follow these steps and you'll be chilling in your ultimate basement man cave before you know it.