Embarking on a fun-filled travel excursion with your family can be a great bonding experience that provides every member of your clan with ample enjoyment. However, as any seasoned parent can confirm, family trips generally don't come cheap. The larger your family, the pricier your forays into travel are likely to be. Of course, this doesn't mean that you should resign yourself to exorbitant travel expenses. Anyone looking to save a bundle on their family's next trip will be well-served by the following pointers.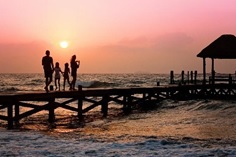 Select Nearby Destinations
It's easy to see why so many travelers opt for faraway destinations. After all, a big part of the travel experience is taking a break from your everyday surroundings. Still, you needn't travel thousands of miles to get such a break. Selecting in-state destinations – or destinations in neighboring states – stands to dramatically reduce your travel expenses and overall travel time. Furthermore, if you're traveling with children, shorter travel times generally mean less boredom and frustration on the part of your passengers. So, the next time your family is bitten by the travel bug, research nearby destinations before considering faraway ones.
Seek Out Free Events
Regardless of the destination, you're sure to find a number of free local events. In addition to giving you a taste of an area's local culture, these events can provide you and your family with hours of free entertainment. Although the types of events you'll find are likely to vary from place to place, many communities are home to museums, street fairs and other attractions that are brimming with local flavor.
While it's true that not all local events are free, even the ones for which you're required to pay can show you and your family a cost-effective good time. For example, anyone who will soon be charting a course for Long Island is urged to check out the fun-filled North Fork events this weekend.
Use Rental Car Discounts
Although some cost-conscious travelers claim that rental cars are a drain on travel funds, this isn't always the case. For instance, renting a vehicle is often more effective and convenient than relying on rideshare services for the entire duration of a trip. Furthermore, if the place you're visiting doesn't have much to offer in the way of public transit, a rental car may be nothing short of a necessity.
Fortunately, many of us are eligible to receive a plethora of rental car discounts. Without even realizing it, you may be entitled to amazing car rental discounts by virtue of having certain credit cards or belonging to certain clubs. For instance, many AAA members are eligible to receive discounts at a number of different rental car chains. Furthermore, for added convenience, take care to book your rental with a credit card that covers primary auto insurance.
Don't Eat All Your Meals at Restaurants
While dining at one-of-a-kind restaurants is a staple of a great family vacation, you needn't necessarily eat all your meals at restaurants. If you have a large family, a single restaurant meal is liable to cost you somewhere in the area of $100. Needless to say, if you're spending hundreds of dollars on restaurant meals each day, your travel budget is going to suffer.
Limiting the number of times you dine out per day can be an effective way to nip this problem in the bud. For example, staying at a hotel with a complimentary breakfast buffet can save you a considerable amount of time and money. You should also consider packing lunches for your family instead of eating your afternoon meal at a restaurant each day. In addition to freeing up funds for other facets of your trip, this approach to vacation dining will help make restaurant visits seem like more of a treat and provide everyone with something to look forward to.
There's little wonder as to why so many adults hold fond memories of the family vacations they took during their respective childhoods. Although these trips generally weren't bereft of disagreements, they enabled families to spend time together and have copious amounts of fun. Unfortunately, trying to recreate such memories stands to bleed you dry financially. However, this isn't to say that you should simply give up on family vacations. Taking the money-saving measures discussed above can help ensure that your family's next travel excursion is as affordable as it is enjoyable.